Burning Man 2005: Psyche


You can go back here for my index of burning man reports, and there for my 2002 report, which includes more details for the first time burner (and answers to common questions if you don't know burning man)
Pictures and Videos
I have taken 2809 pictures and videos and brought the count down to 1388 pictures (5 megapixels) and 57 mini movies (640x480).
They're all here.
Yes, I know, it's a lot, and it took me more than 30 hours of work after burning man to go through all the pictures, sort them, fix them, get them together by theme, painfully chose the best ones for this page, and write this report.
As a way to say thanks if you enjoy the report, share it with your fellow burners, or friends who might be interested in burning man. You can also drop me a line
If you do have cash burning a hole in your pocket though, please give it to the Opulent Temple: their budget was quite in the red after the event, and they put out the best Trance you could get at Burning Man this year.
All video links require the Divx video codec. Go download it if you don't have it yet (mplayer on linux should work out of the box)


Chronology
I'm going to try a day by day recounting this year, and list the other bits at the end. I've also organized some of the pictures in a similar fashion, as you can find them in the Timeline Directory
Day 1: Wednesday
I met a pilot coworker, and a passenger, also from work, at Palo Alto Airport, and we took off around 10 for Black Rock desert, where we landed about 2 hours later (I almost have my pilot's license, so it was good real life training to fly there)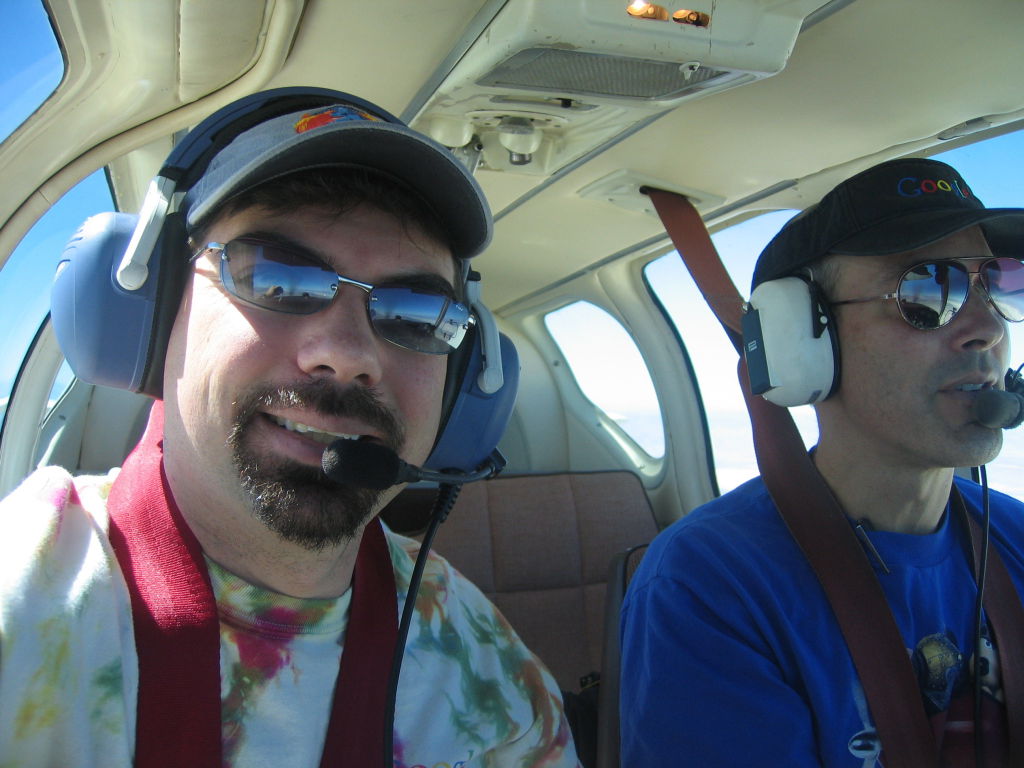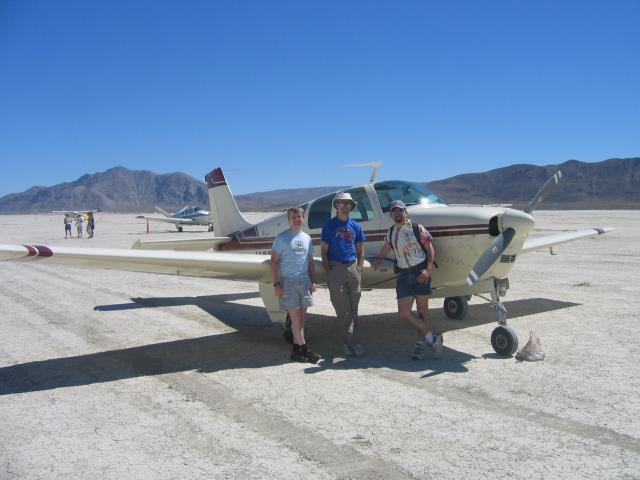 Just a few hours later on the playa, I ran into my friend Hans, and the Your are that pig crew. Kind of funny how you run into friends so quickly at Burning Man. What's cool is that I found them after seeing the beautiful "The Passage" statue they had worked so long on. You can find more pictures here
As for my Your are that Pig buddies, they definitely got trash sorting down to a science. I was impressed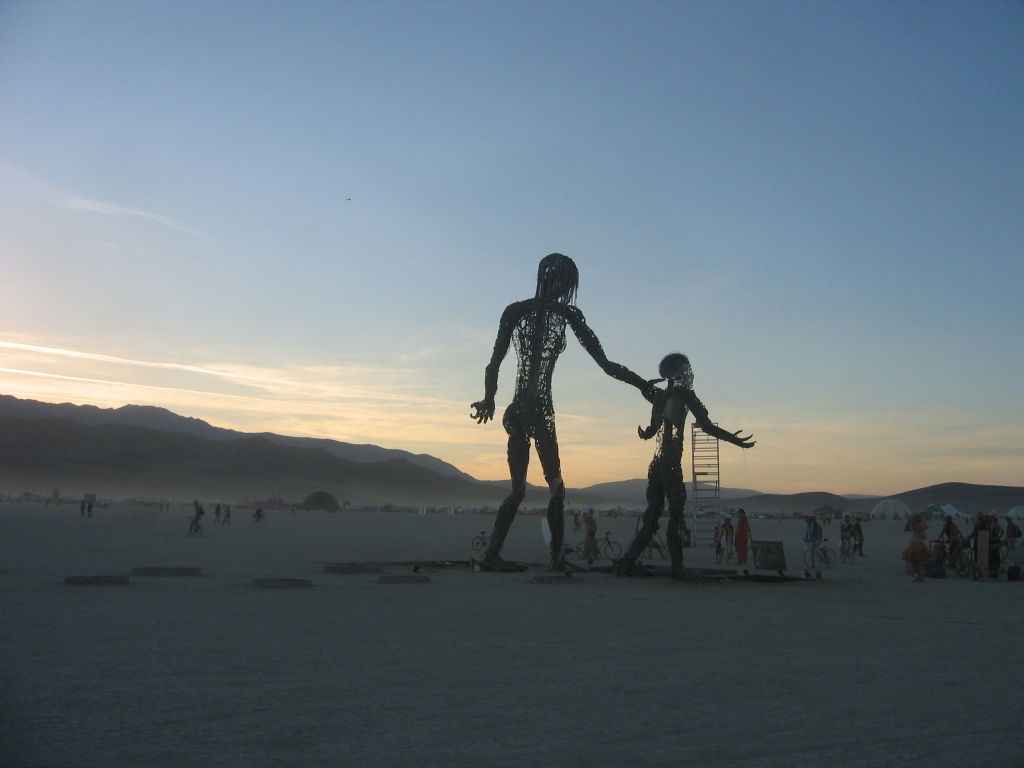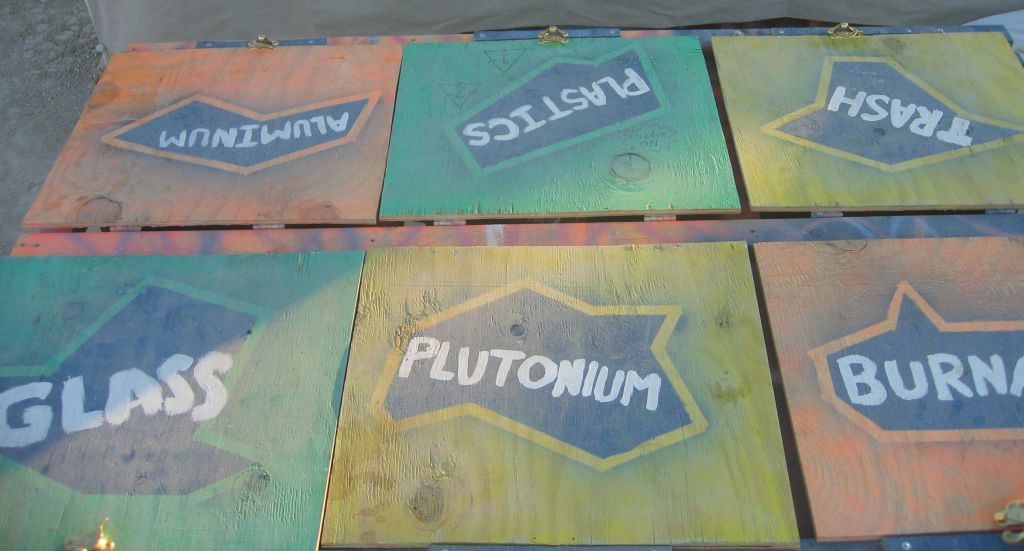 And another few hours later, I got to meet the Kevin and Hedley, the masterminds behind my favourite night display: Alien Semaphore. I also happen to really like Cubatron, which one could watch for hours (and is also a lot fancier than one might think with a full matrix of lights that can each generate a variety of colors), but Alien Semaphore wins for having enigmatic buttons you can play with and use to change the light pattern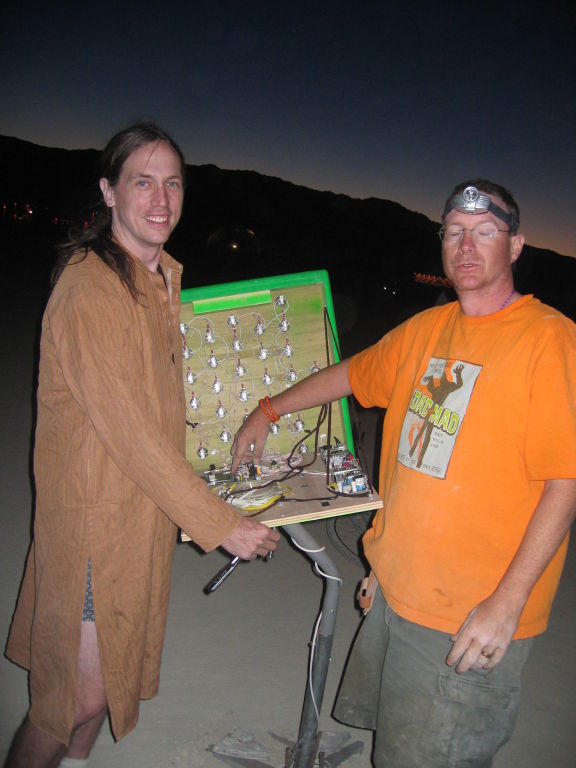 those were Alien Semaphore, with its creators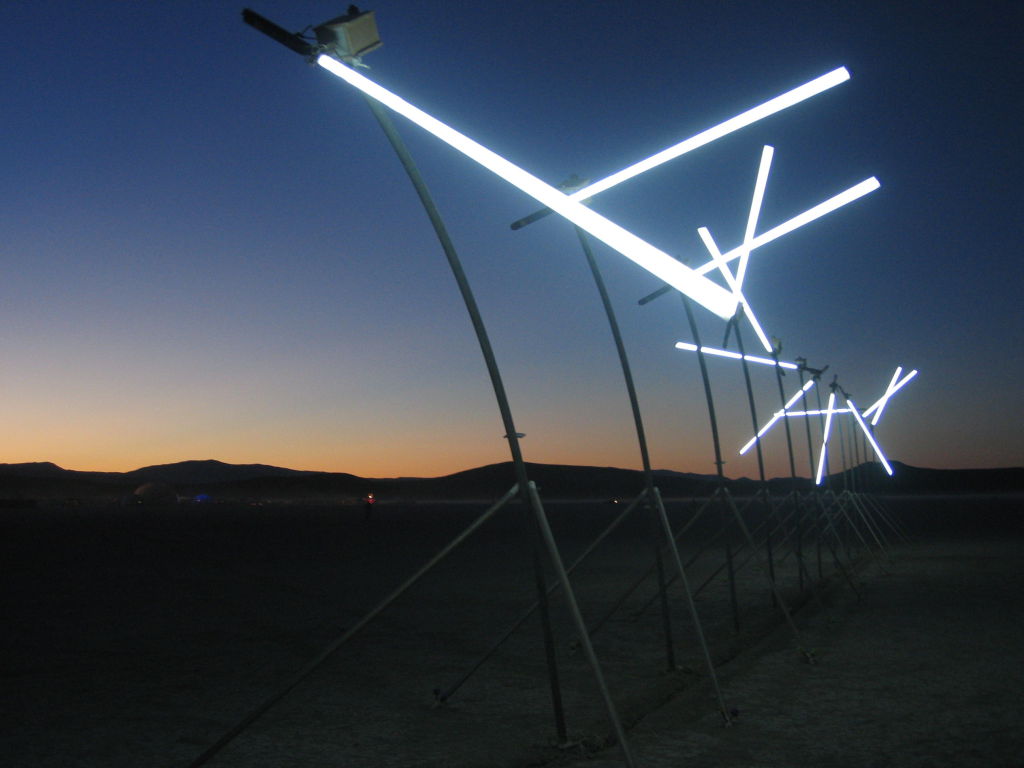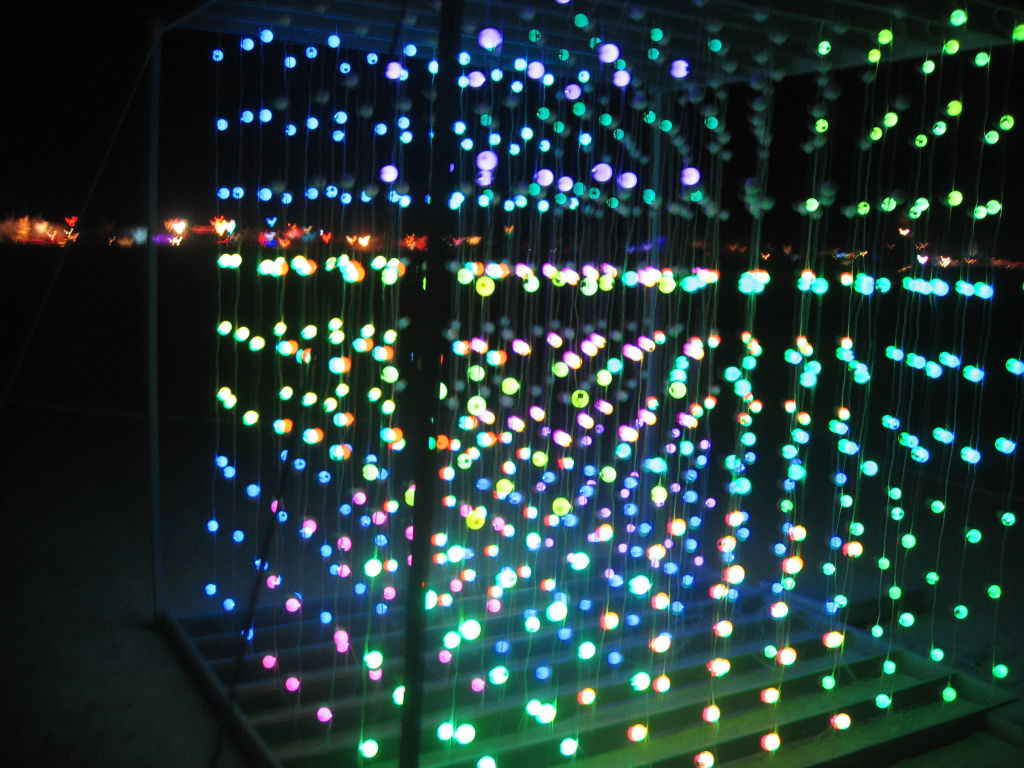 and the other "oh look, pretty lights" cubatron


I used the rest of the day by starting to roam the streets of burning man (esplanade to hysteria from 02:00 to 10:00, lots of biking, and people were still just as nice in offering drinks and food, which came in handy after a long day of riding the playa, despite the 3 litres of water I was carrying. No wonder you have camps named "just show up"
.
My favourite for the day were the fine folks of the Lemon Drops camp, who became instant friends, maybe due to the shirt I was wearing that day :)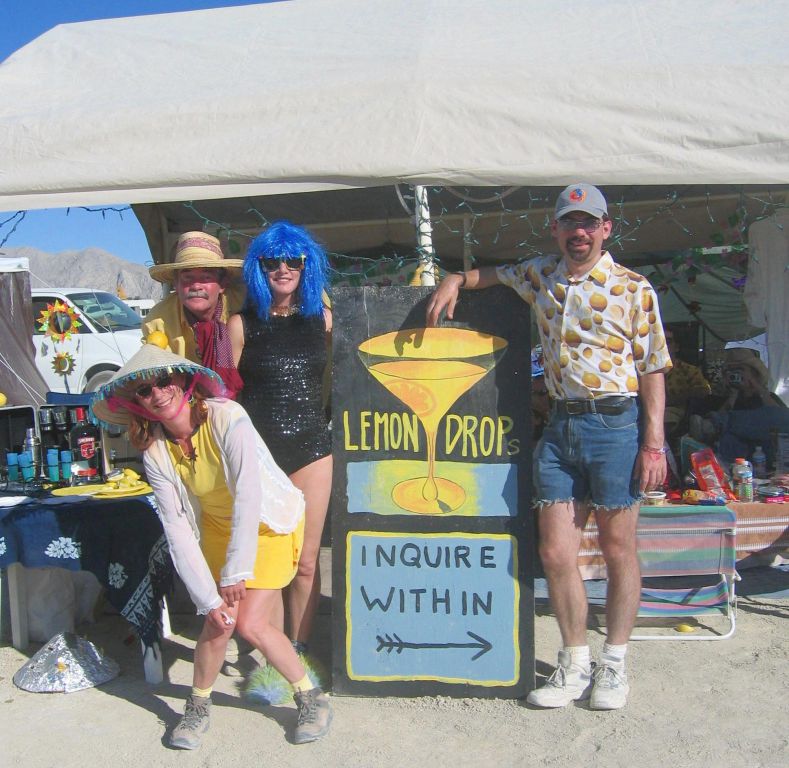 While continuing to visit camps, I also met the nice folks from Apokilitpika (the Borg), and Drake recognized me there from the prior reports I had written and that he found on the web. He told me that I inspired him to come to burning man, which was indeed pretty cool. Even if I only inspired one person (maybe you too, if so tell me), that make all the time I've been spending on those pictures and writing the reports, worth it.
The rest of the pictures from that camp can be found along with the other day camp pictures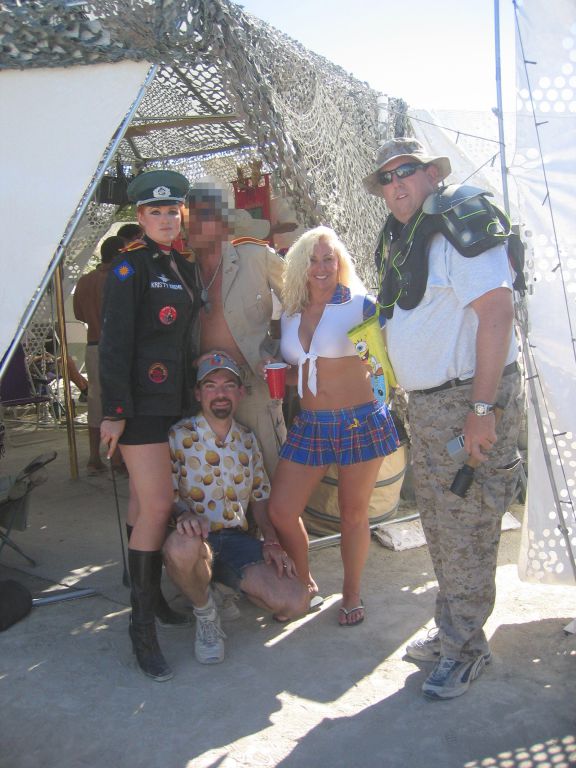 My night run started at the man, which had lots of displays which were part of a maze on two floors. It was quite nice. I then ran into my good friend San Mehat, and followed the small group I was with, to other displays and performances on the playa that night.
This year's man was quite technical: not only was the first floor an entire maze with lots of nice displays, but on the second floor, you could make the man rotate by pushing a gigantic gear with the help of other people.
All in all, I really liked the man this year. It was just hard to use as an orientation point since it wasn't pointing in any known direction, and we still didn't have any lasers or pyramids or anything showing 3, 6, and 9 o'clock (BM organizers, could you come up with something for next year: someone actually managed to do a make-shift laser from an RV through its window around 6 o'clock after the burn this year, I'm sure you can do better than that, right?
)
More pictures of the man are here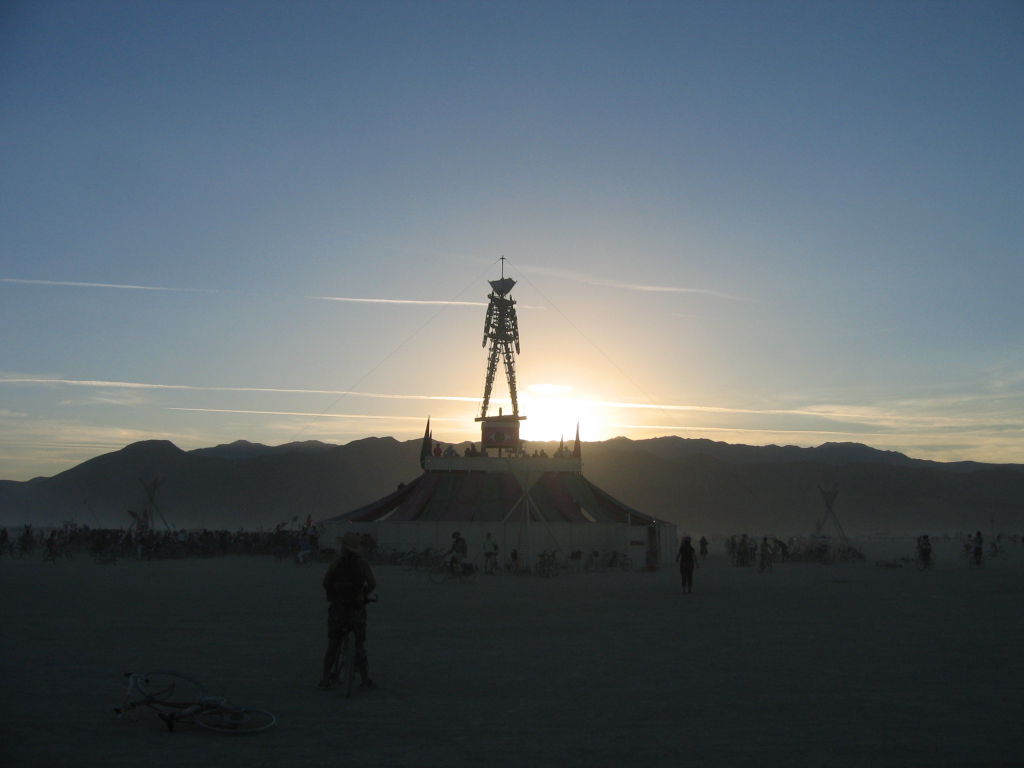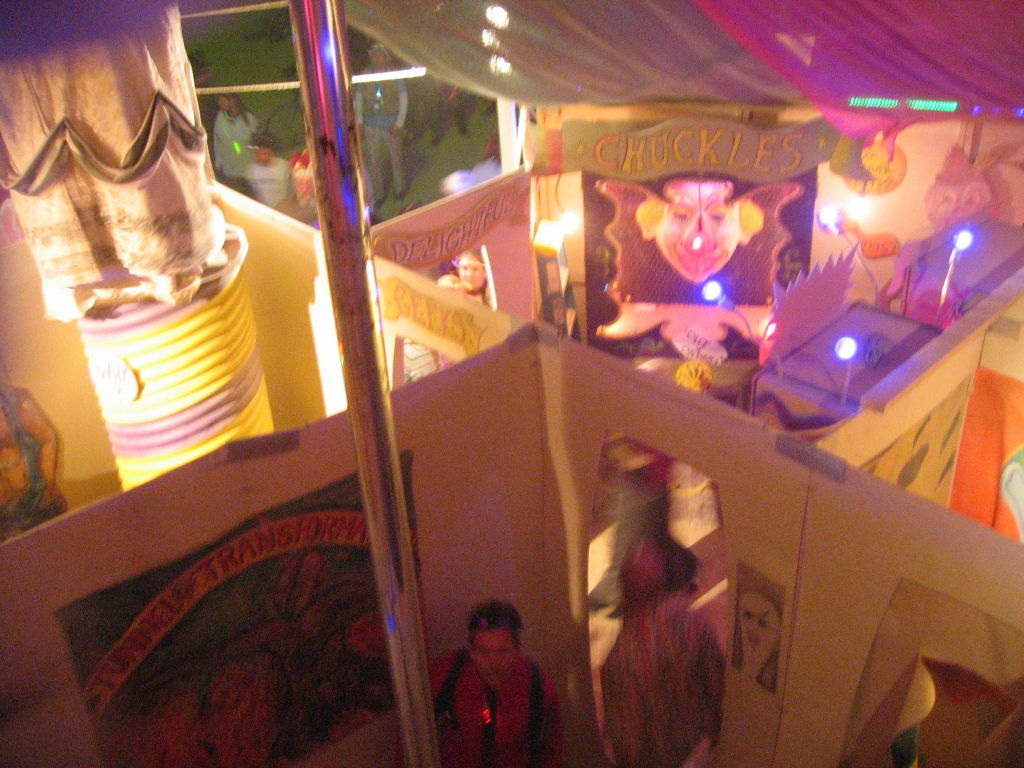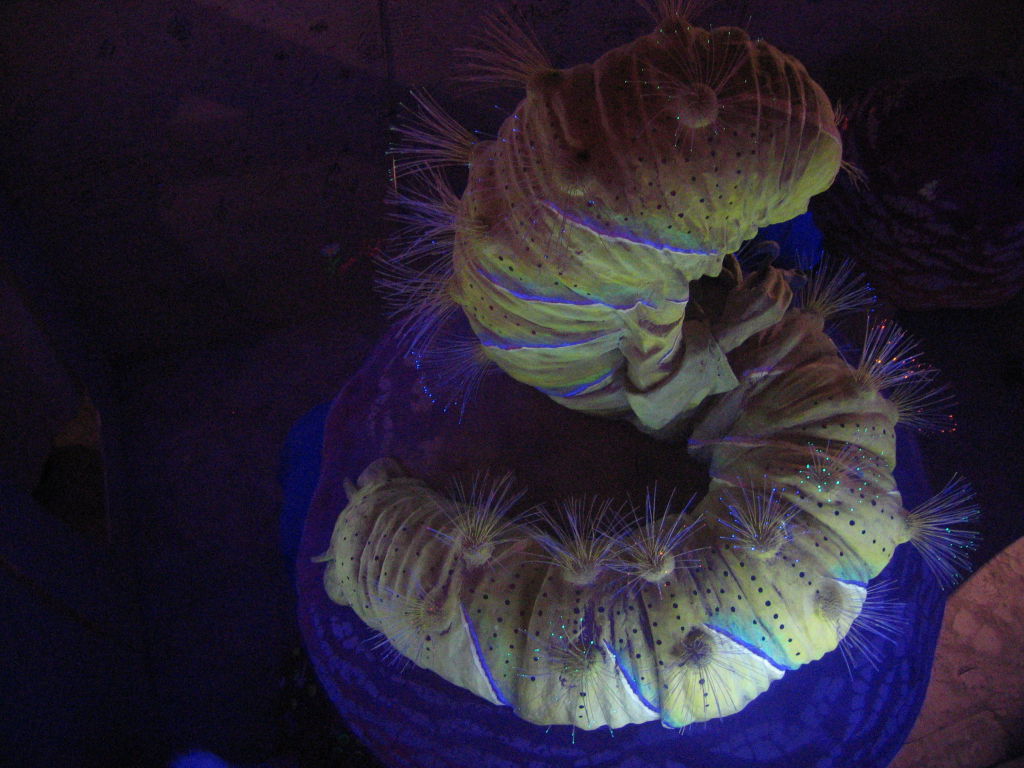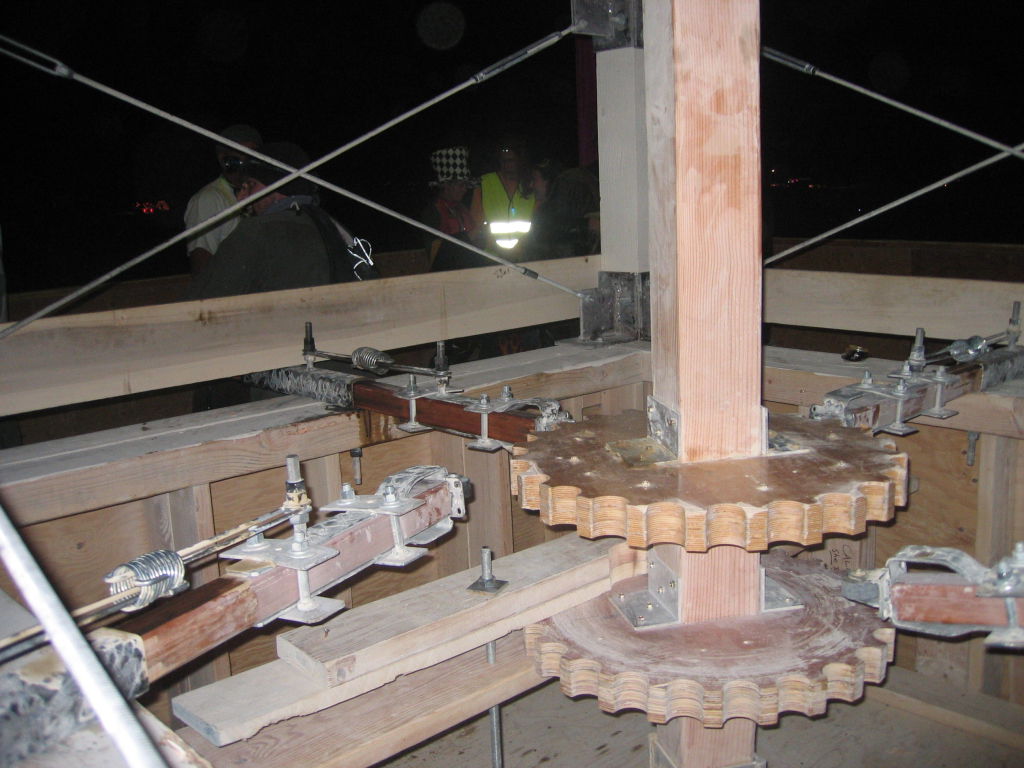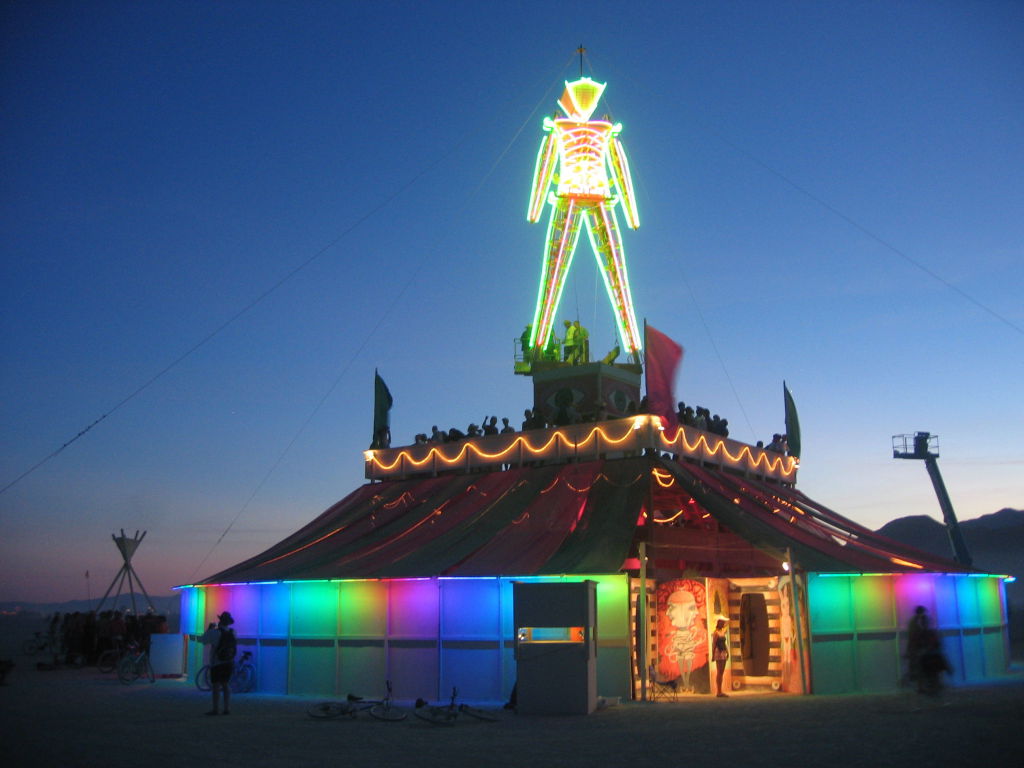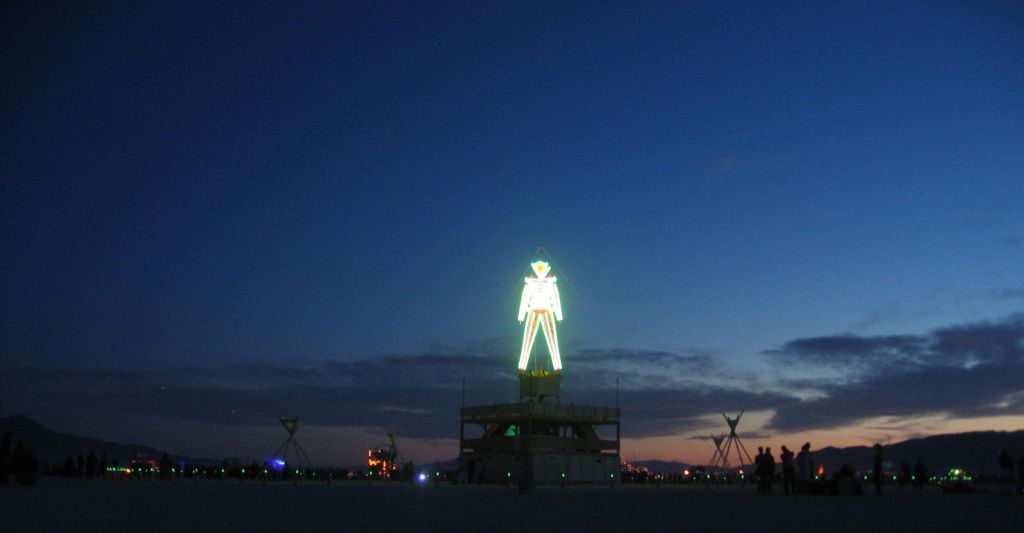 Yes, it's still pretty
On my way back to my camp and to bed, I saw another great idea: the Lance Miller late night show. Someone just made up his own late night show and was interviewing people walking by on the playa (one stripper and her friend at the time I came by
)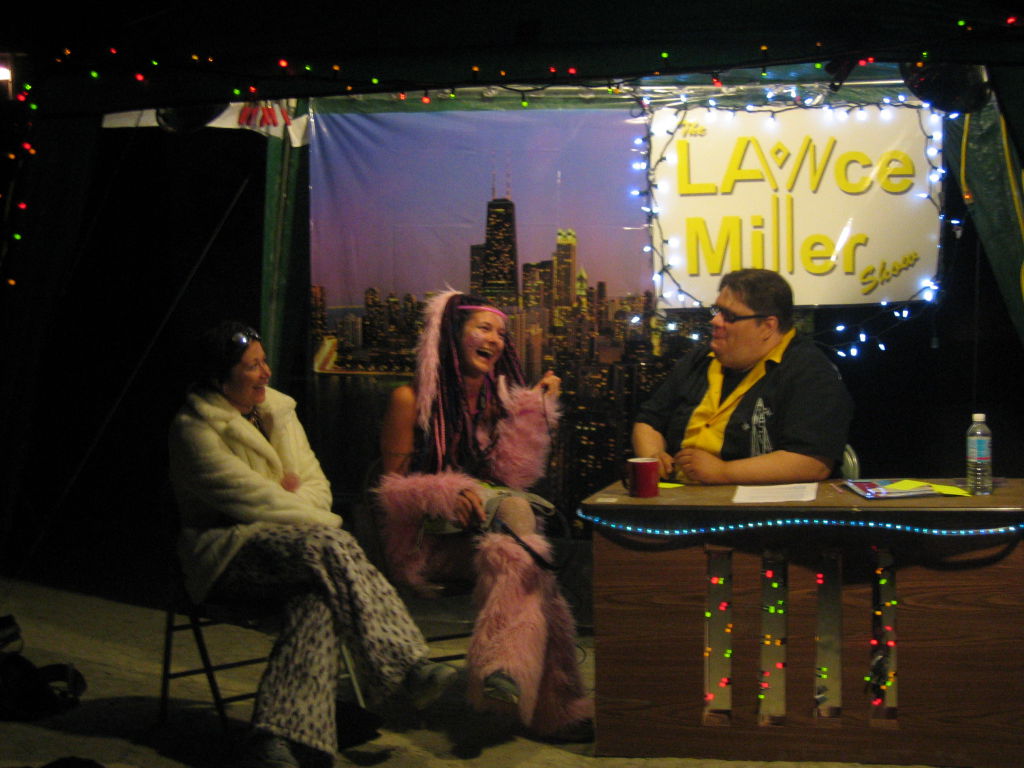 Day 2: Thursday
I started the day by chilling at my camp, and was quite thankful that they had a generator to recharge my makeshift portable power.
Actually, Camp I Am, filled with geeks and engineers like me, had quite an amazing setup: a pretty cool shower system with warm/cold water mix, internet telephony with hands free handset, a real and quiet generator, and all the cool people who did the roaming cup cakes, the huge solar powered vehicle, the Oasis Dome with live plants, the dedicated save the man folks, and more.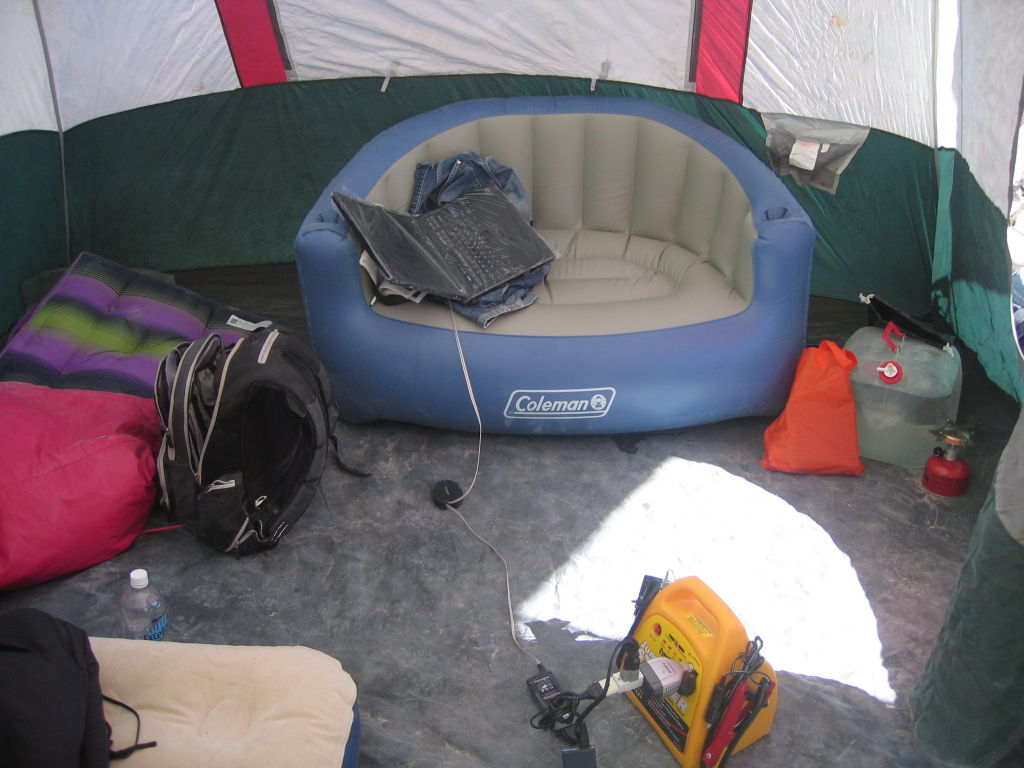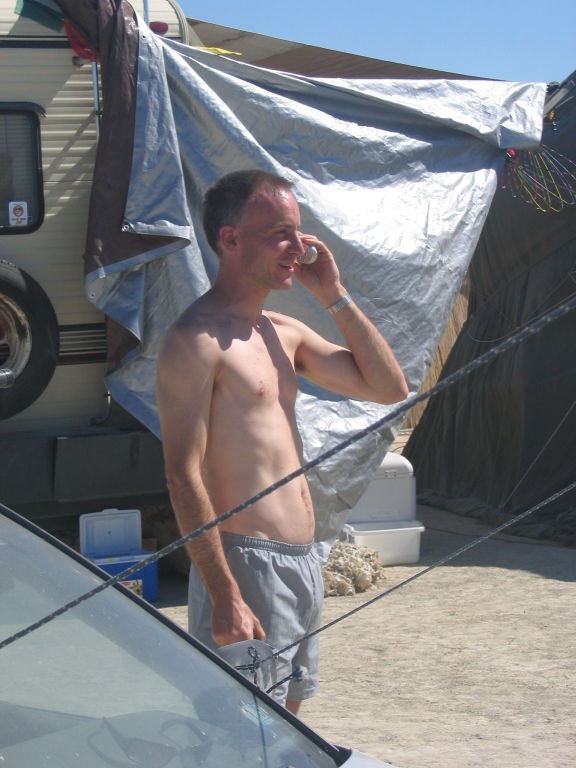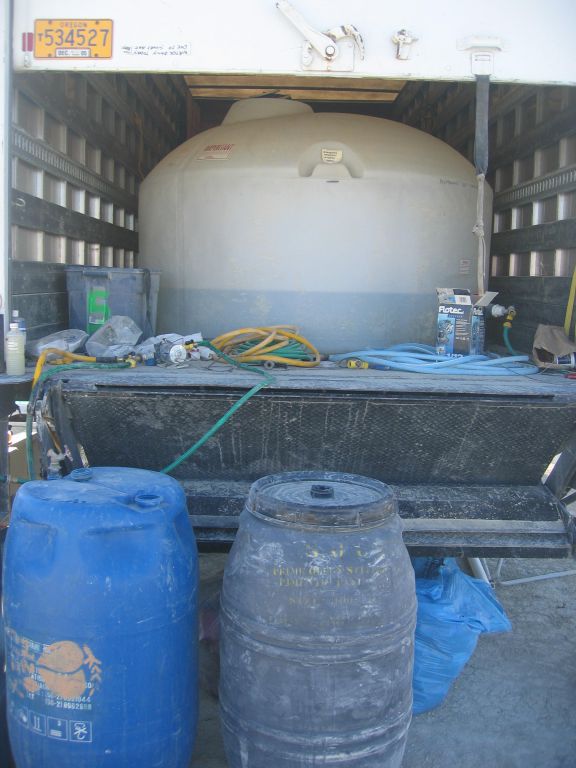 Can you hear me now?
/ Yes, it takes more than a thousand gallons of water to provide basic shower water to the camp

I then spent most of the day to visit more camps (lots of streets to roam), and out of sheer luck, I ran into the elusive French Maid parade which I missed last year because I couldn't find it either. I found out that those little bitches give a meeting spot of 'French Consulate' at 3 or 9 and esplanade, except that there never was any such thing. Ah, the snug French, they will pay

(note for the record, that while I am French none of them actually were)
They just showed up from some other camp some 10-15mn late (i.e. playa time). That's how I missed them last year, and just run into them by sheer luck this year.
Great group though, as they crossed the playa and went to visit different people and displays to dust them thoroughly. On the way, we went to visit Dicky, who I hadn't seen yet (you can find the numerous French Maid pictures here)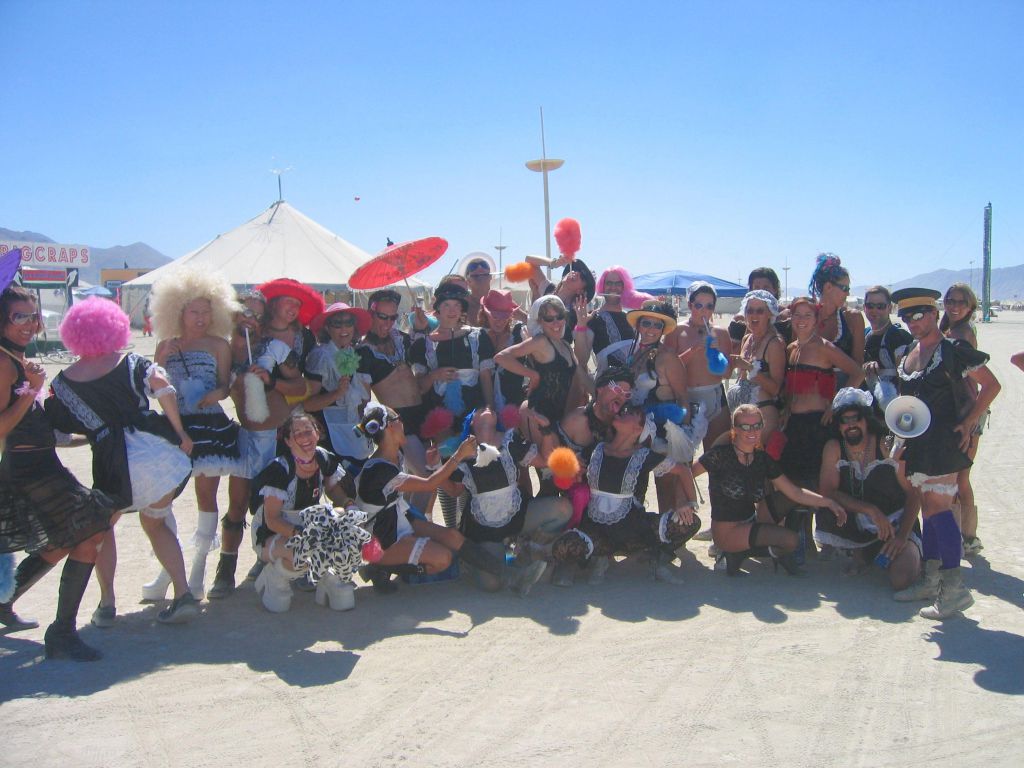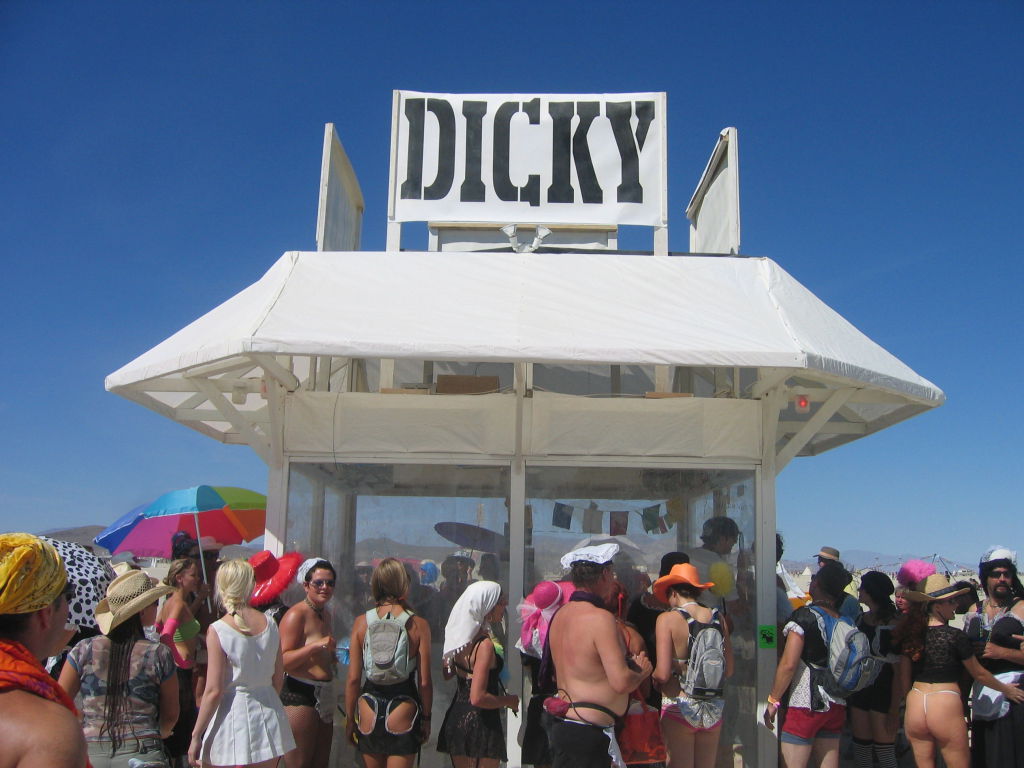 Dicky, is a guy who locked himself up in a box, along with a bed, shade and AC so that he didn't die from the heat, and communicated with people through a small hole. Some people I talked to thought it was a bit lame, and just a cry for attention, but I thought it was a reasonable idea, and the guy gets credit for staying in that box for 5-6 days, conversing with people who came to visit him. He actually quickly became an icon and most everyone loved him and waited for his release.
One fun thing I saw on Dicky's glass windows was 'Save the Man, Burn Dicky', which I though was insanely funny. Turns out that the Save the Man people were actually in my camp, and they indeed failed again, despite multiple protests :) (the rest of Dicky's pictures are here)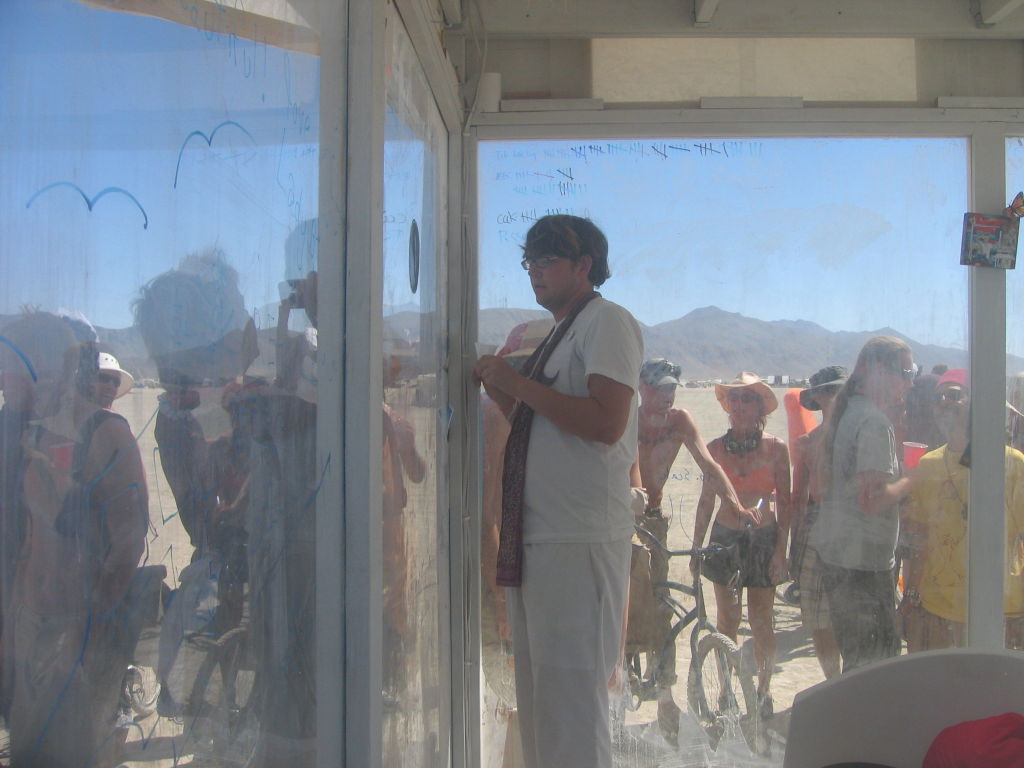 I always enjoy visiting Hushville, Kidsville, and the Alternate Energy Zone (usually a few rings away from center camp at 6 o'clock). You can find some of the pictures in the camp pictures section. One fun thing this year was the giant oven, which did a great job at cooking hot dogs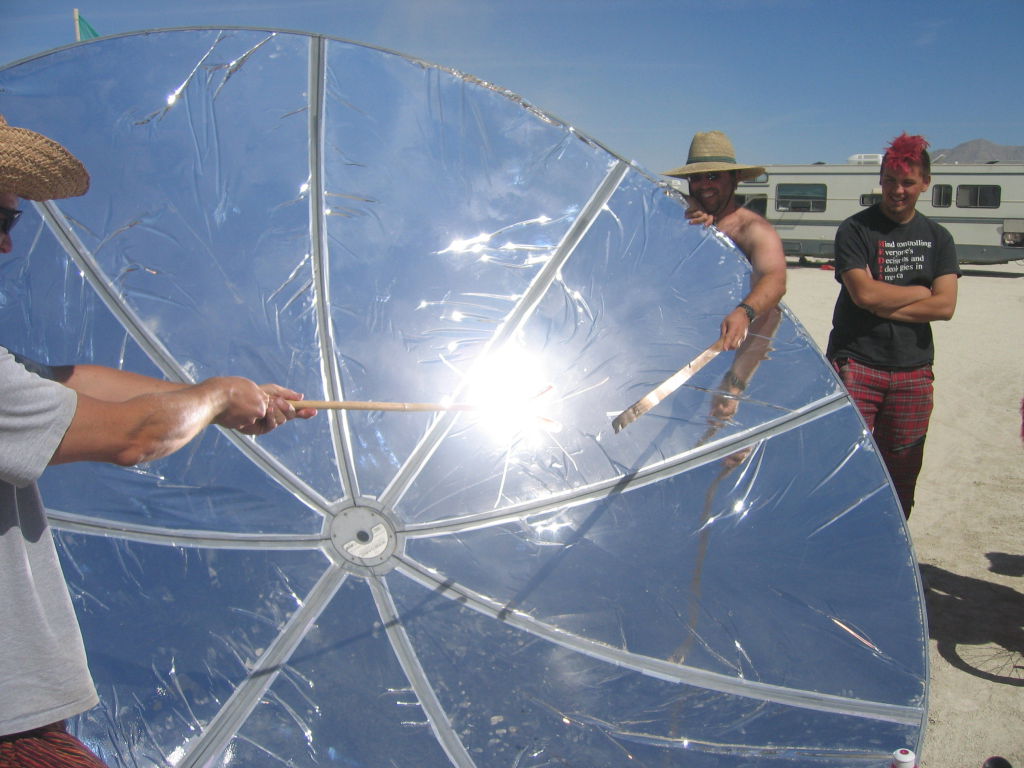 In the process, I also run into a fair amount of vehicles that weren't art cars, but still had interesting modifications (people are encouraged to hide corporate logos during the event). Other such pictures are here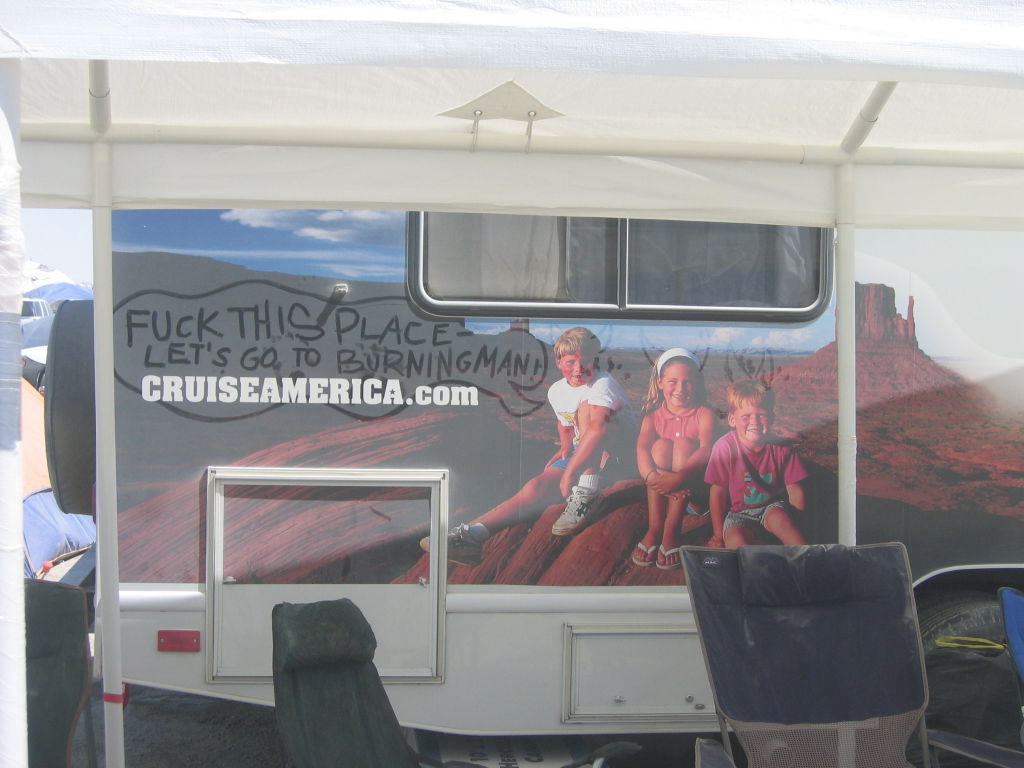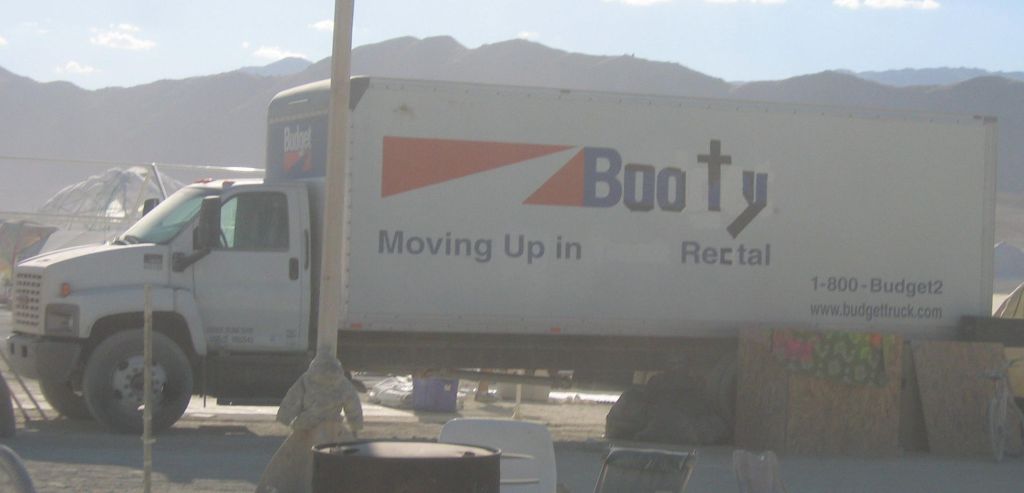 After a little rest in the nice and cool Oasis Dome,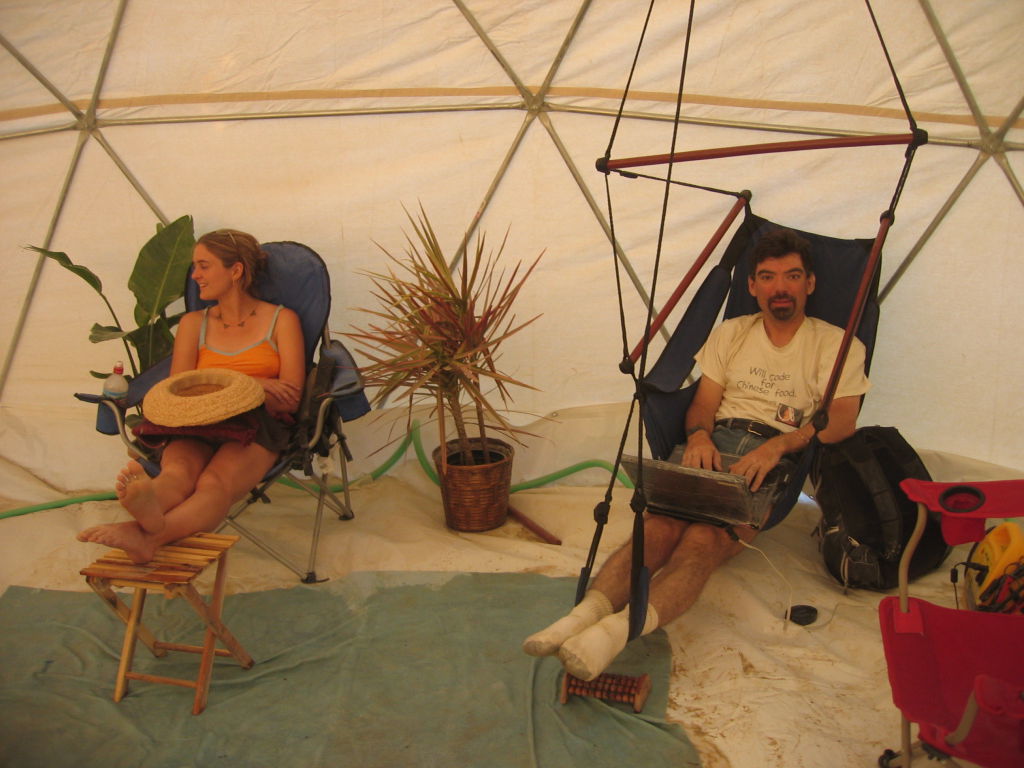 I headed back for the man to take some sunset pictures, I met the great bunny march. They were protesting against man, and I wished them the best of luck with that (pictures here)
Roasted Rabbit, mmmmh...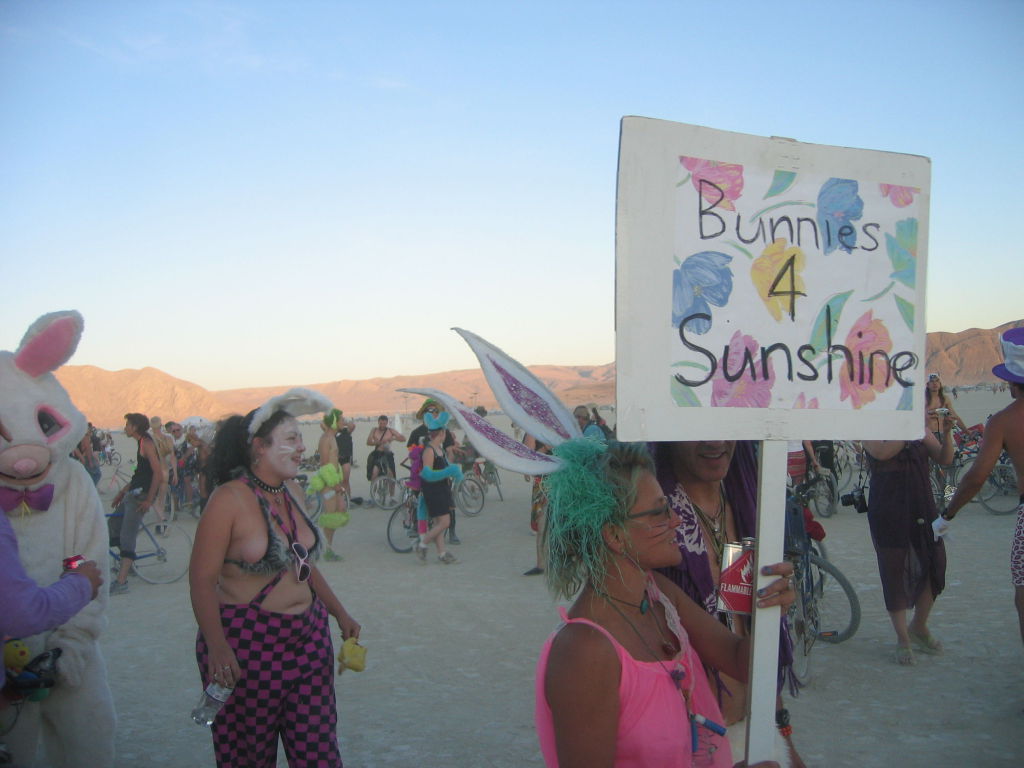 Also, that evening was one of the days when the smoke ring machines were operating (cool stuff, check it out), and it's also always nice to see the people who have weddings at burning man.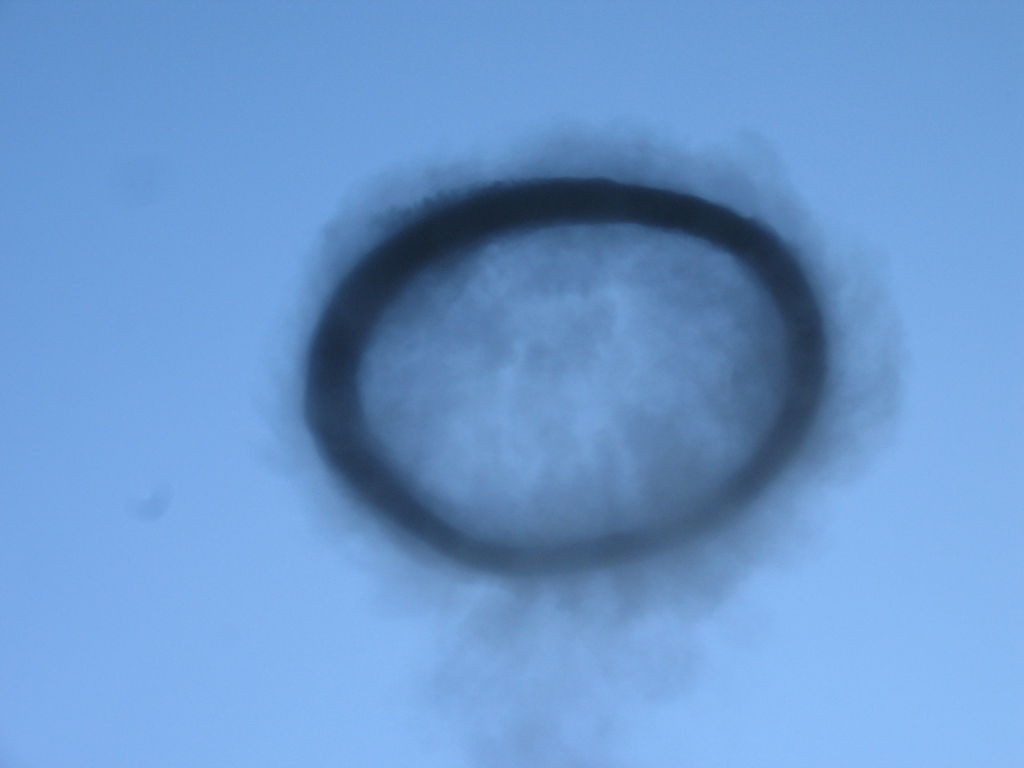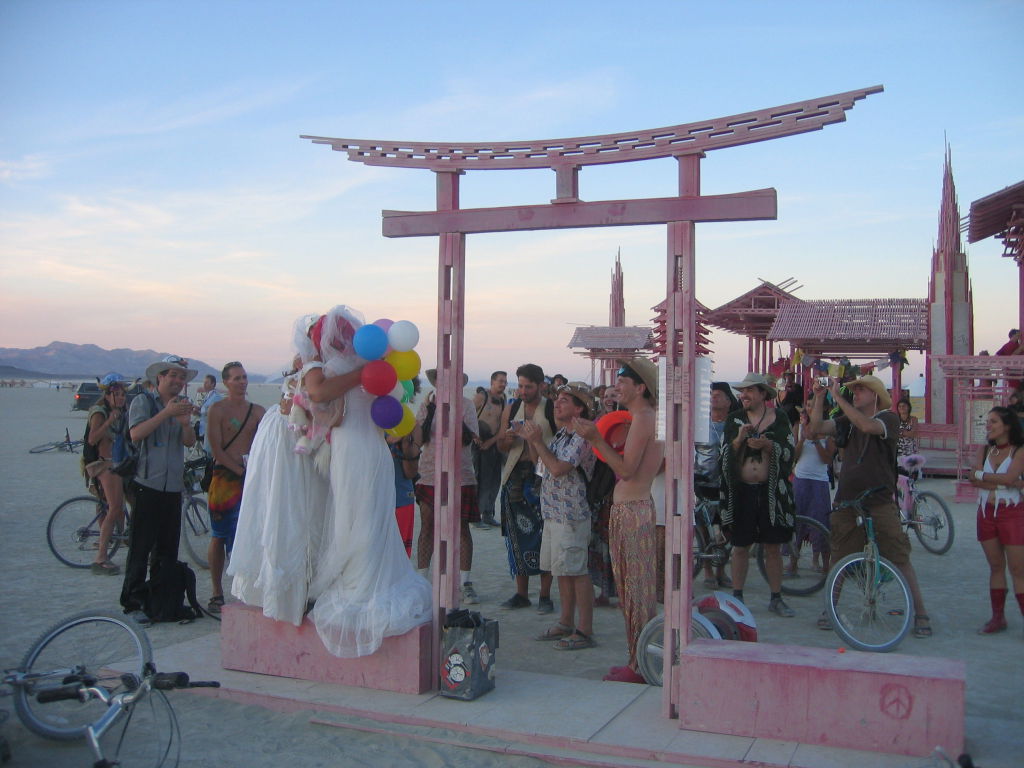 And then was time for sunset, with a few pictures, like the one of the great Colossus, this year's giant structure in front of center camp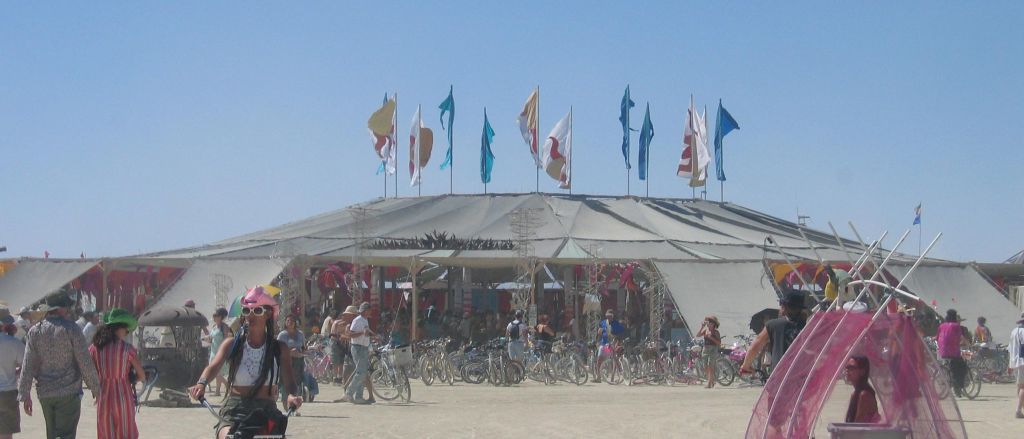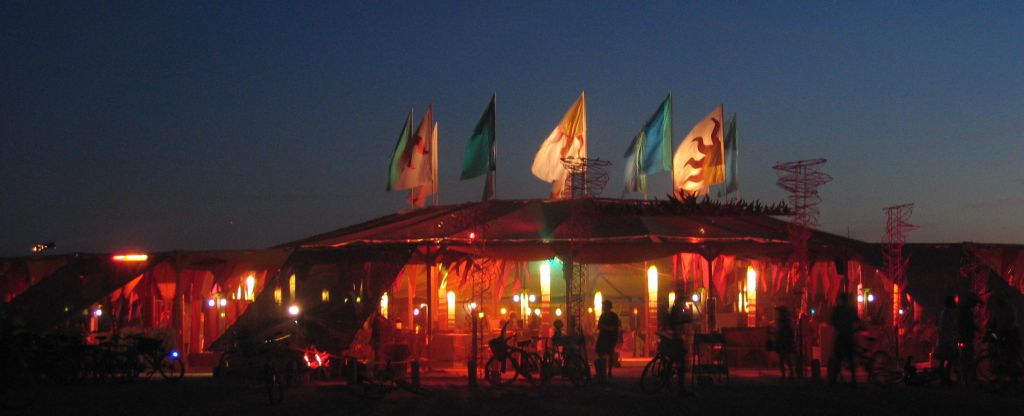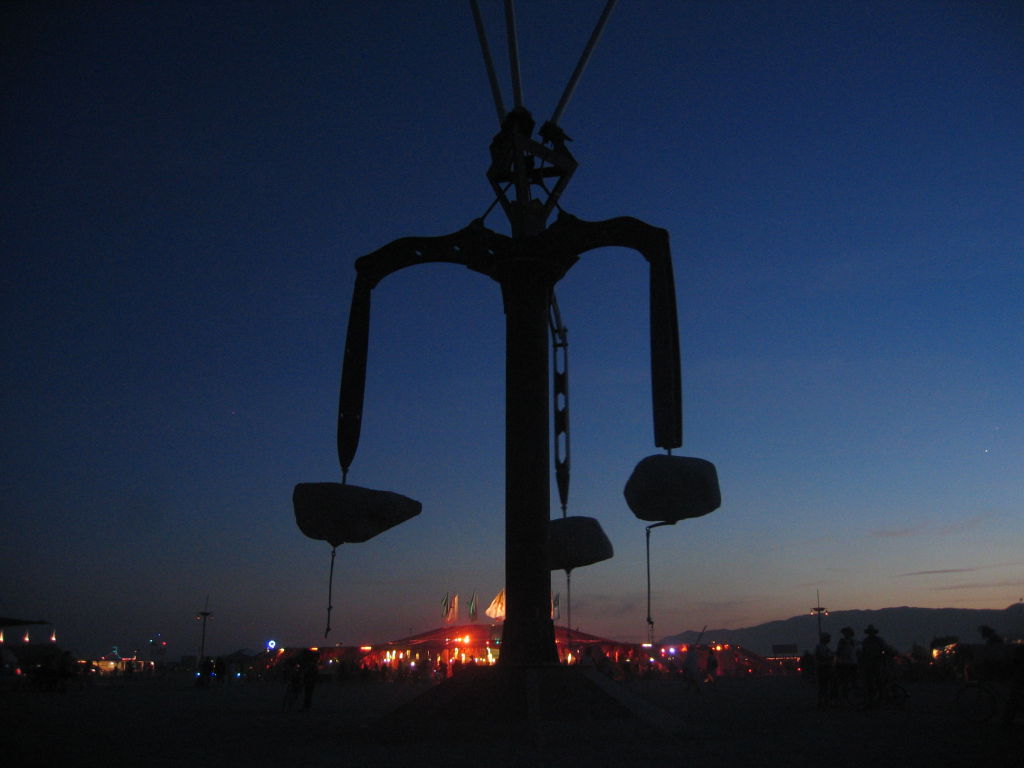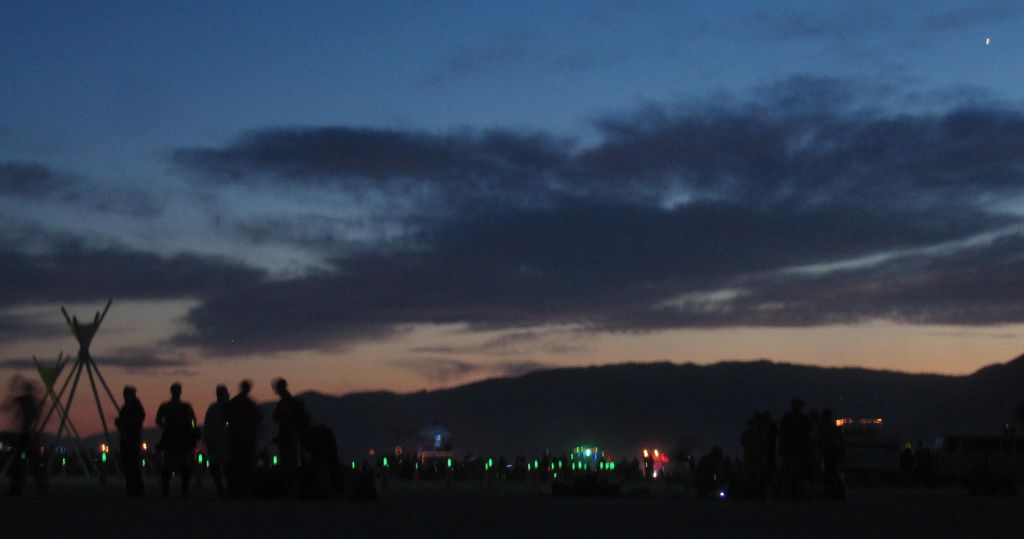 That night, in addition to checking a few "night clubs", I went to see the various fire installations, some being very welcomed repeats, and the others being new. If you like stuff that burns, and/or would enjoy videos of some of those, you can find them here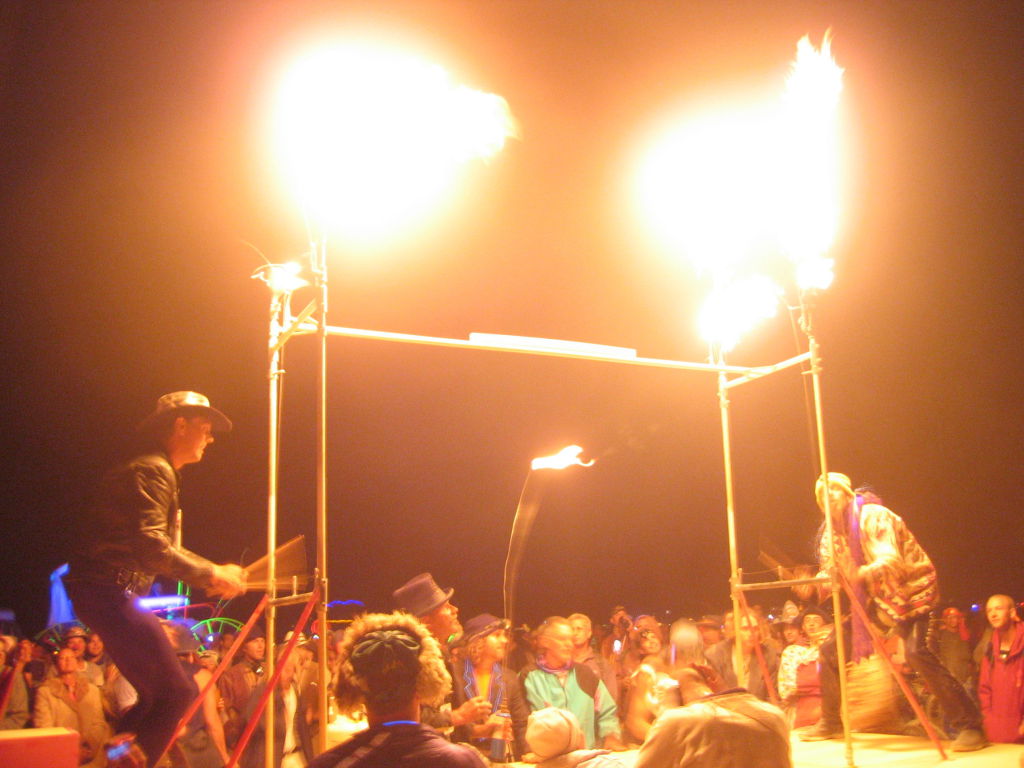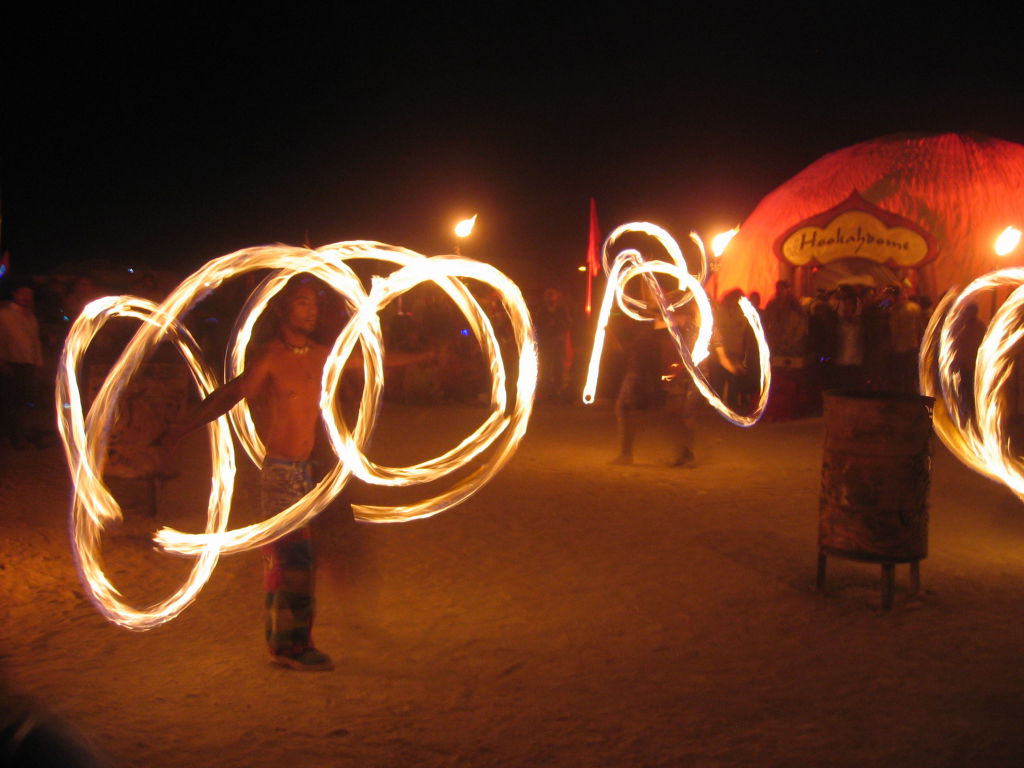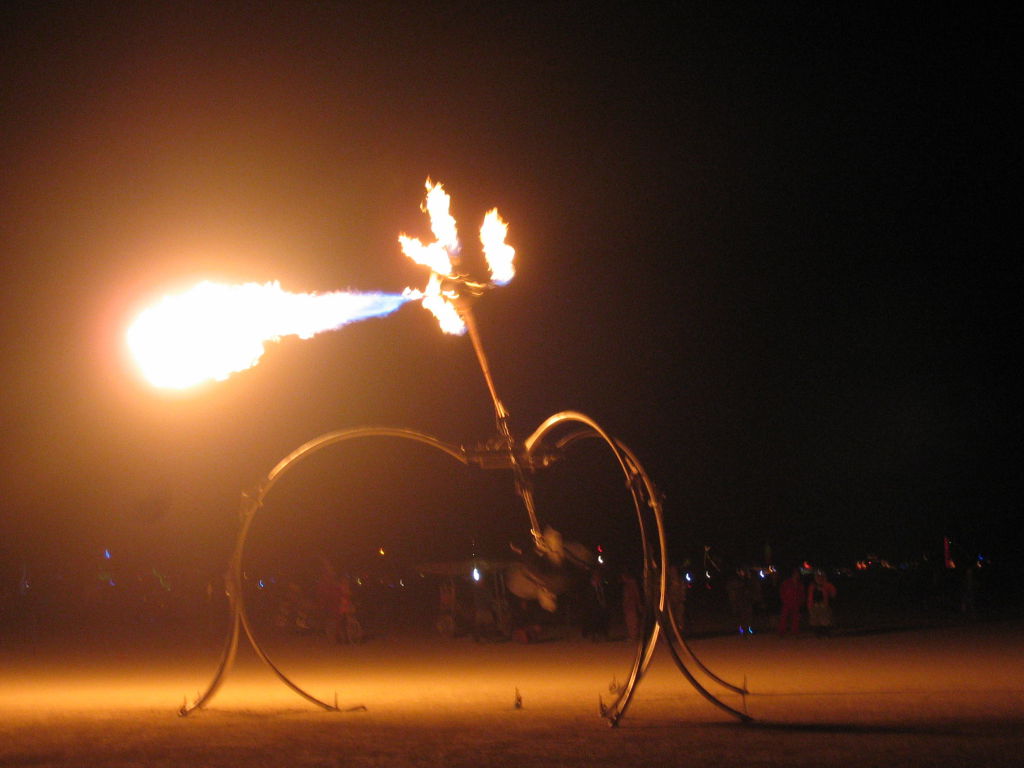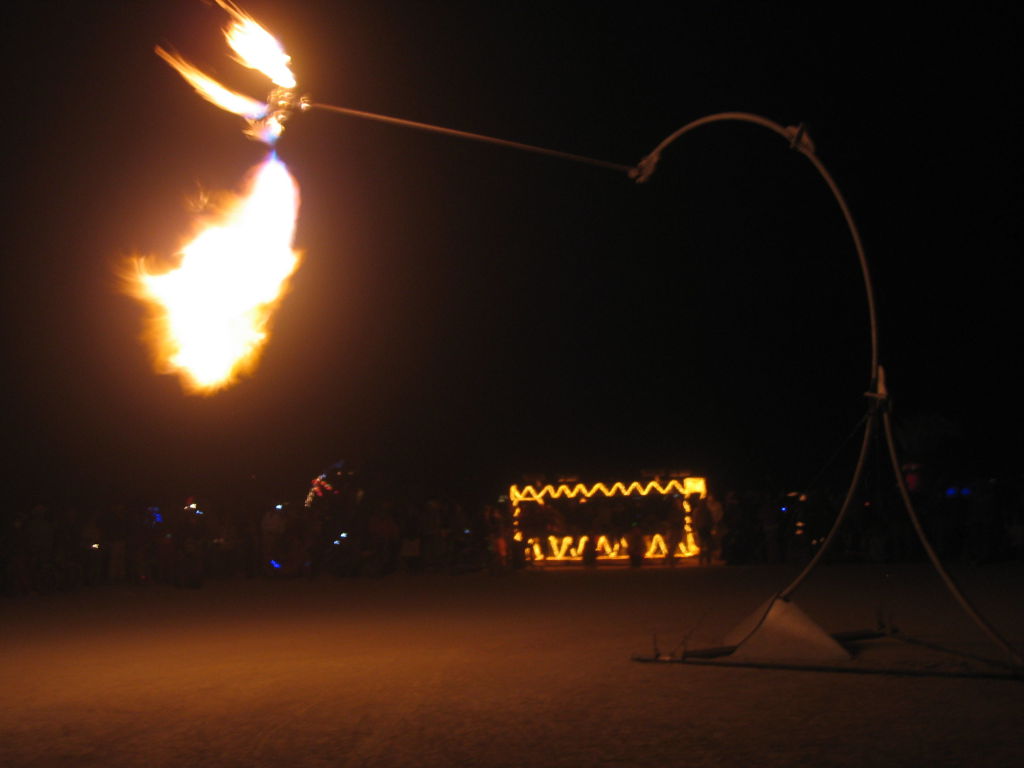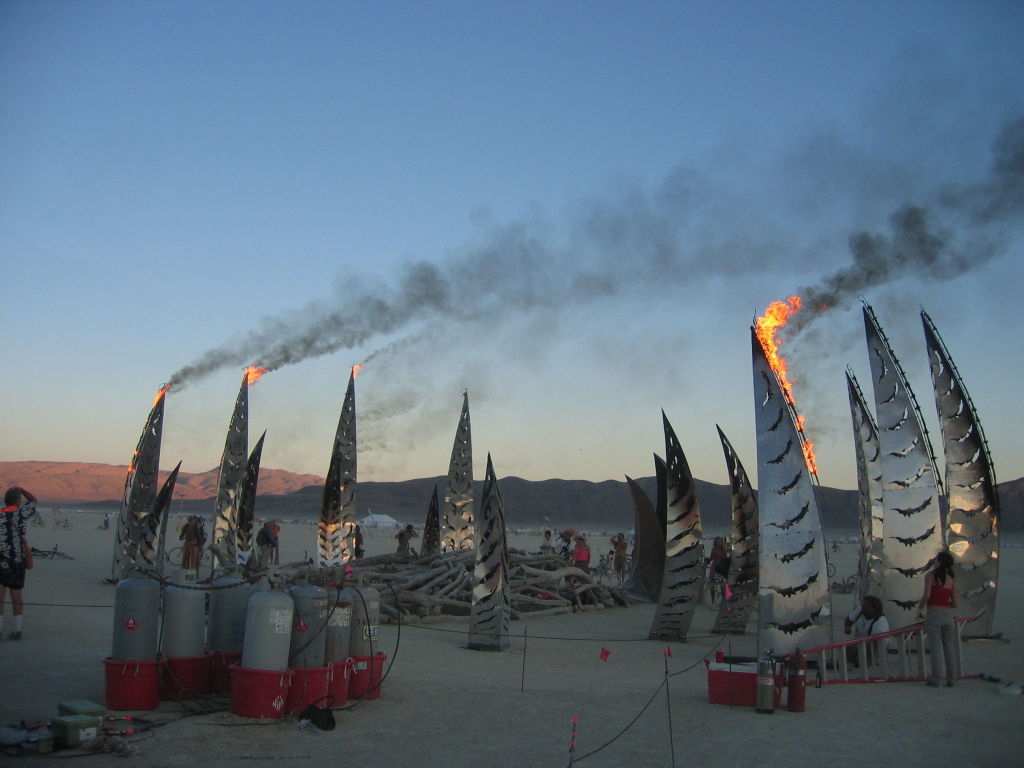 Day 3: Friday
In addition to visiting more camps, I had to attend the two yearly rallies: first the critical dicks march, and later the critical tits bike ride, which was the largest one yet: it went on for 45 minutes. This is actually the first time I've heard men say "Ok, I've seen enough tits for today"

You can find the rest of the critical dicks pictures here, and critical tits there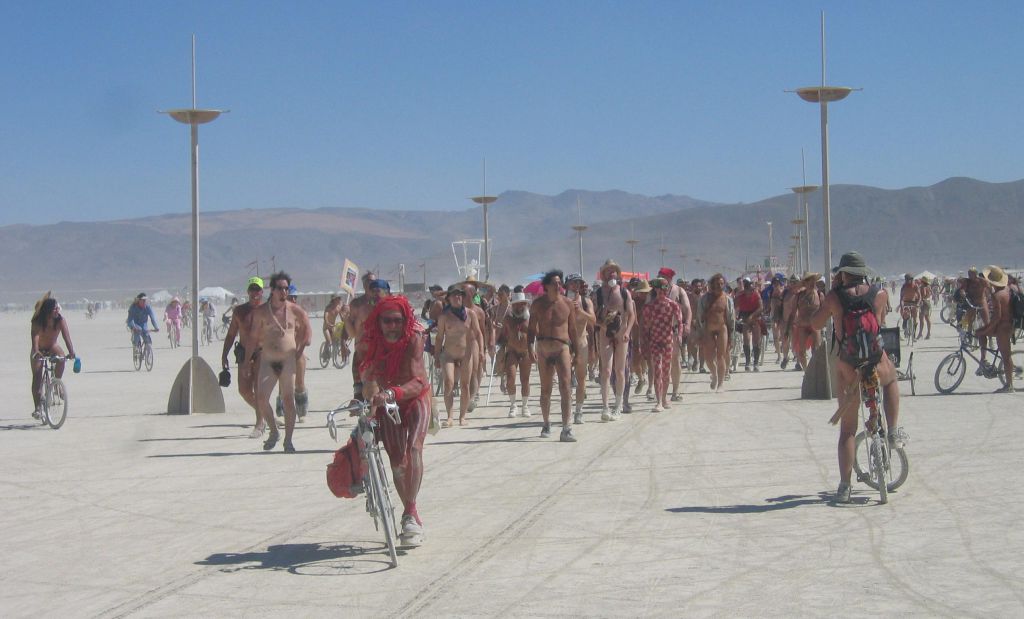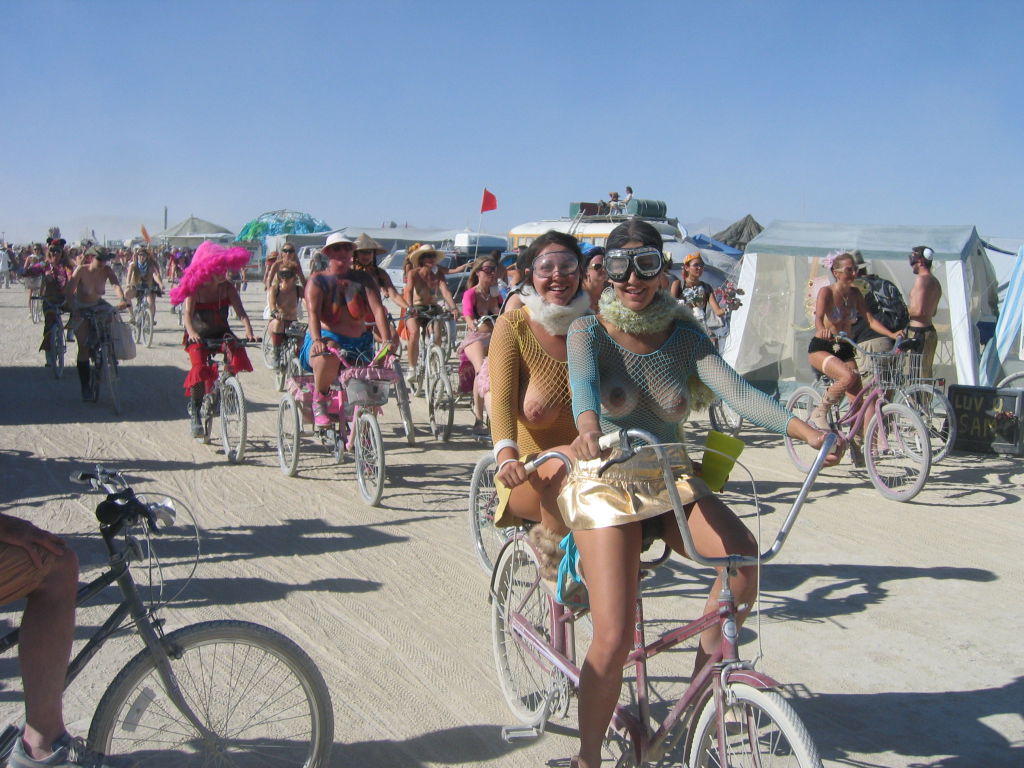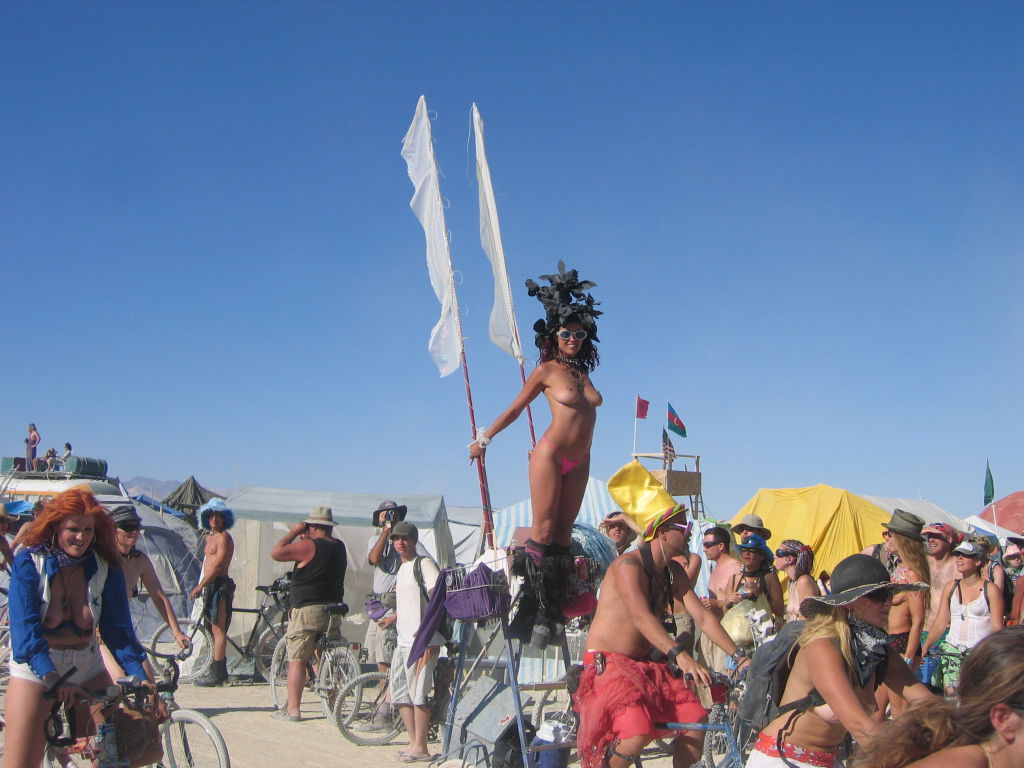 Since I was nearby, I went to visit the airport, which had gotten a few more planes since I landed, including the nice BRC Travel Agency twin (nice paint job). If you're curious about other planes, you can find them in my airport pictures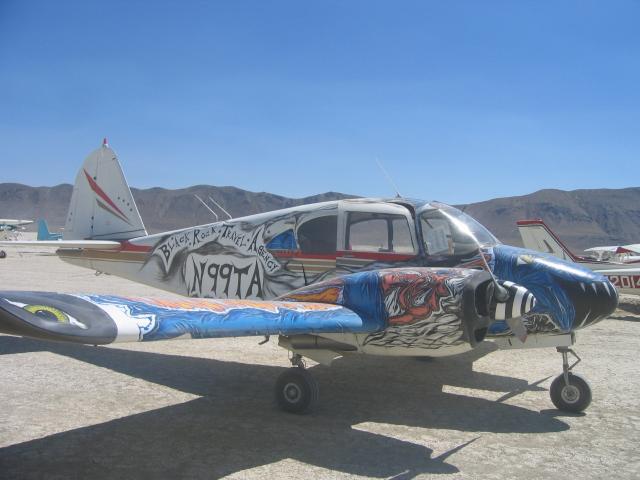 During the days, I also ran into lots of people, too many to name, but I'm listing showing a few pictures below, while the other ones are here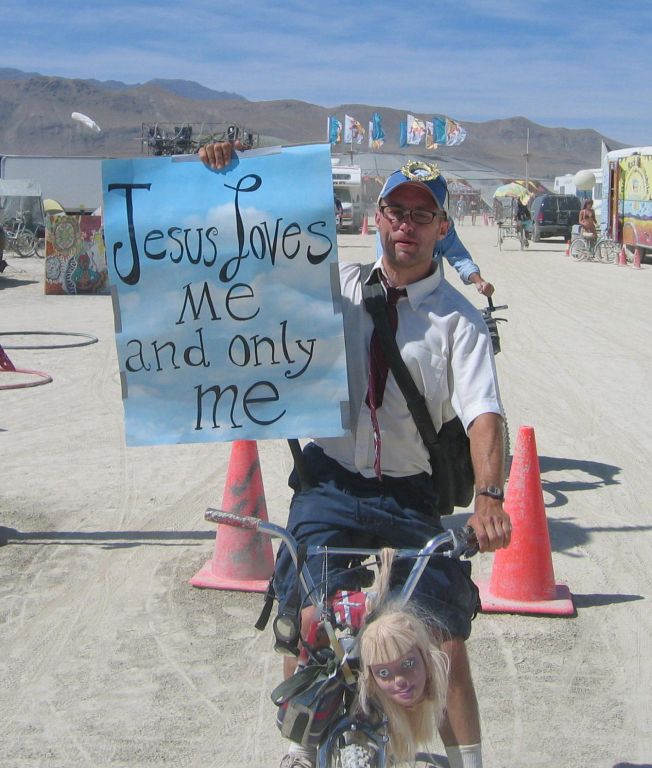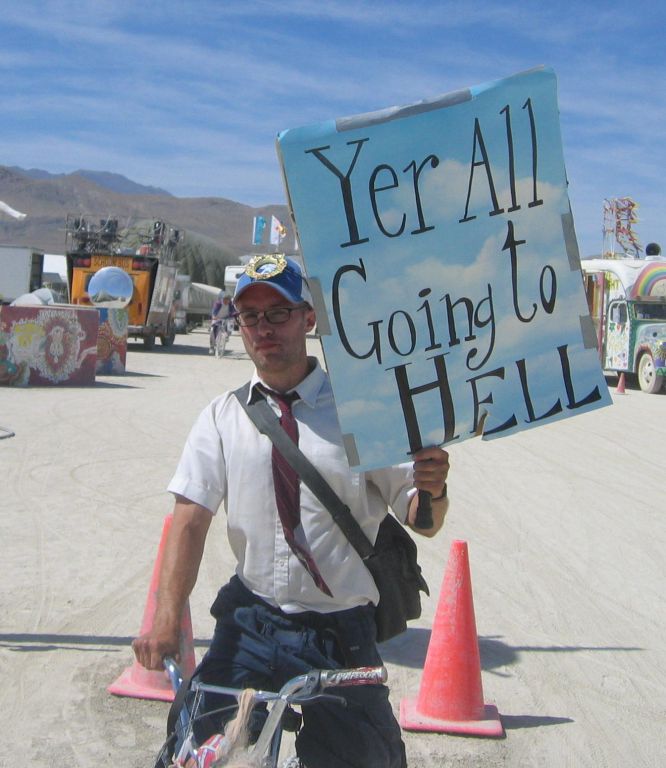 "and the correct answer was Mormons, thanks for playing", cf South Park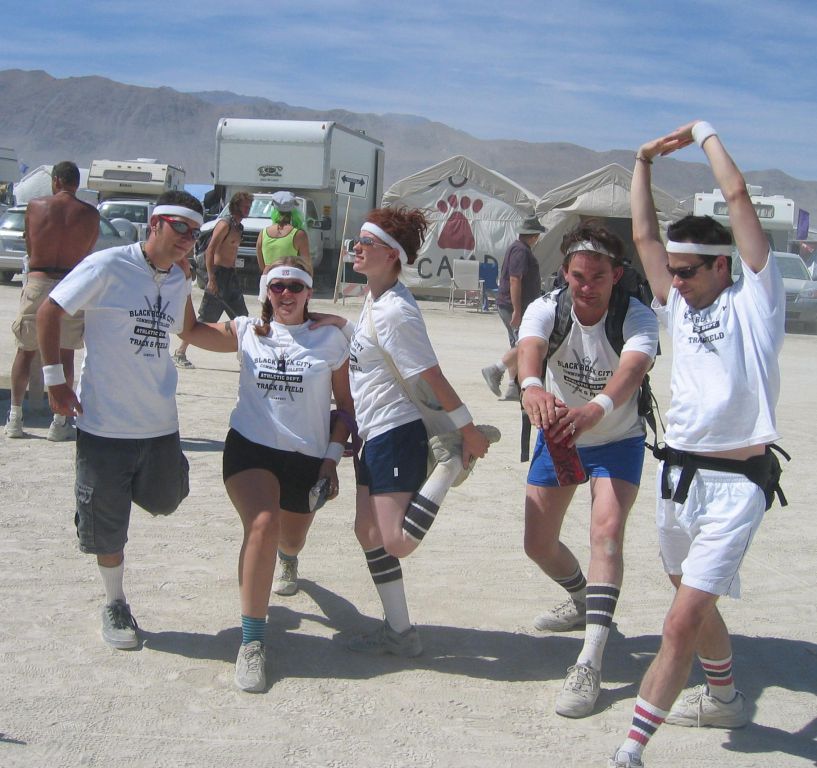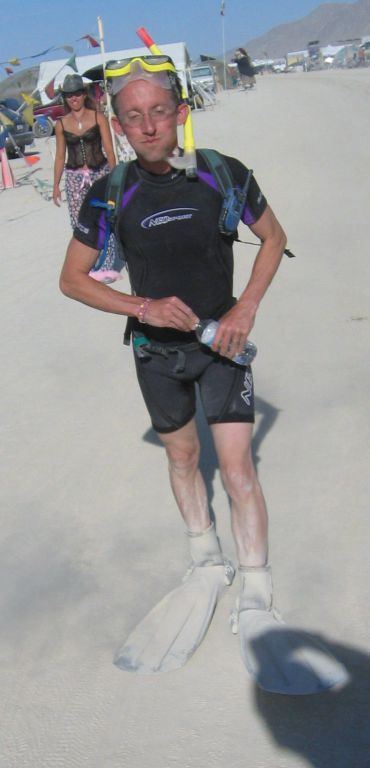 The tough part in the triathlon is the swimming portion / There's lots of sand, but where's the water?



As sun was setting, the tireless Lamp Lighter volunteers once again made it so that we would have some idea of where we were, and where some of the streets were (thanks again for that)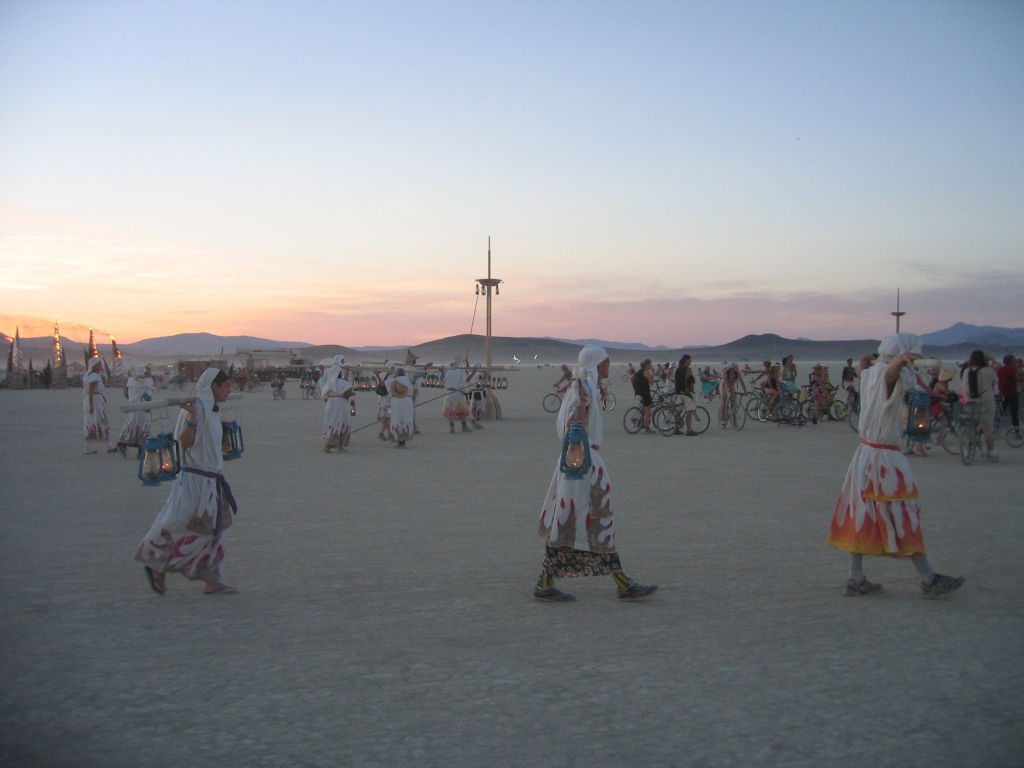 As part of the night events I went to, I saw Dance Dance Immolation, which was a spoof of DDR. The twist was that both contenders were in full bunny flame proof suits, and had flames blown at them when they screwed up too much. This was the best idea of an interactive game I've seen. Kudos to the team that set it up.
(you can have a better idea of what it looked like by watching the few short videos here)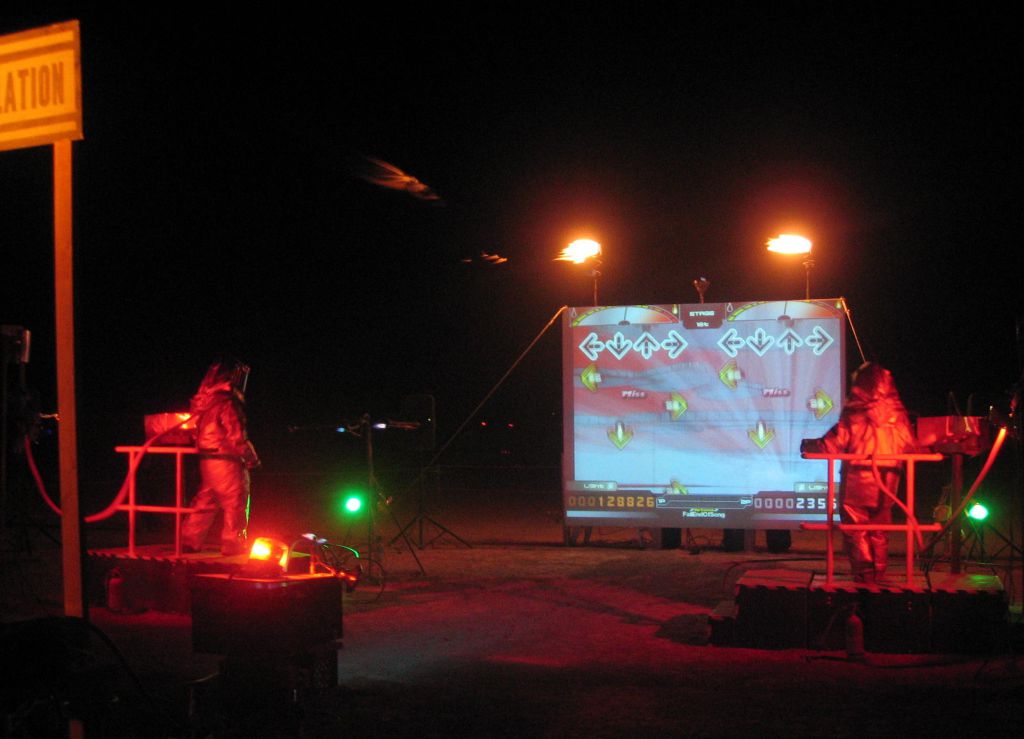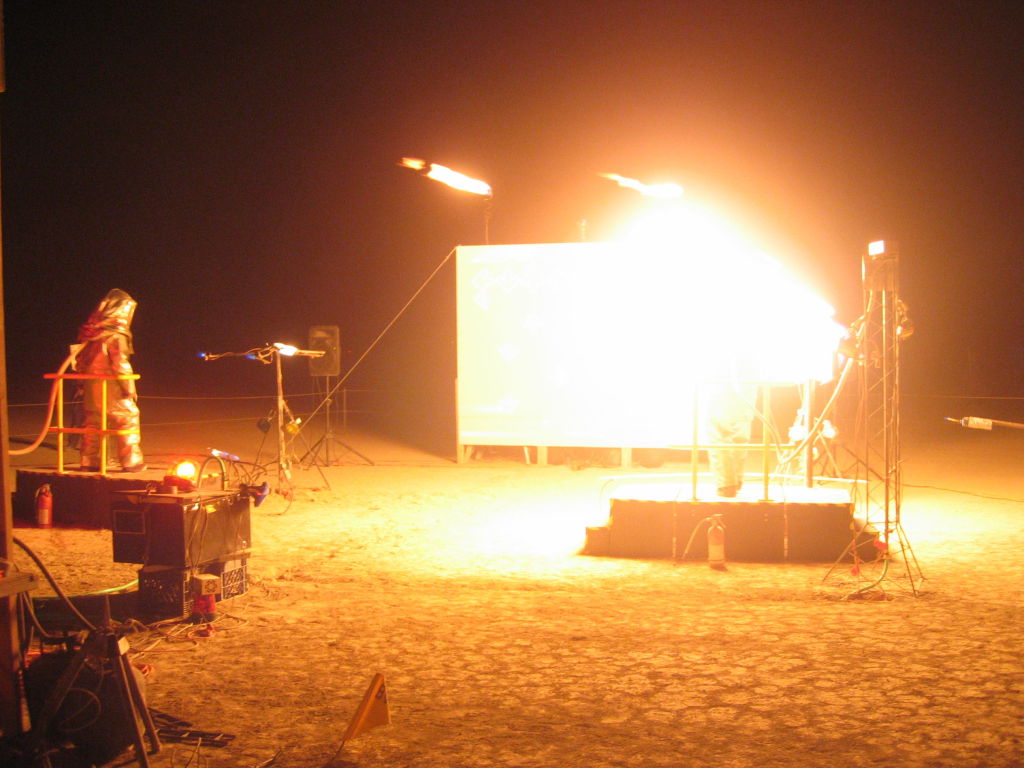 Other nice ideas were the Simon game made with fire (videos here), the giant Mousetrap game (picts/vids here), and the way out there dome, apparently showing brain synapses (morepicts/vids here)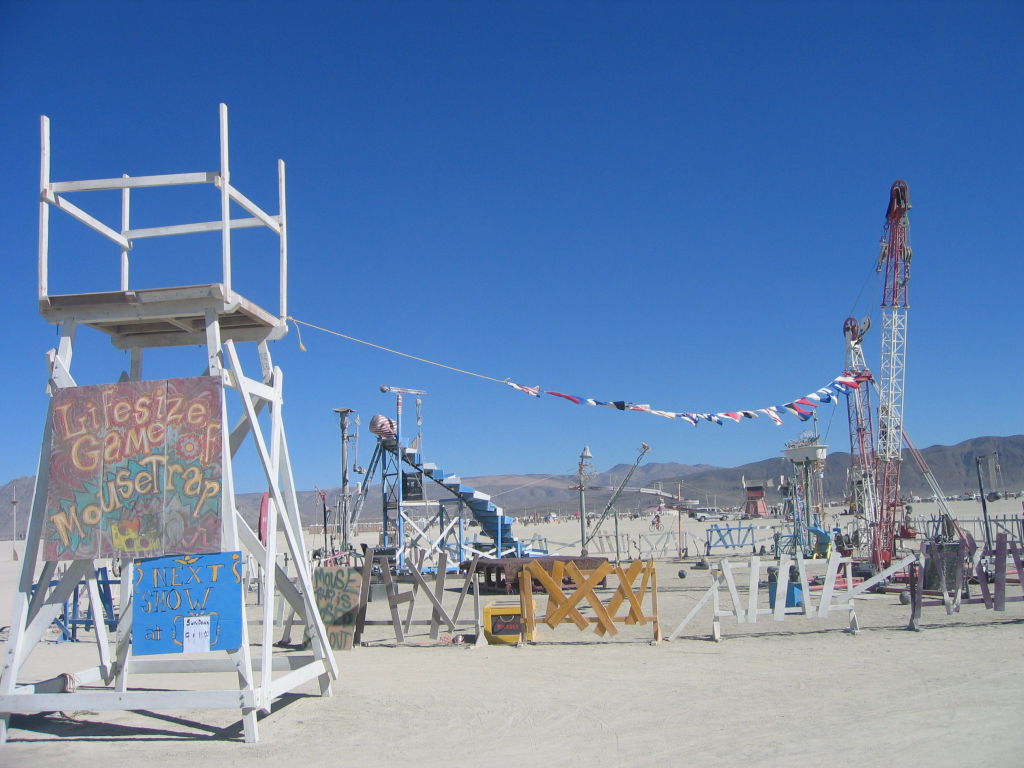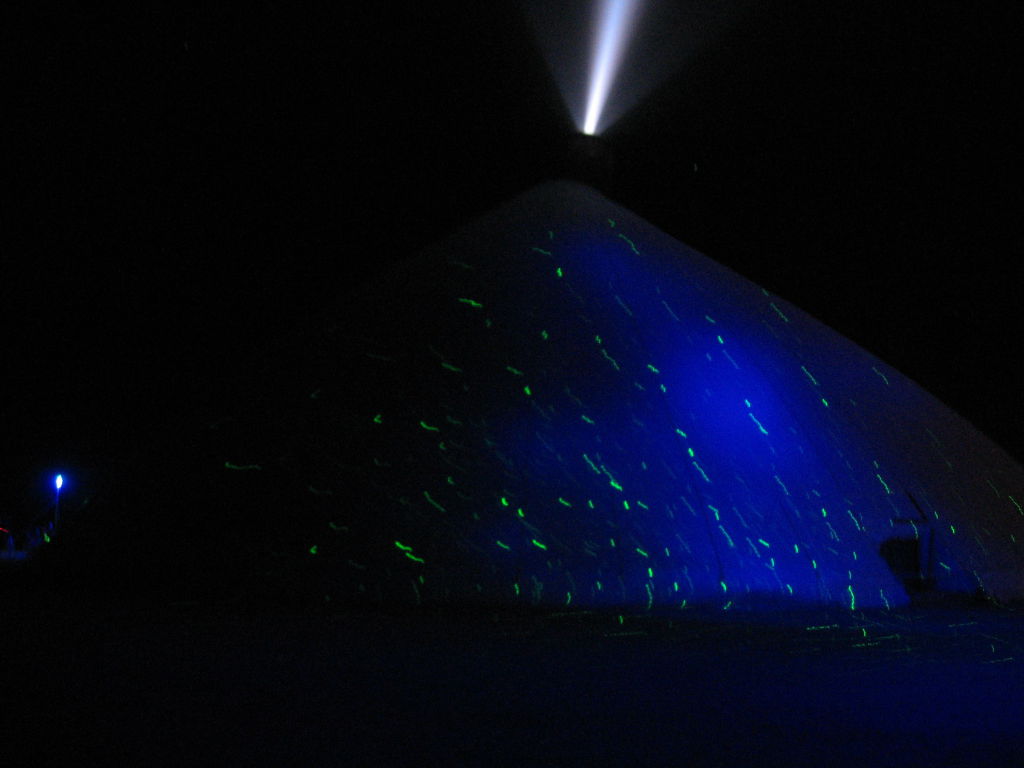 Of course, the highlight for me was actually no one else than Paul Oakenfold spinning at Oppulent Temple. Words cannot express how awesome that was, not only because I love Oakey, but especially because hearing him at Burning Man was just an awesome experience (with people doing fire juggling, playing their own instruments, the random art cars that came by, and the great flower that came to say hello)
By the way, I have more pictures of Oakey and great DJs spinning on my clubbing page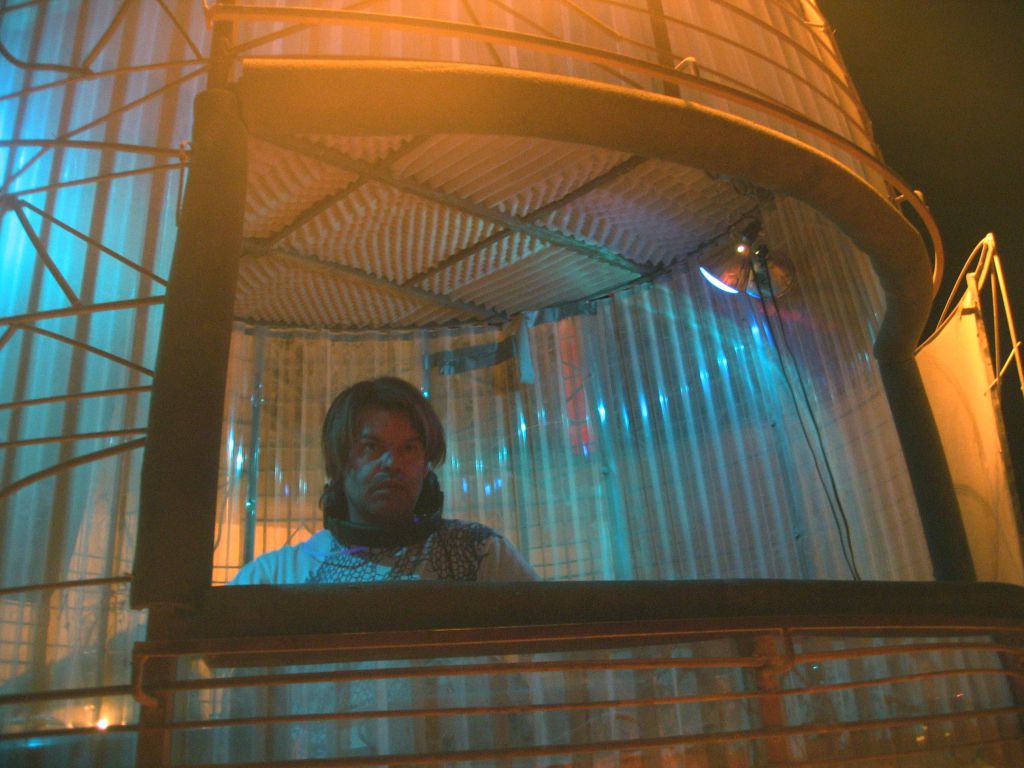 I didn't get lucky with the pictures, Oakey is a great guy who smiled a lot, just not when I was taking my pictures
)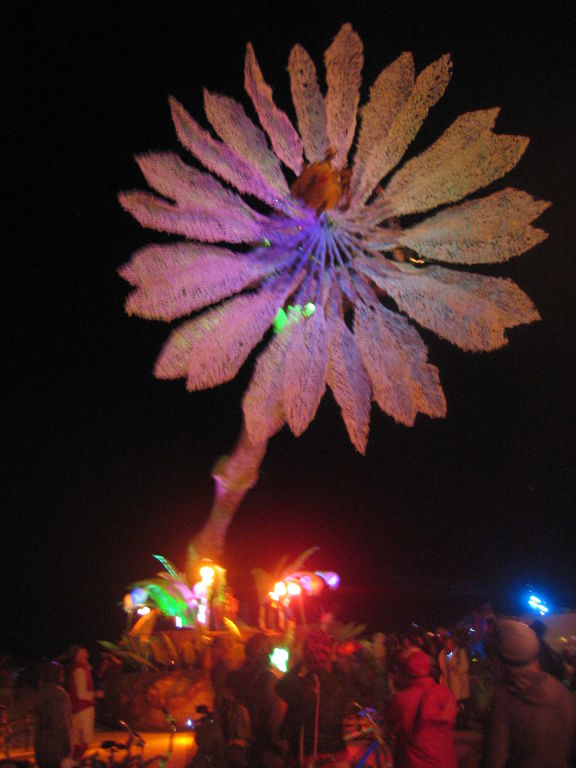 Day 4: Saturday: 'Burn Day'
On burn day, a few common reminders were given, along with setting the party advisory system to severe (middle picture). A guy did actually set himself on fire this year (well not quite): he walked across the hot remains of the man fire, slipped, fell into it, and had to crawl out, severely burning his hands and arms apparently.
I'm personally amazed that not more people get seriously injured considering all the stupid things that people do, often while drunk or stoned, and the fun attractions that include heights in different fashions. My stance is that Darwin looks the other way during burning man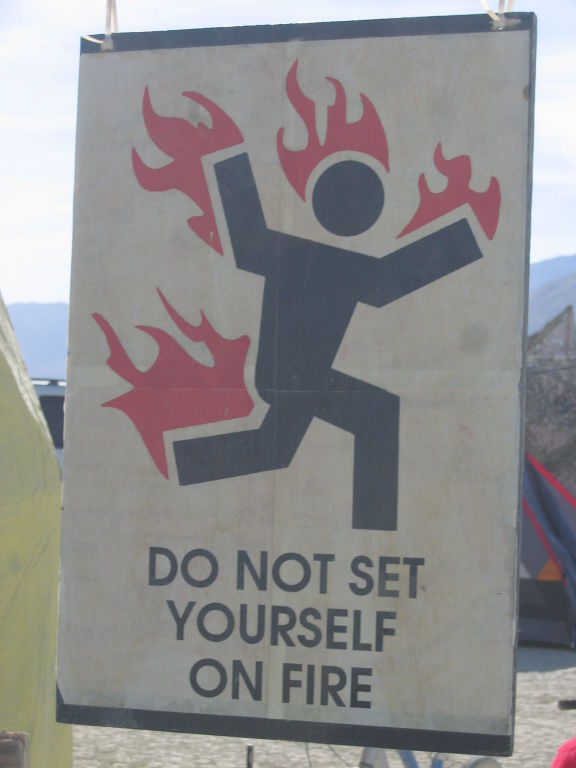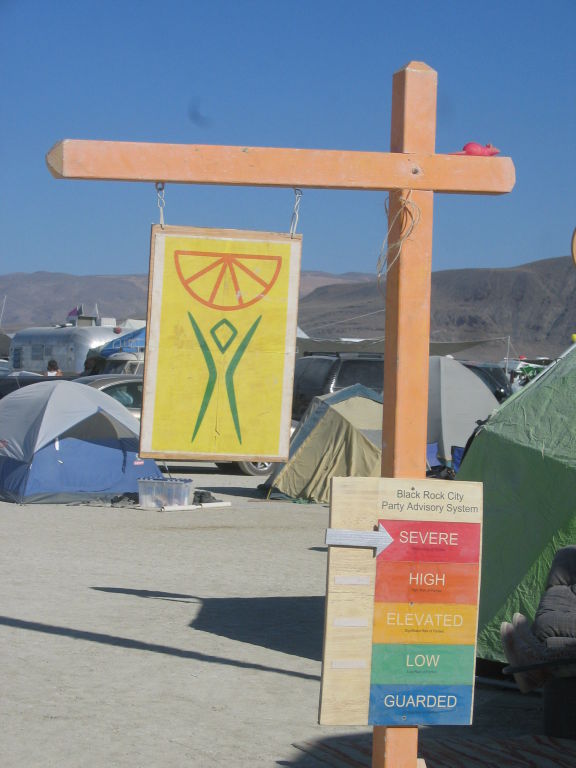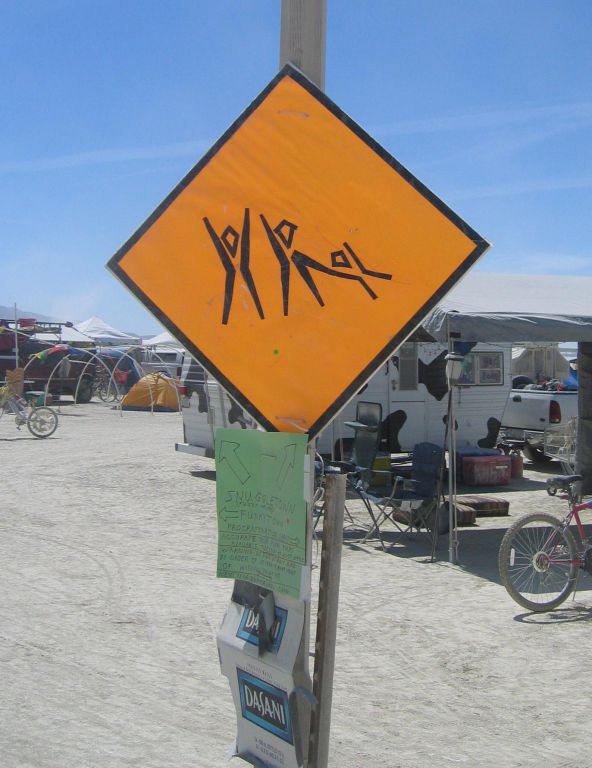 Click on the middle picture to see the party advisory system, hilarious

Anyway, I spent the day finishing to visit the camps I hadn't seen yet, along with Amy who tagged along for the occasion. I had another 2H30's worth of streets to visit (sunday is typically too late as people leave or tear their camps down)
We ran into an bunch of other fun camps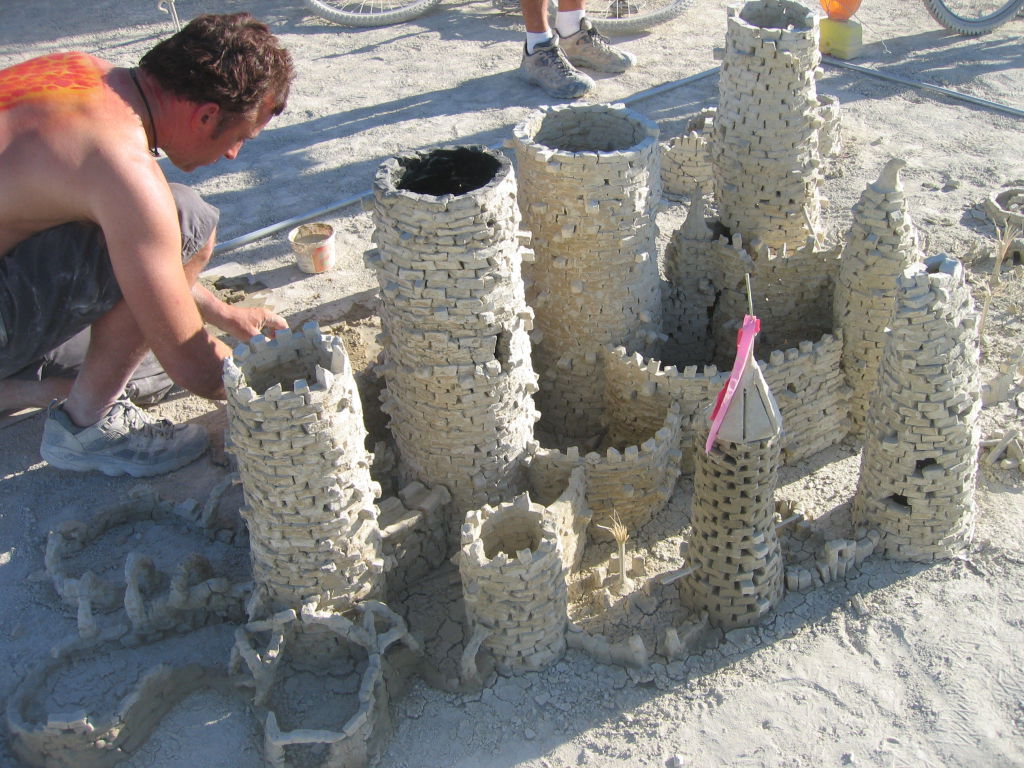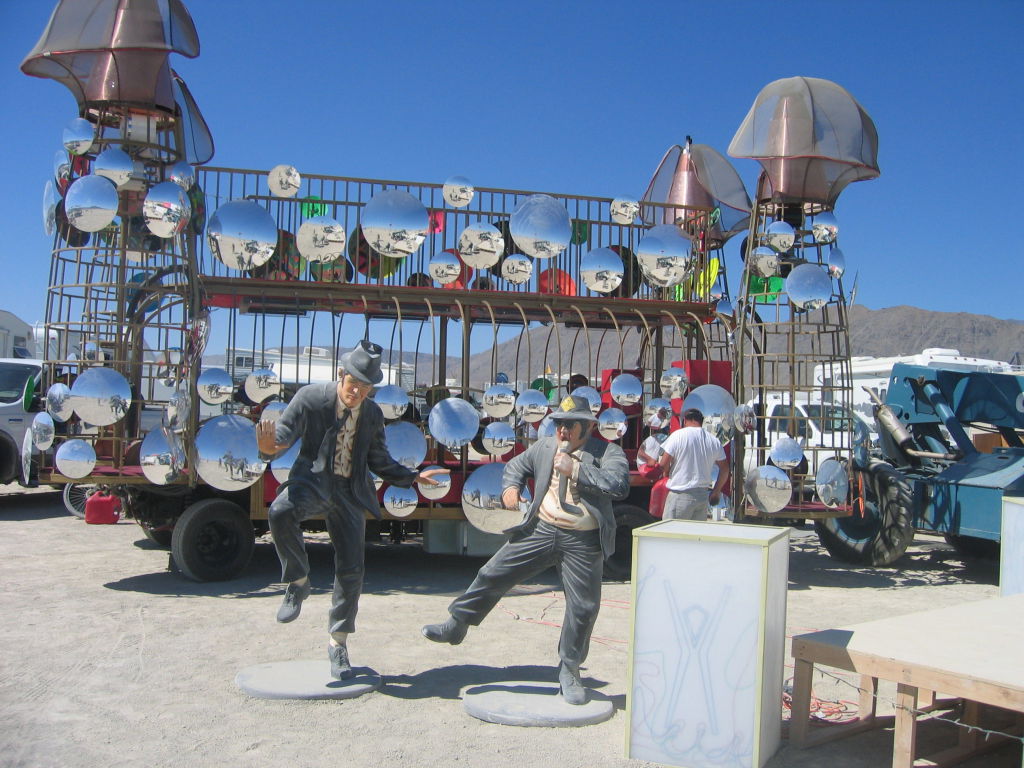 and had some well deserved rest at the very nice Tea Temple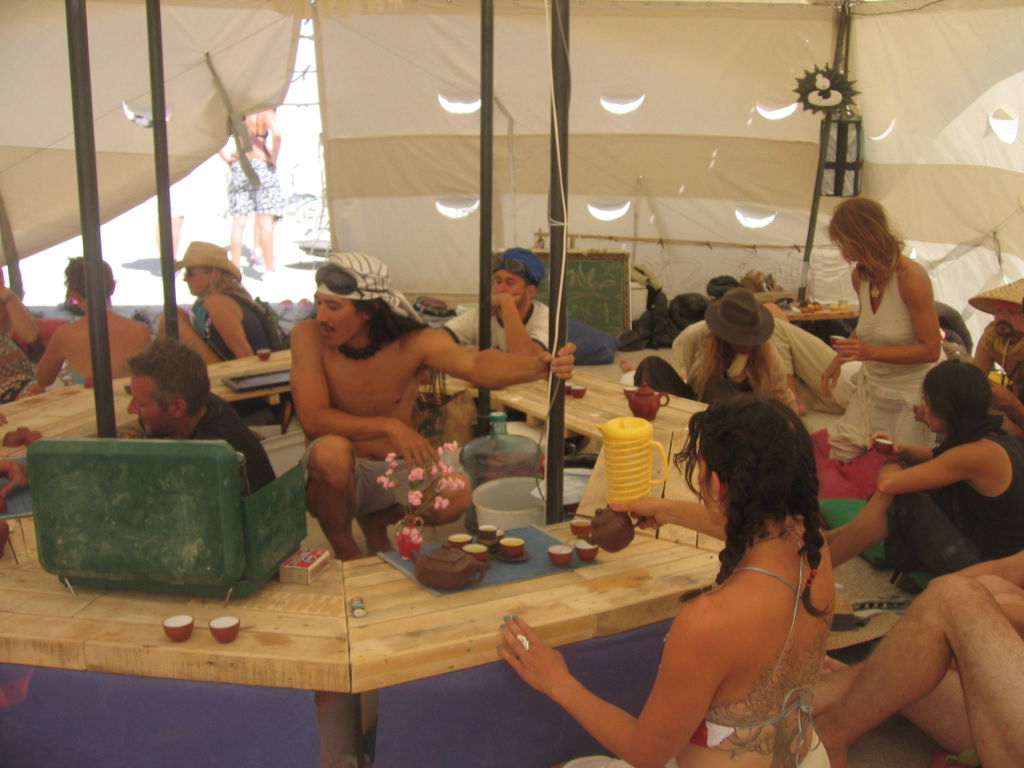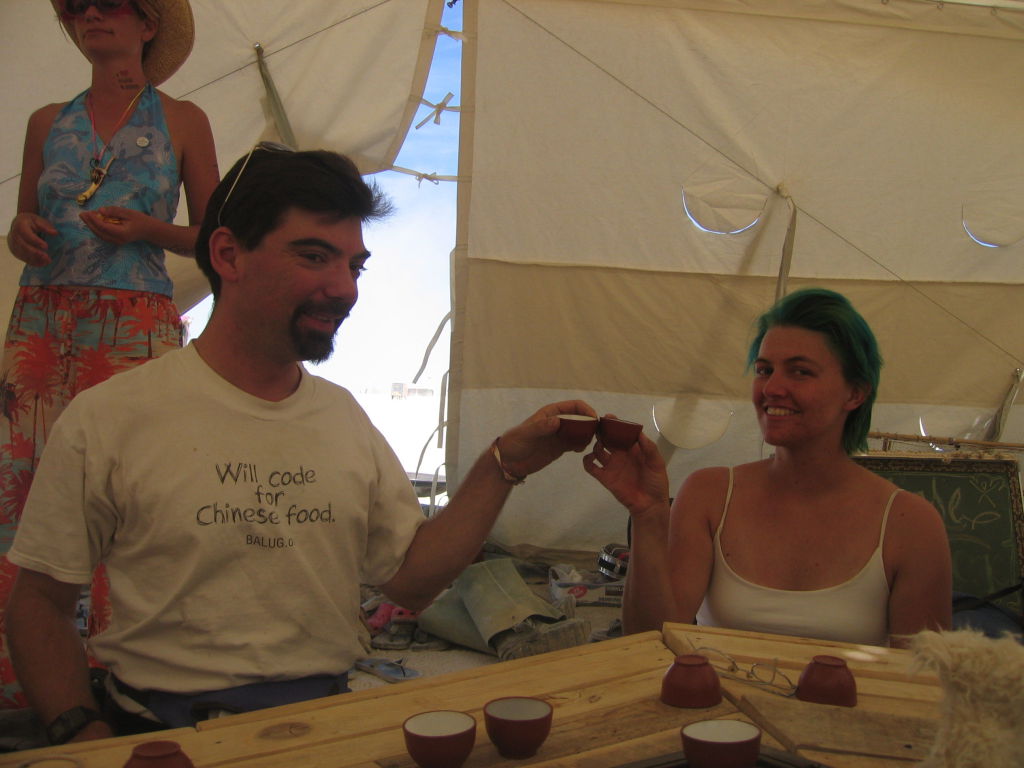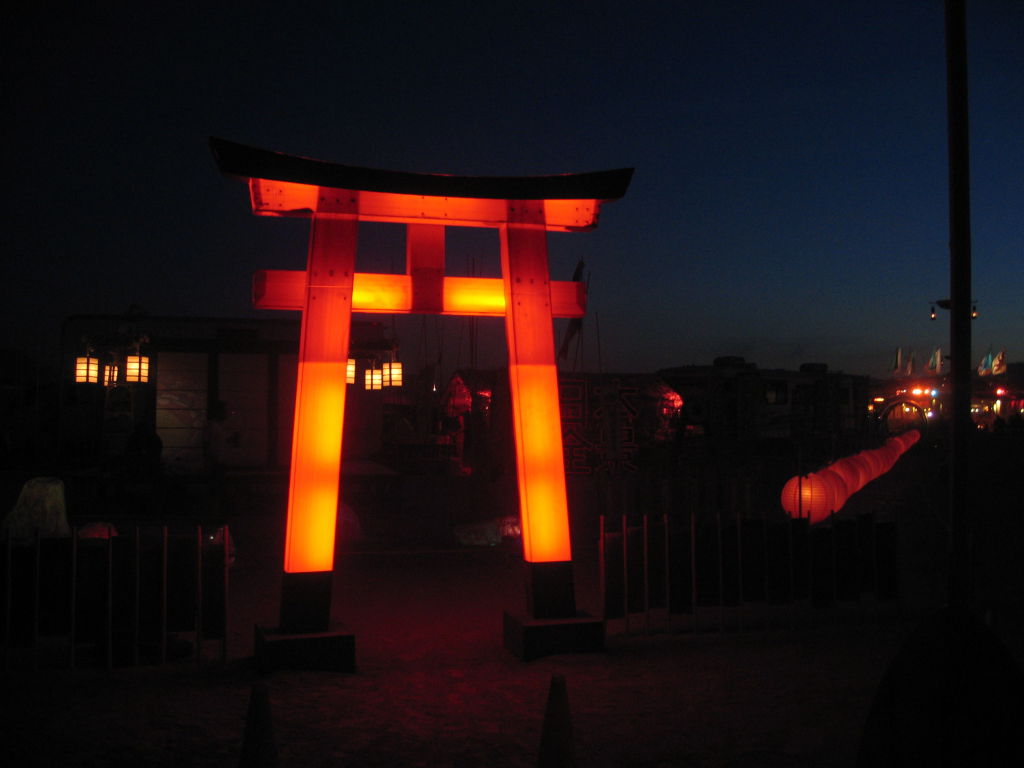 Now is probably a good time to mention that one of my little games it to collect as many weird/interesting bike pictures as possible. Basically, I think this year was probably a record. Participants definitely get kudos for the bikes that they built this year: some, I'm not even sure how you can climb on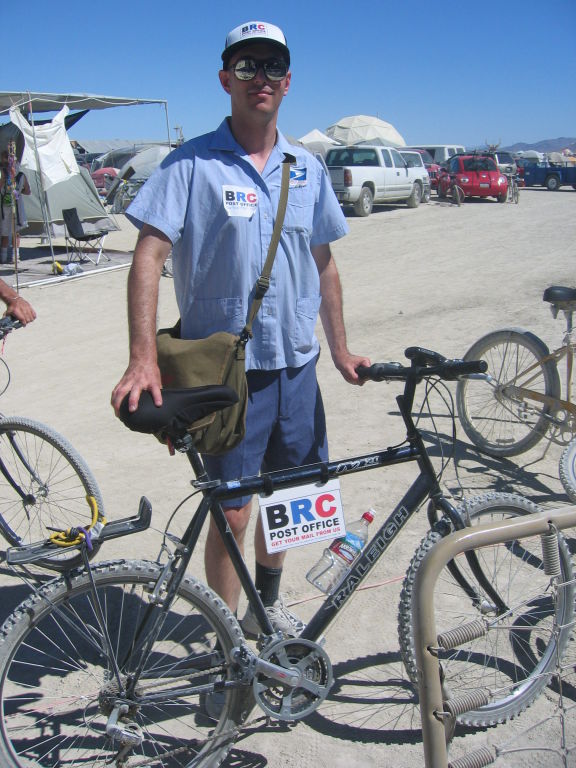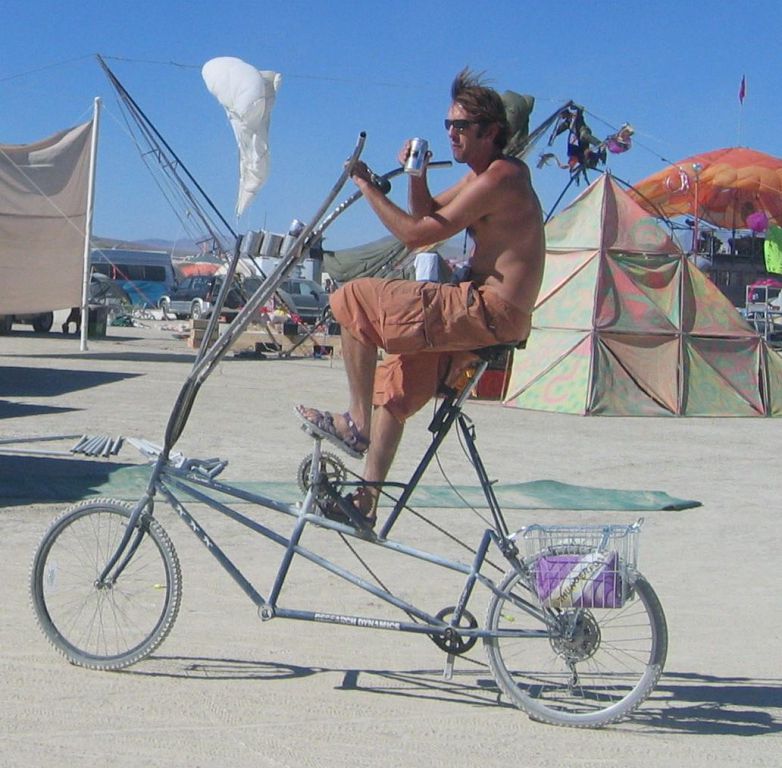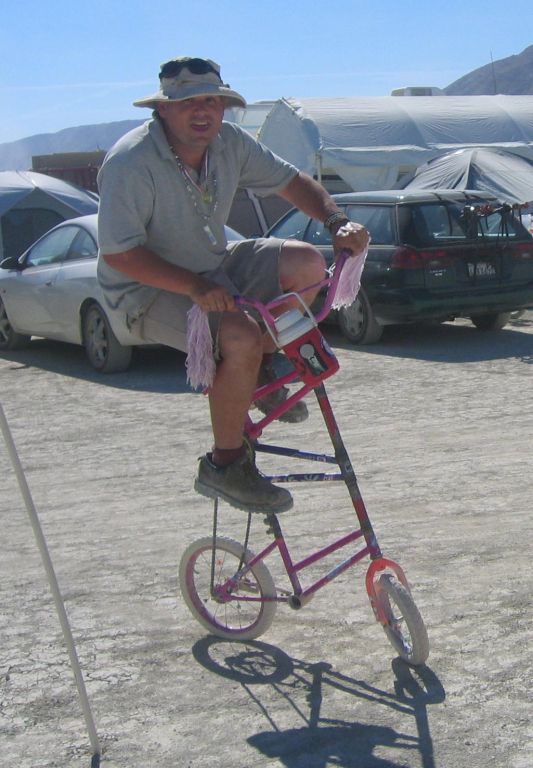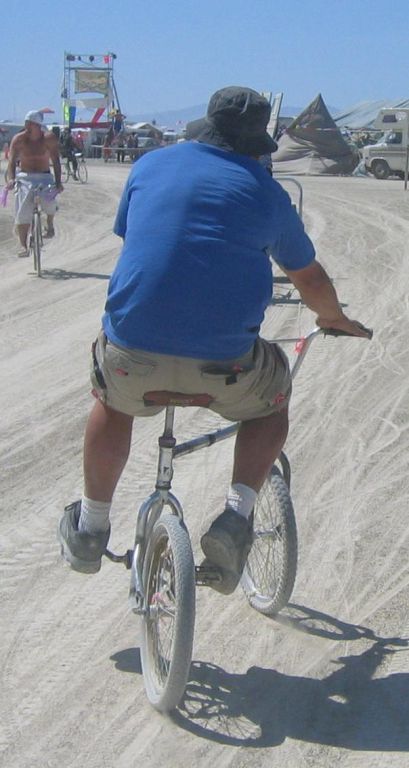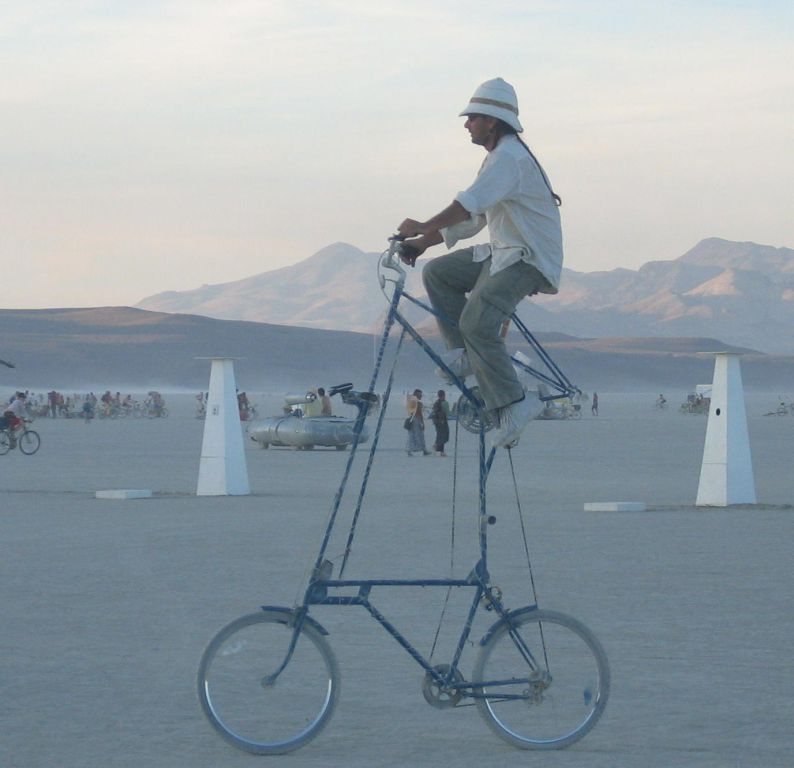 All right, how the hell do you get on and off this thing?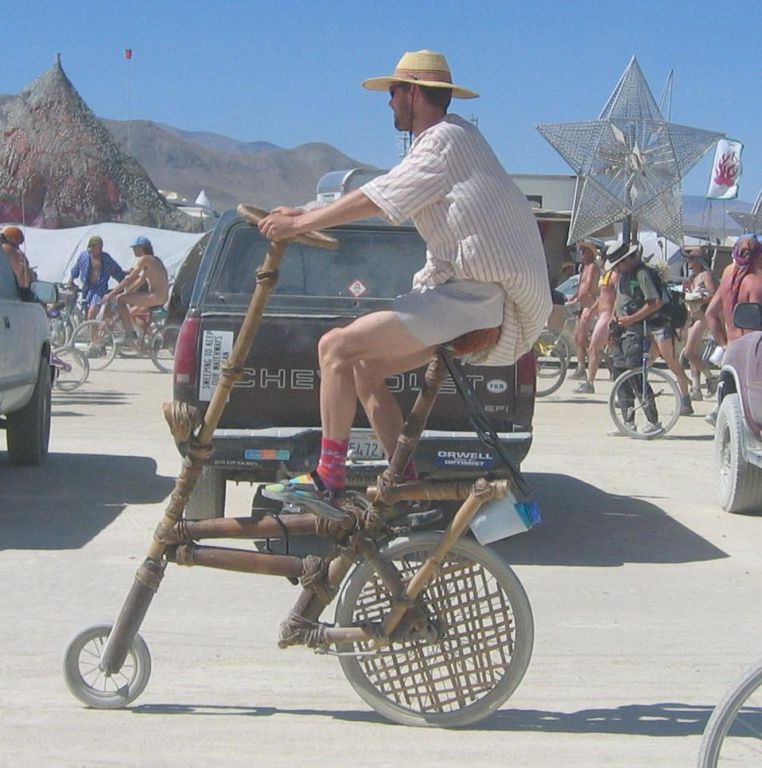 Winner of the flingstones contest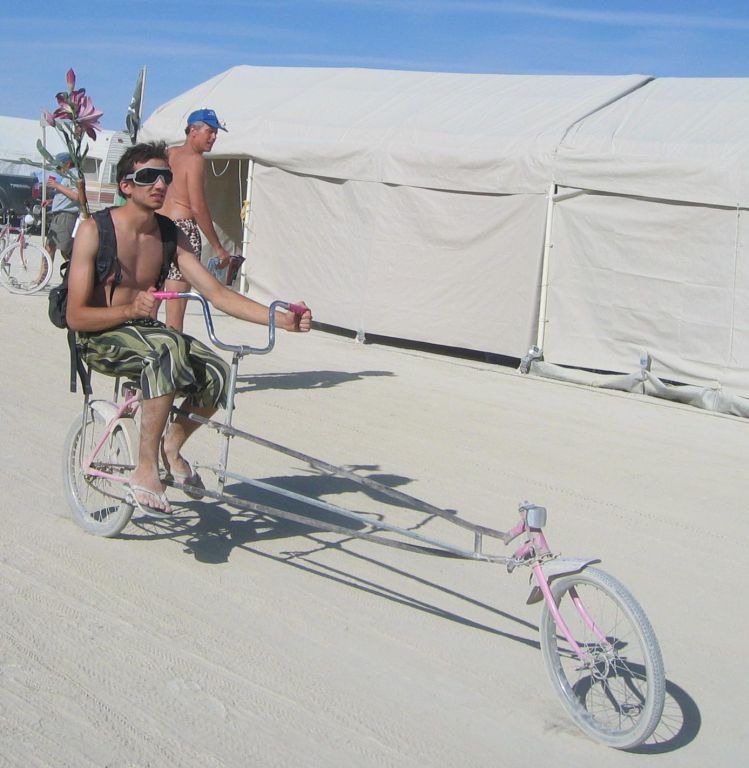 Hot rod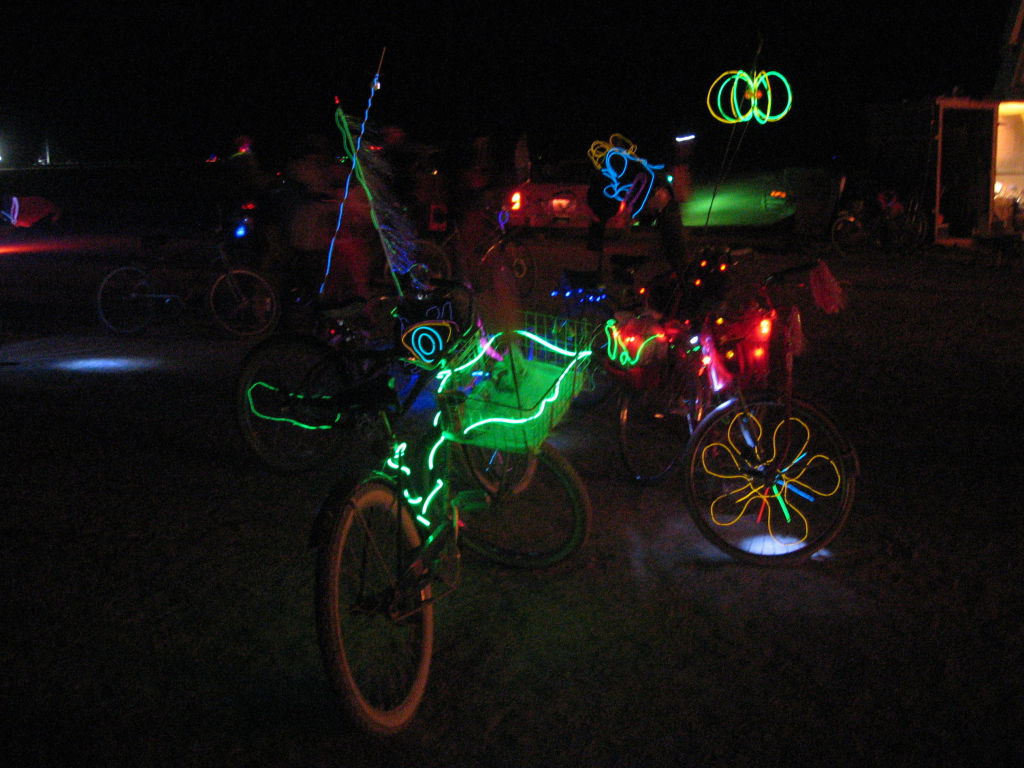 Special mention goes to all the bikes so well decorated at night (hard to photograph)



Of course, there were just as many (if not more) crazy vehicles (aka Mutant Vehicles) as always, and I played the spot the cupcakes game with Amy. Turns out there were actually 8 cupcackes roaming around, and I found out later that they happened to be stationed in my camp (Camp I Am).
You can browse the rest of the numerous Mutant Vehicles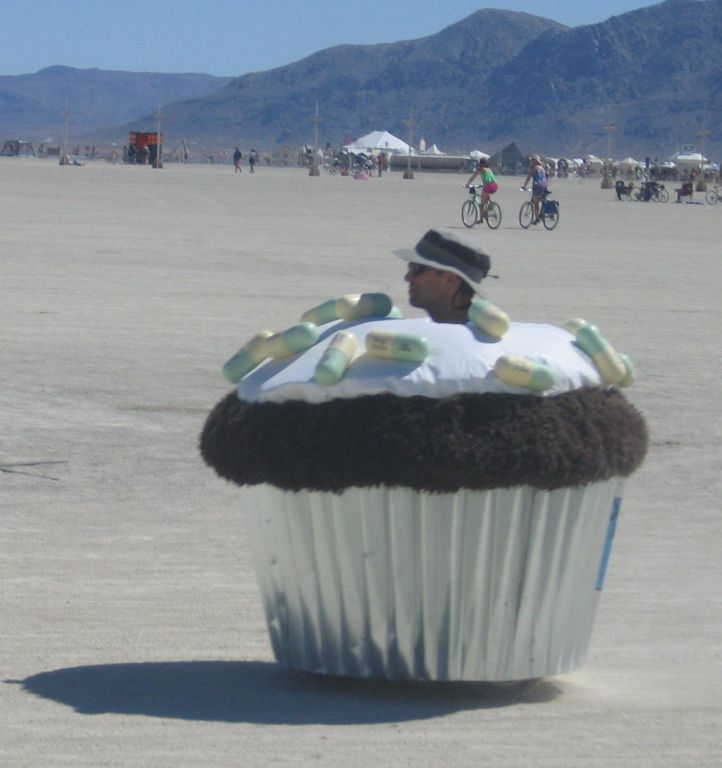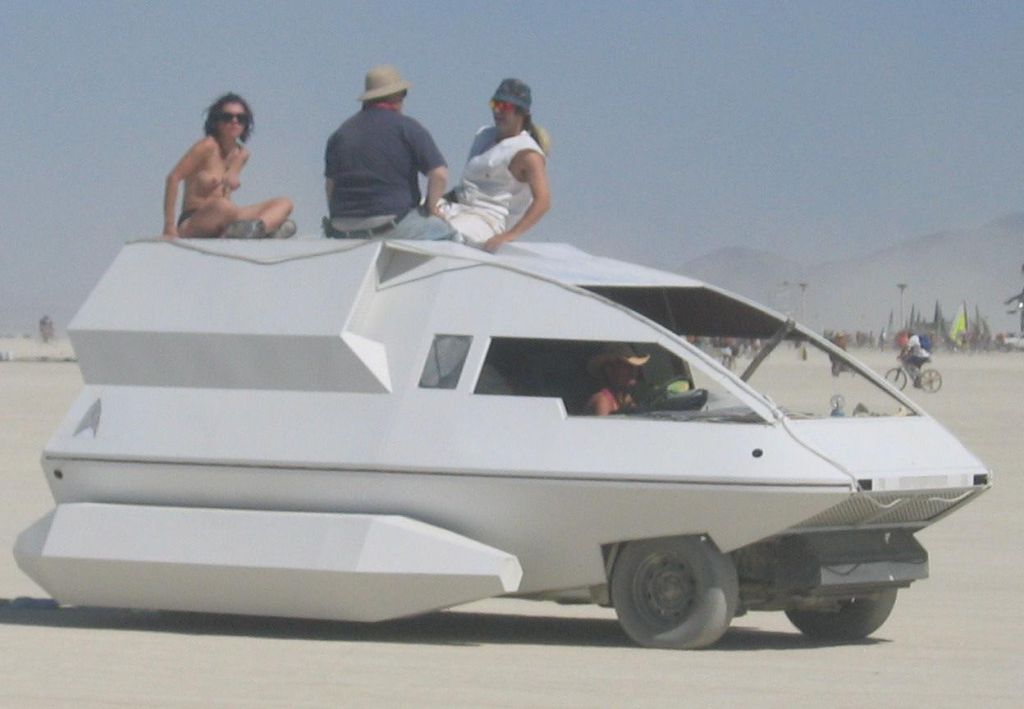 When you can be beamed up, a shuttlecraft ride is the next best thing

Then, we went to see a very nice fire juggling show, and some kind of freak accident happened: caught fire and burned to the ground. What a shame. It's the 19th year in a row this happens, damnit!
You go can look at the numerous pictures of the burn, along with the cool dust devil like twisters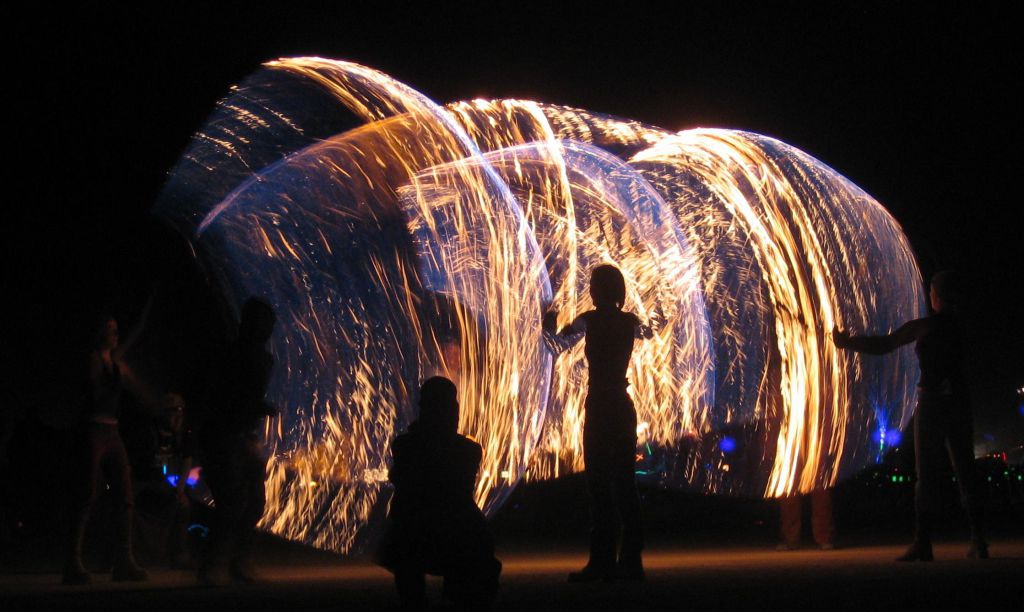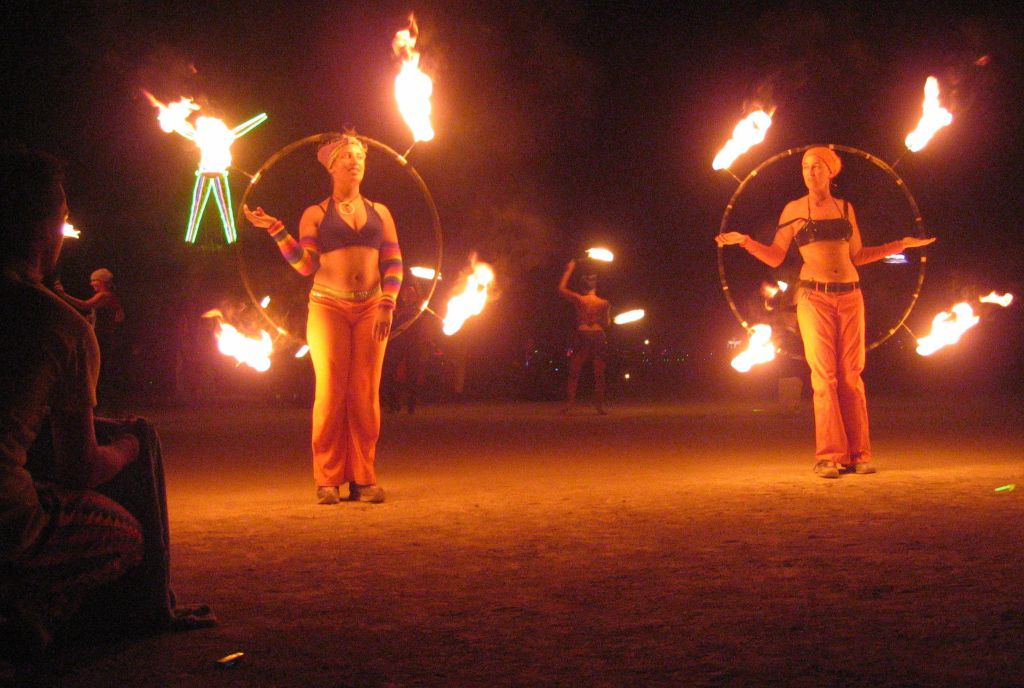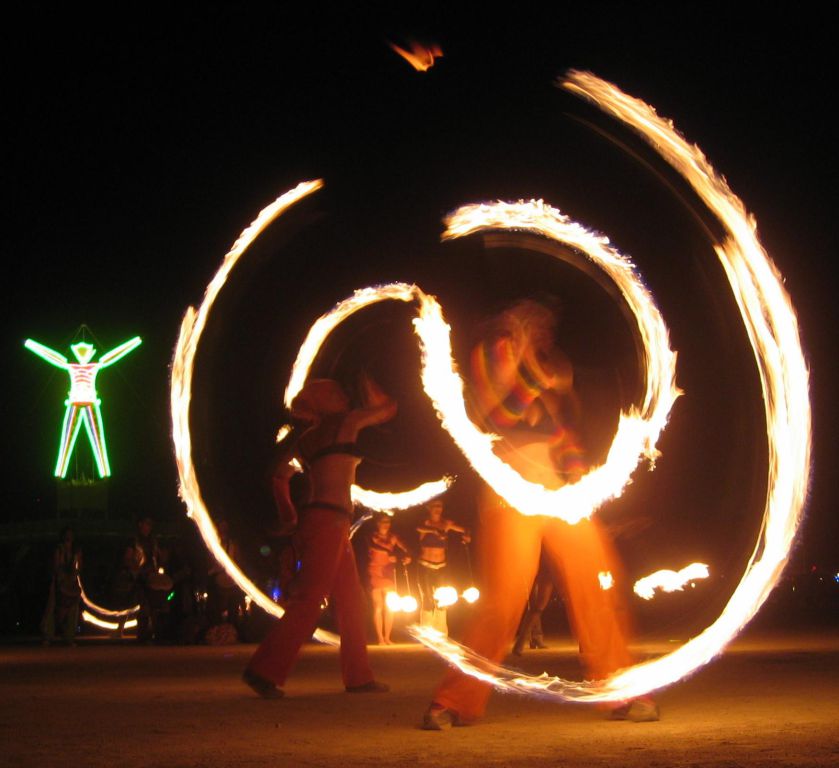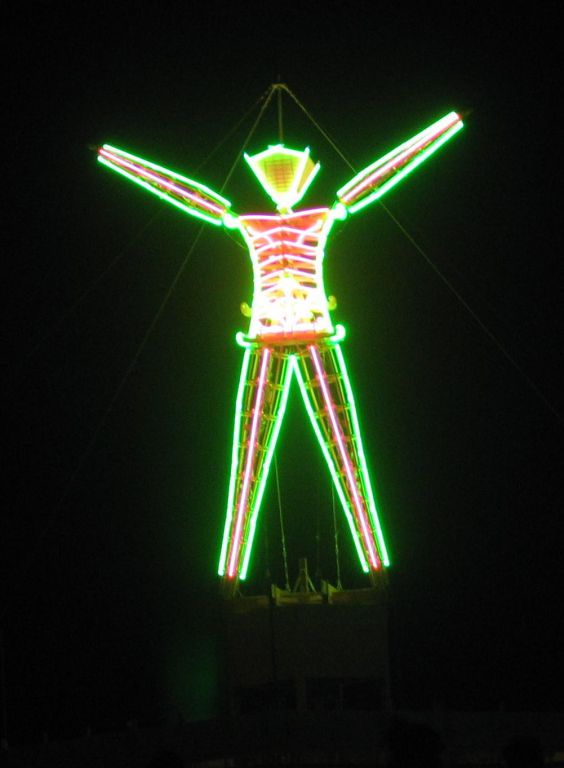 Help! someone's setting me on fire!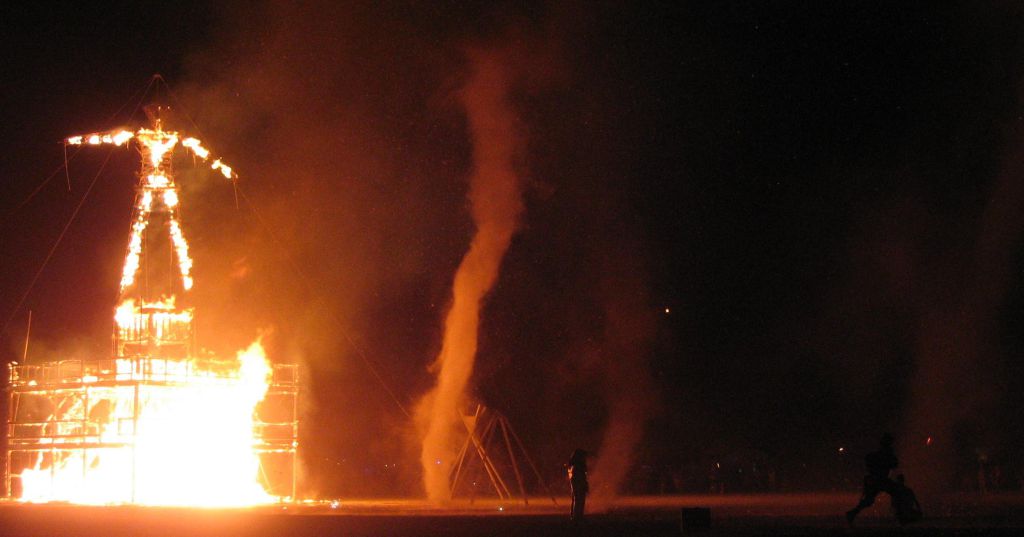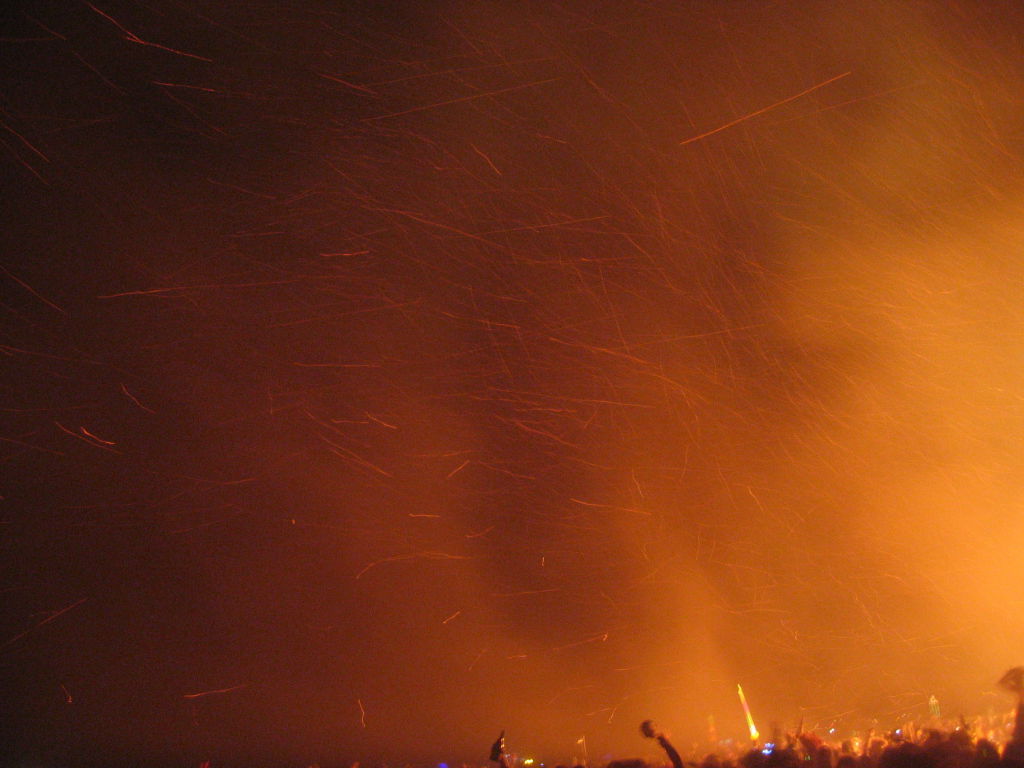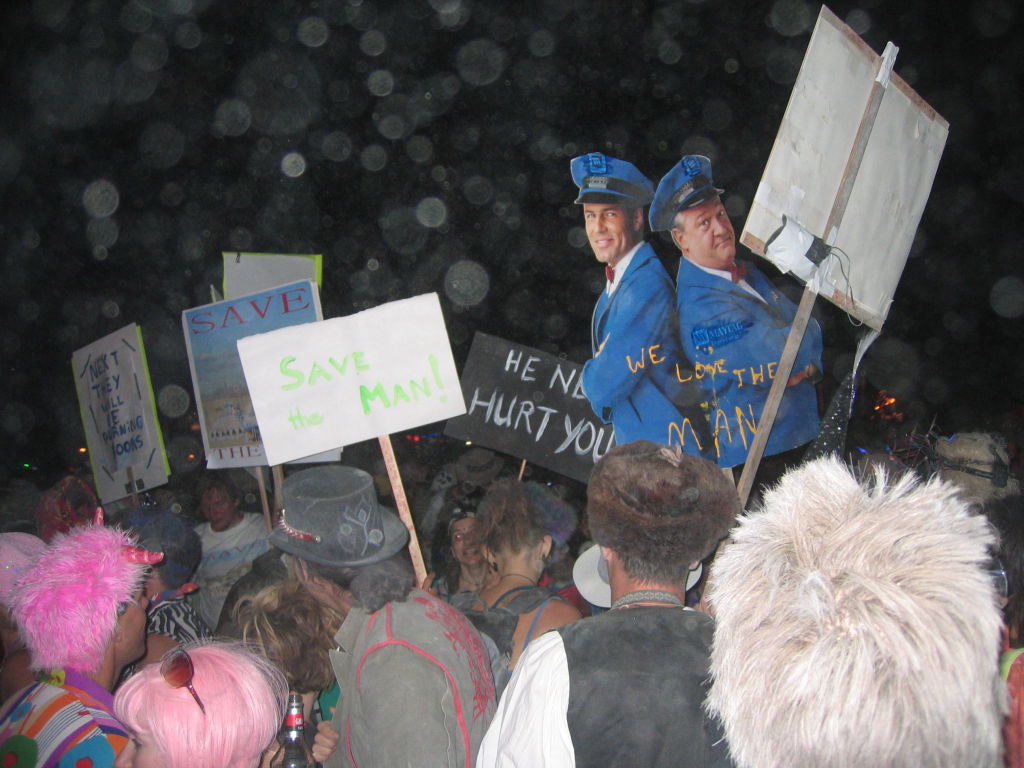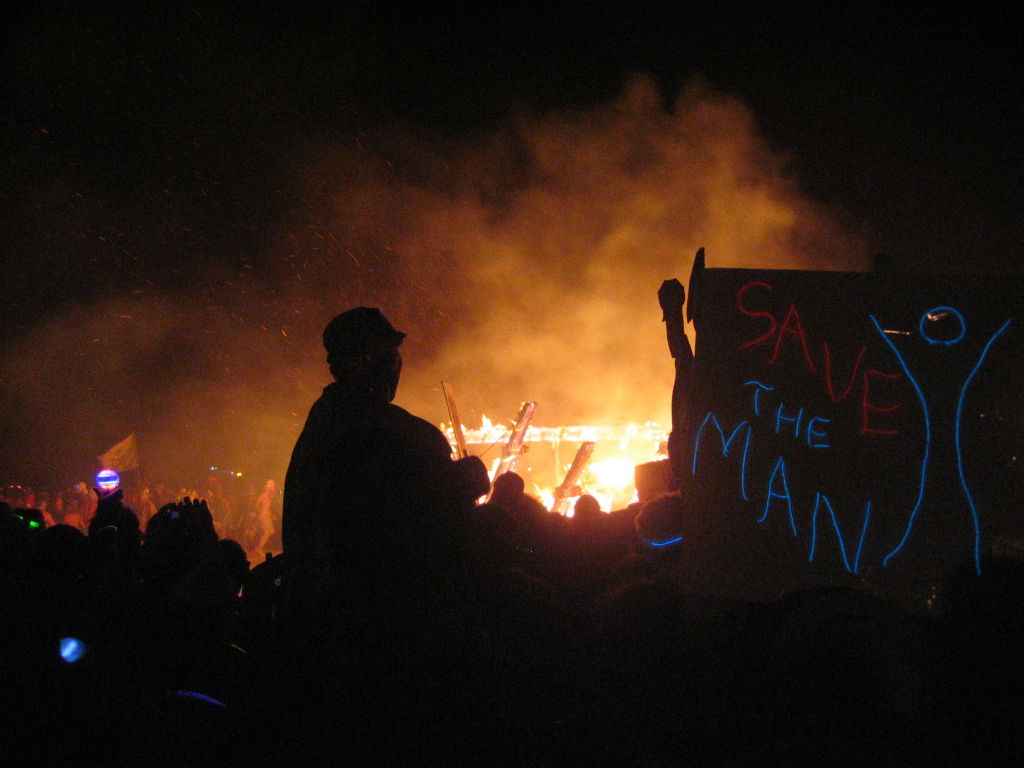 Save the poor man, he's innocent!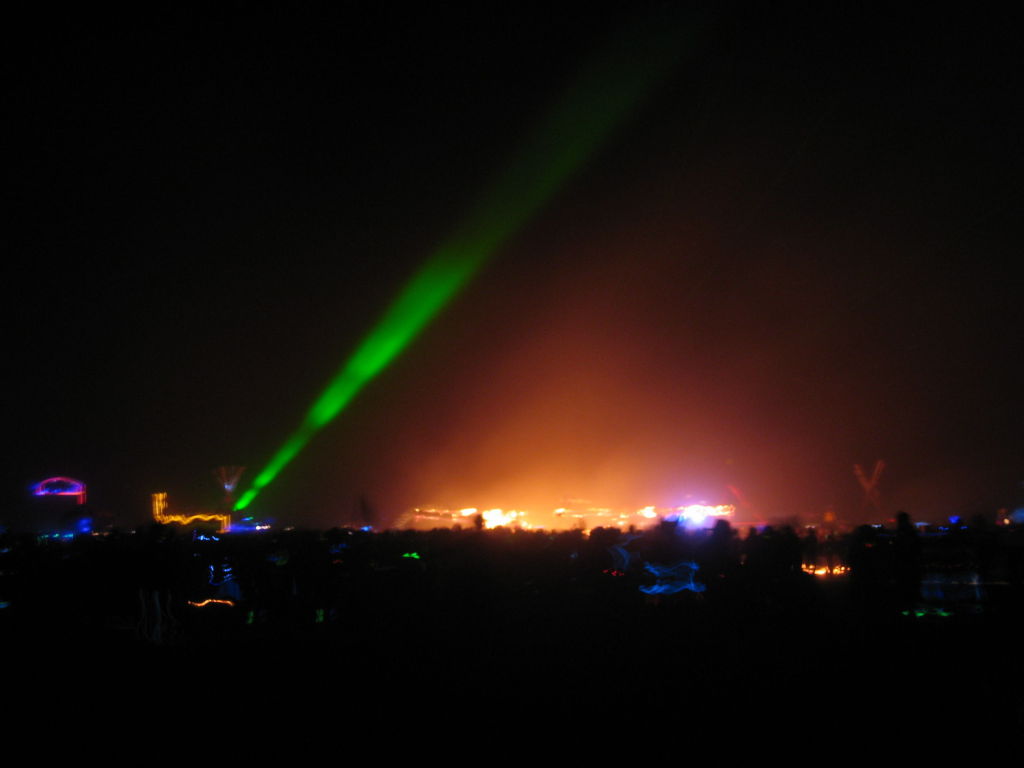 Right after the burn, is usually the best time to experience the sea of art cars. Also, if you ran around the man when it was on fire, you probably won't even know which way is north, nor do you have any visual landmarks to tell you at this point (well, maybe the temple if you can see it). Did you bring a compass? Do you remember where you parked your bike?

You can have a look at all the night art cars.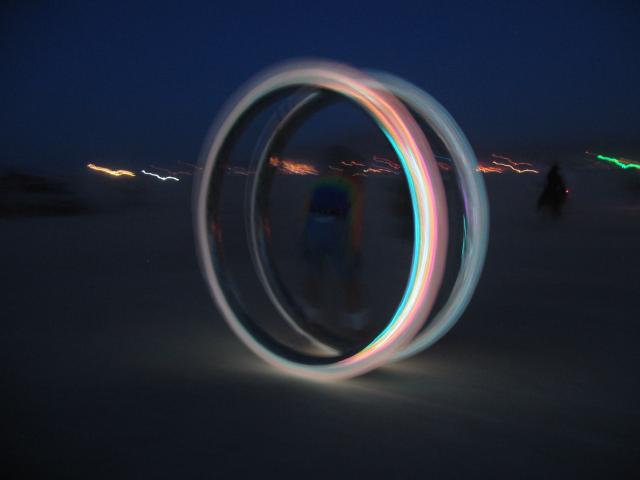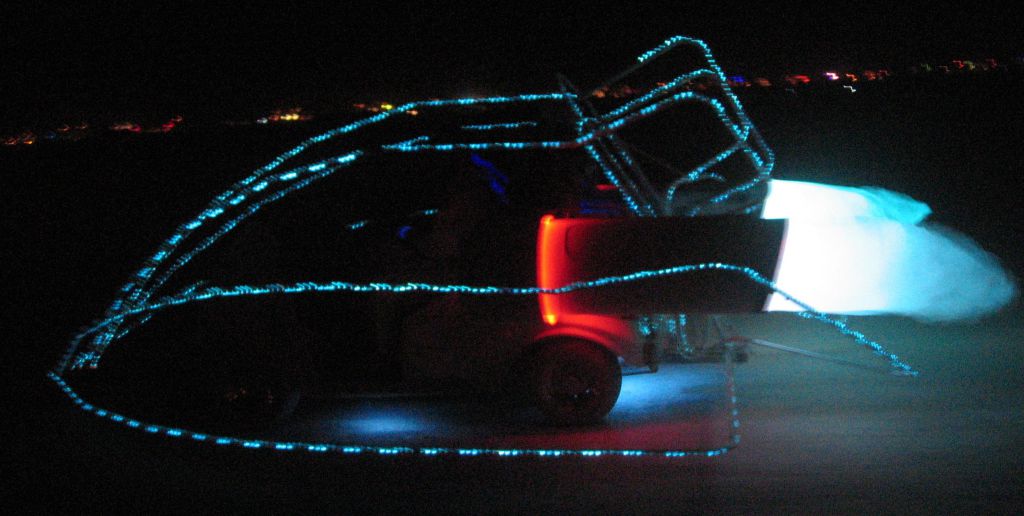 ouch, I admire the spirit, but poor mercedes

Then, just to make sure that one could not have a better evening, it was followed by a sunrise set by no one else than the voted #1 DJ in the world: DJ TiŽsto, which just like Oakey's set was just awesome in a burning man setting (see my clubbing page for more such pictures and events)
Huge thanks go to Opulent Temple for setting this up. Please go to their site and make a donation if they can, as they ended up in the red after paying for all the fees for their huge installation (obviously, I have already done so myself).
If you tie this with a beautiful sky and sunrise, it couldn't have been better, you just had to be there (I cheated and went to sleep between midnight and 02:00, so that I could make it from 03:00 to 06:30)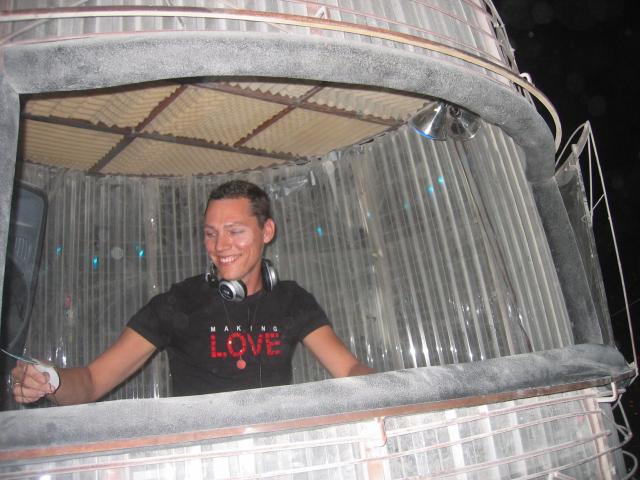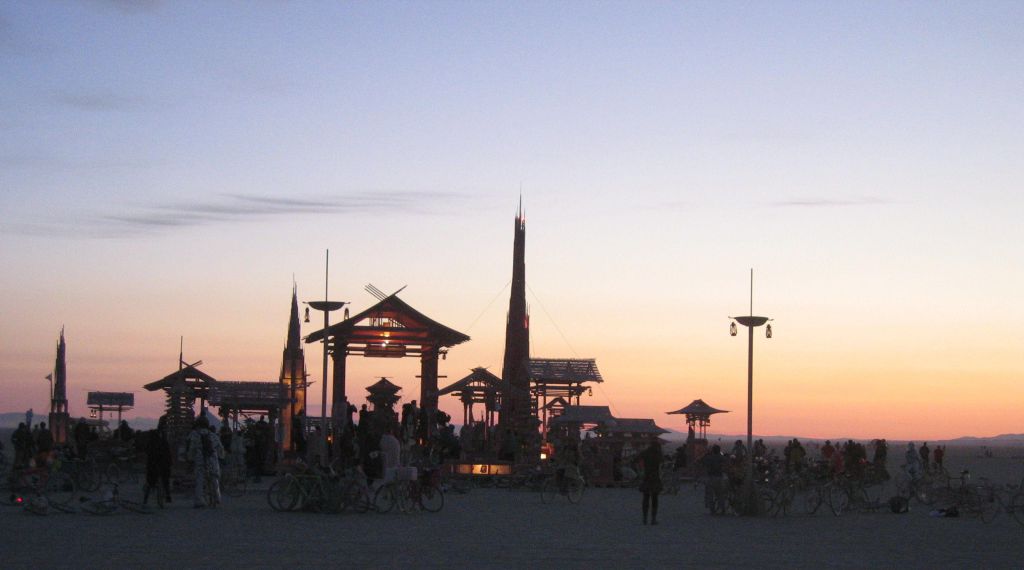 Sunday Morning had a beautiful Sunrise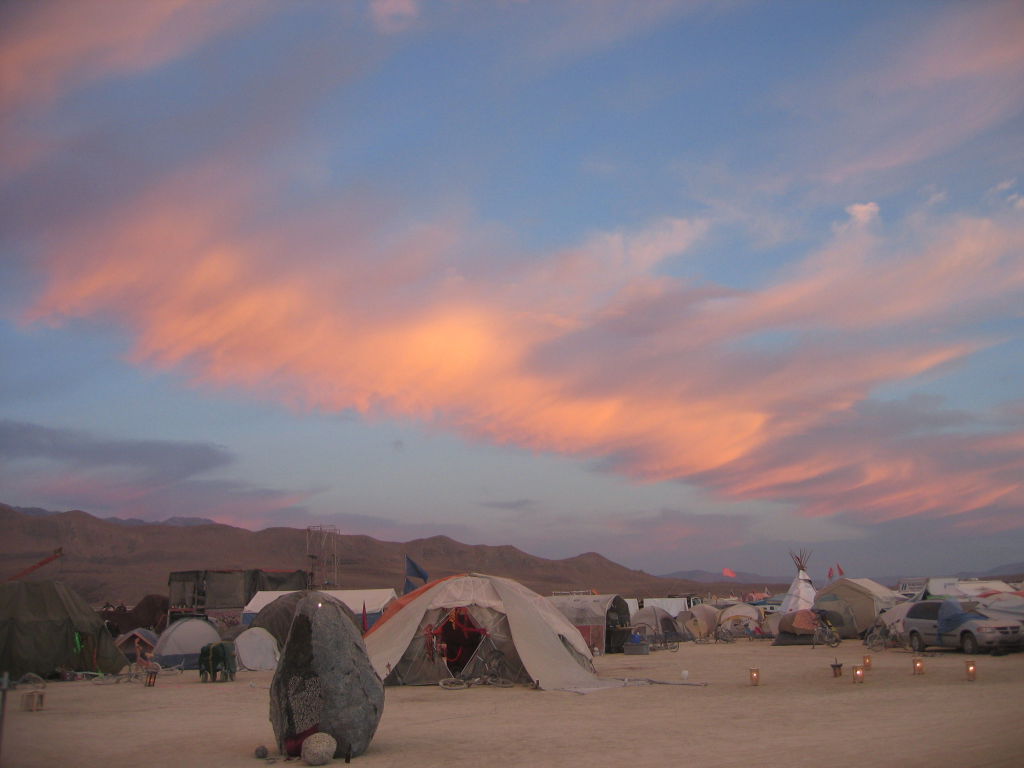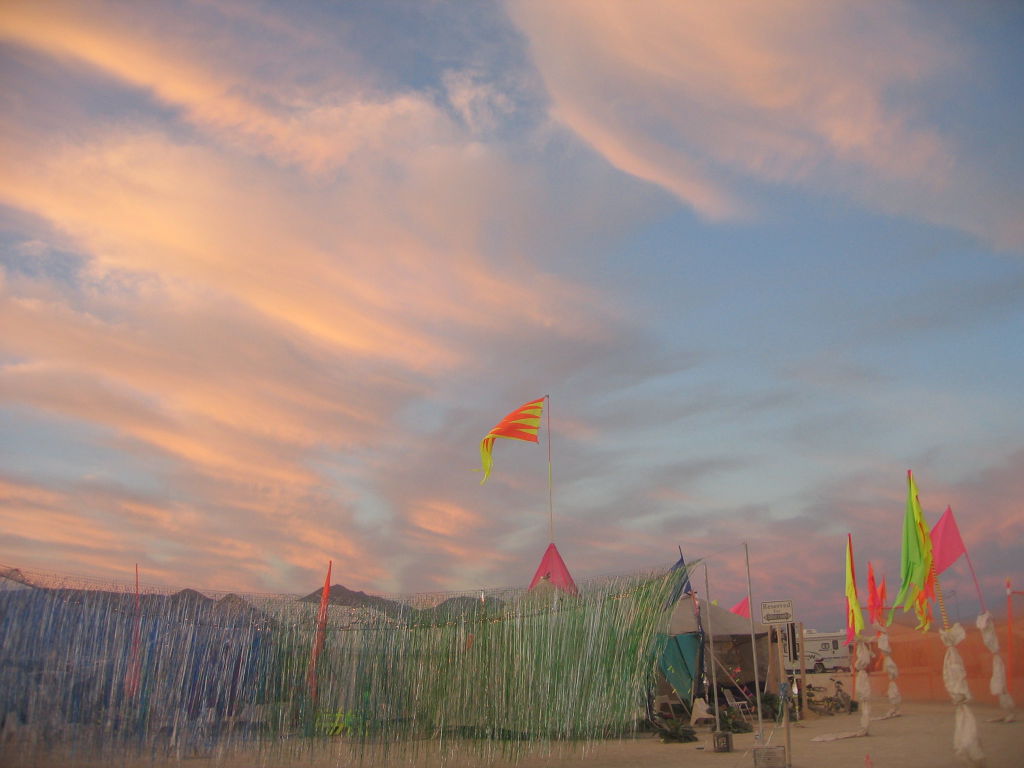 Day 5: Sunday: 'Rest and Temple Day'
I was in bed by 06:30, and up by 10:00-ish again due to the unbearable heat that hits all the tents by then.
Otherwise, sunday was a pretty uneventful day: most people use the day to take their camps down, and it's generally a day to unwind and do nothing. Too bad the tide was low that day, otherwise I would have gone for a swim
One very entertaining thing were the folks who were stacking up their empty boxes on esplanade and taunting people to ram them (whether they were on foot or on a bike). You can go see more of the pictures and videos, they are very funny.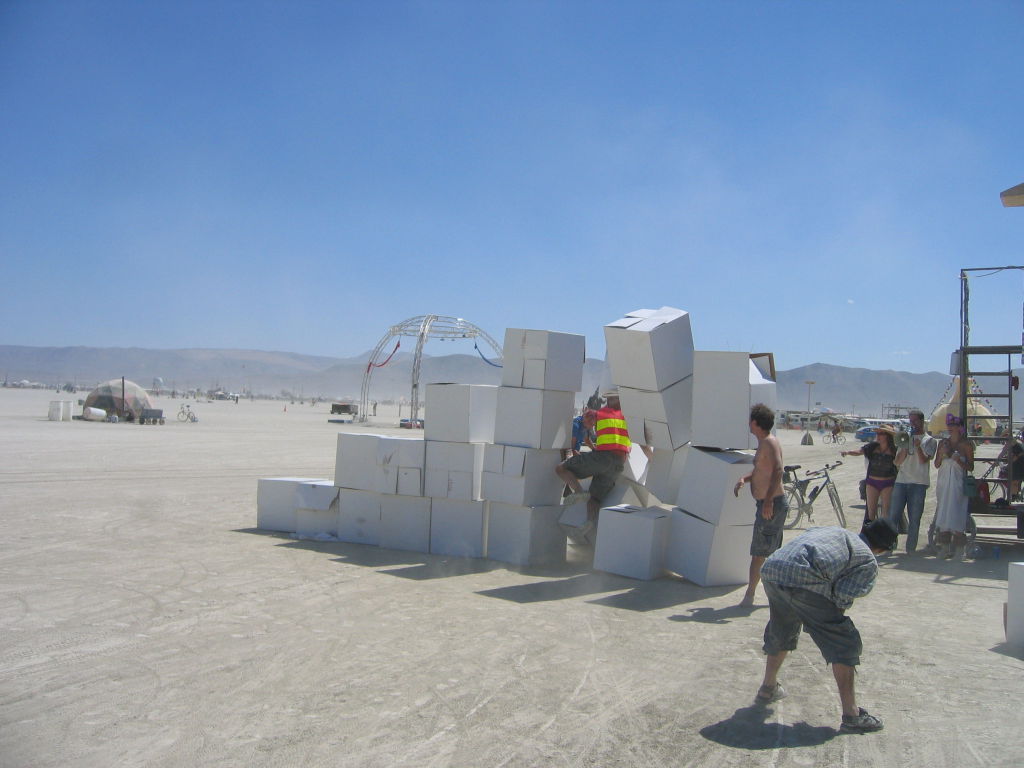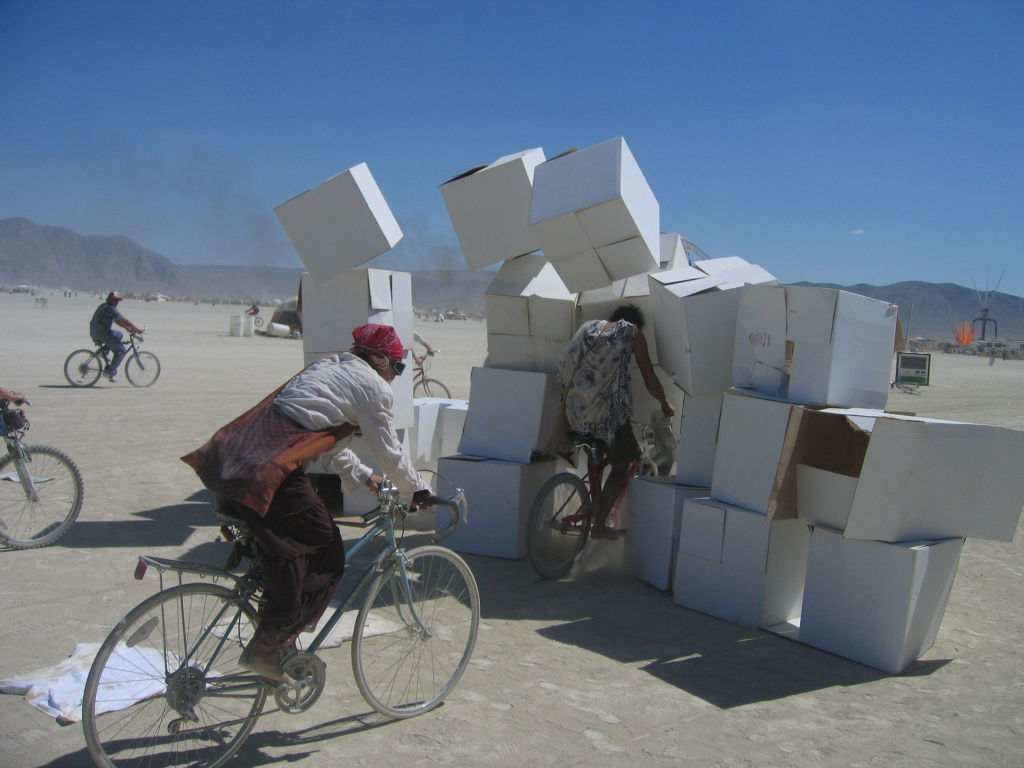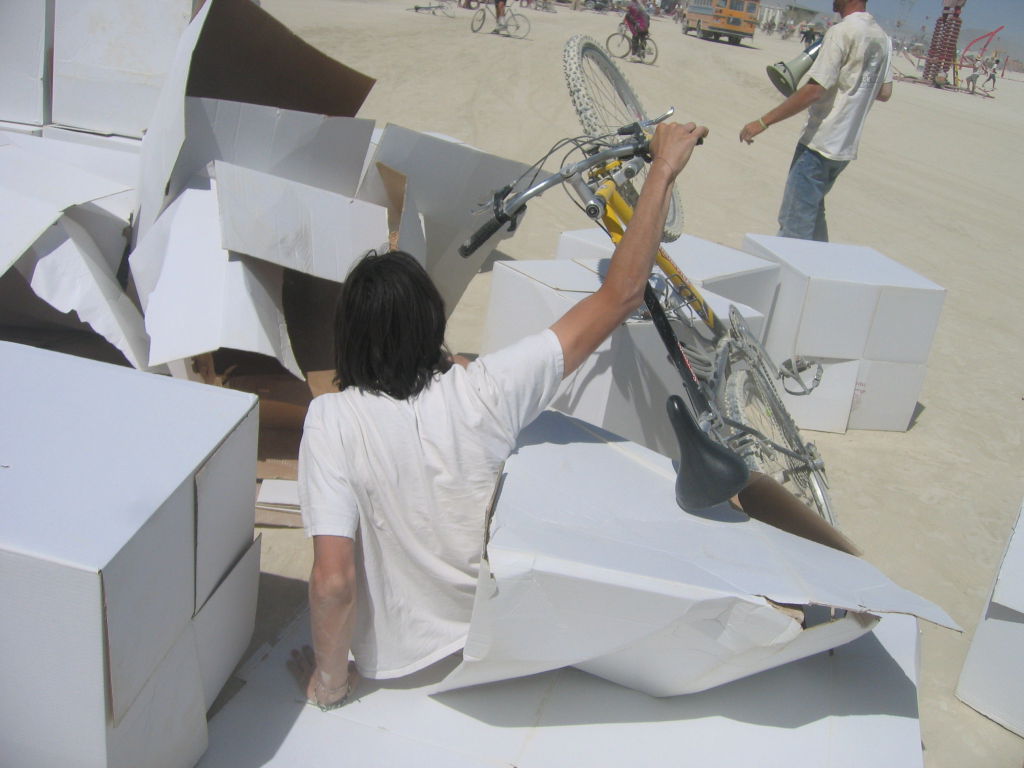 Sunday also had more winds and small dust storms than other days, especially right after the temple burn, making navigation without a compass (got the hint about bringing one yet?
) quite hard: at some point I was in the middle of the playa and could literally not see the city or which direction I was biking towards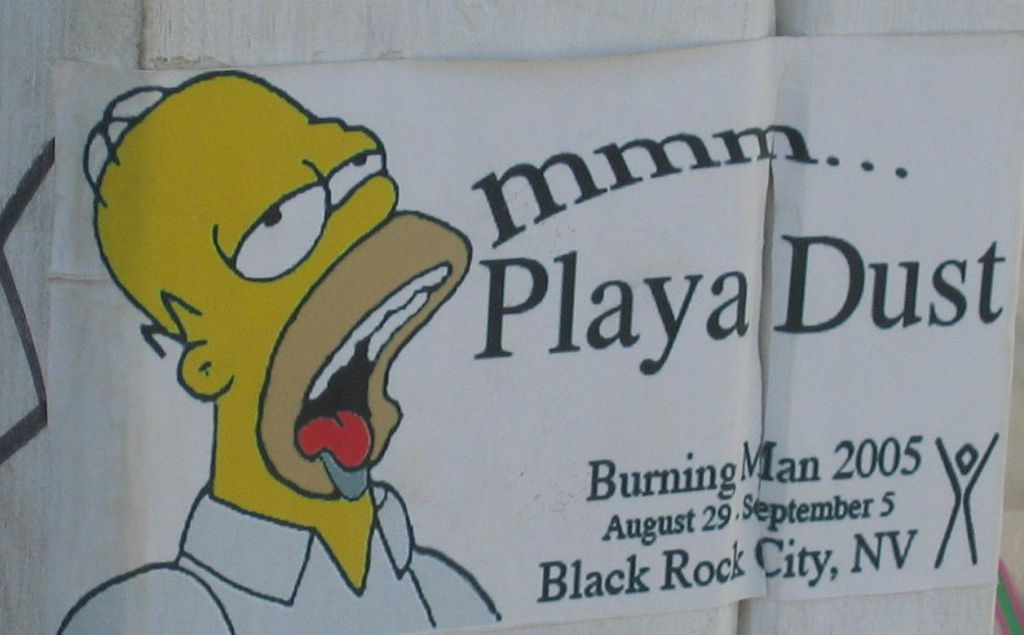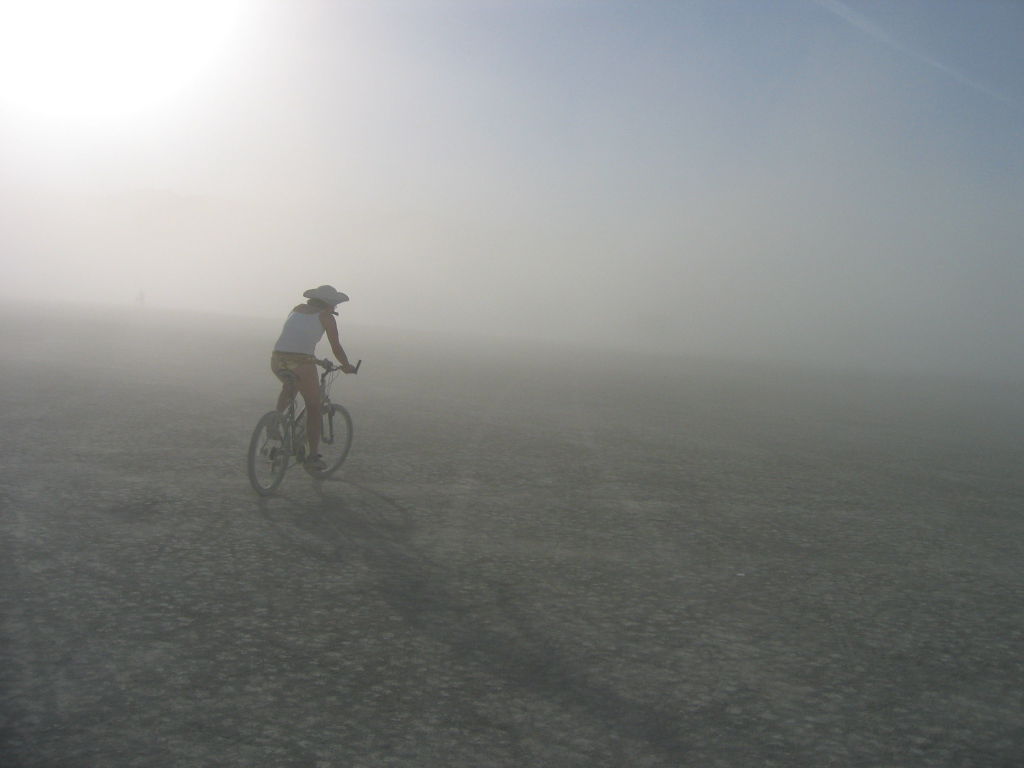 Can't see where you're going? Neither could we


Either I just aged by 20 years, or I came back from a dust storm
Anyway, after helping random people to pack their camps down, including my own, came time for the Temple Burn. It's always emotional to go read what people wrote before it all gets burned to the ground (pictures and videos here)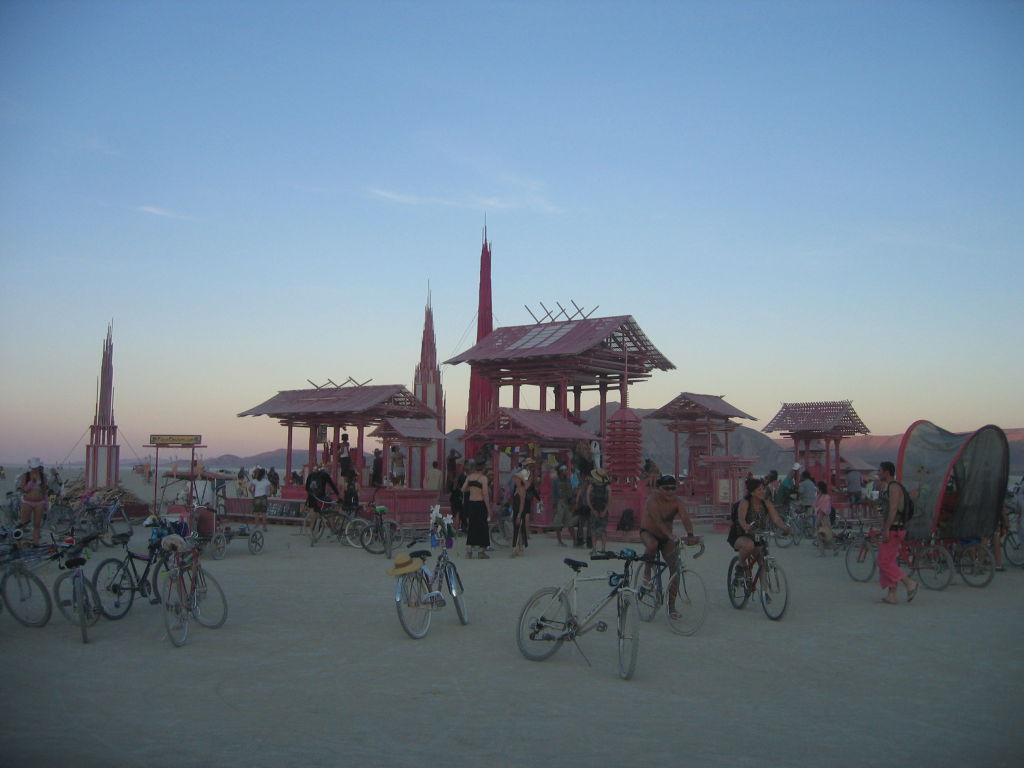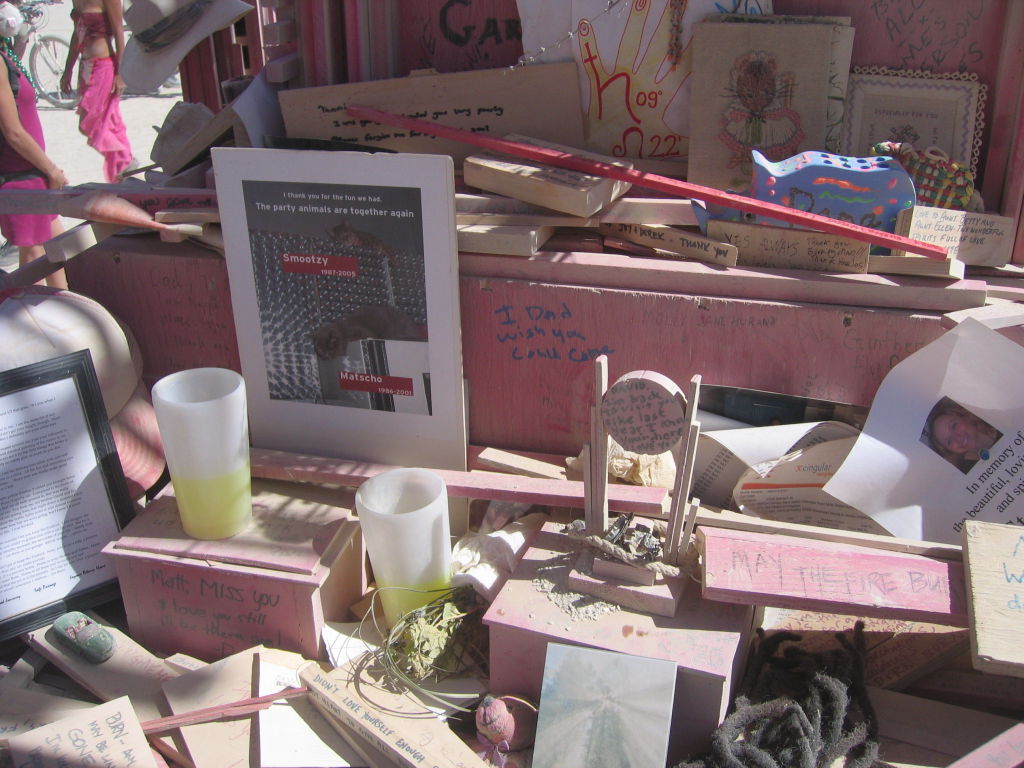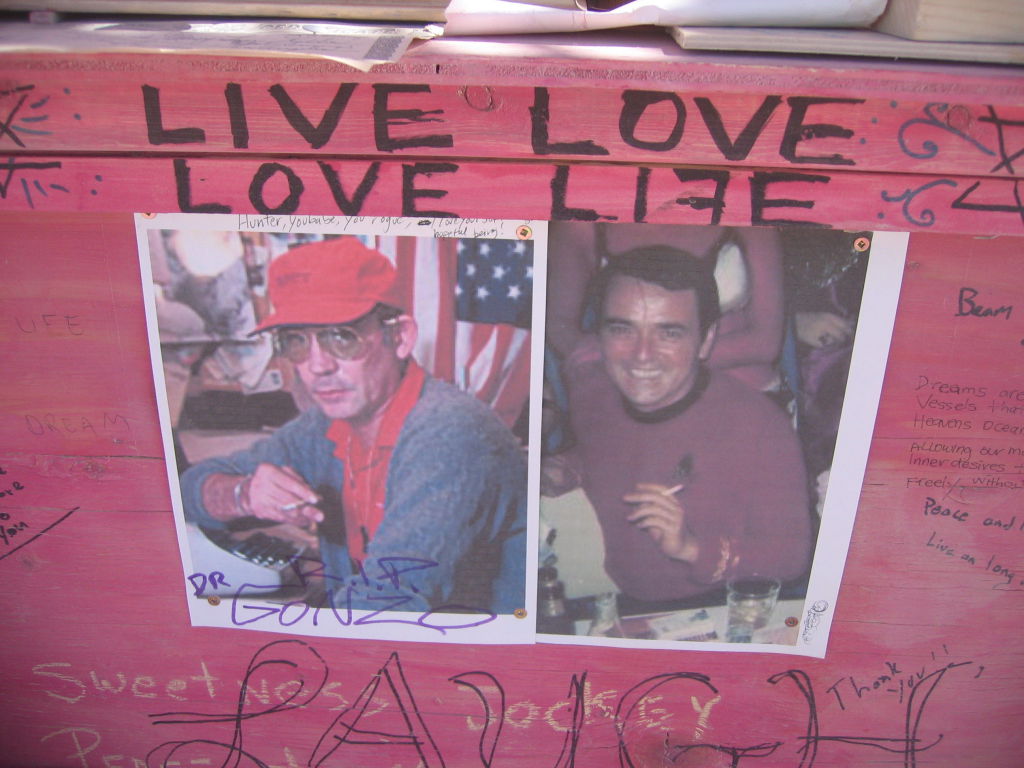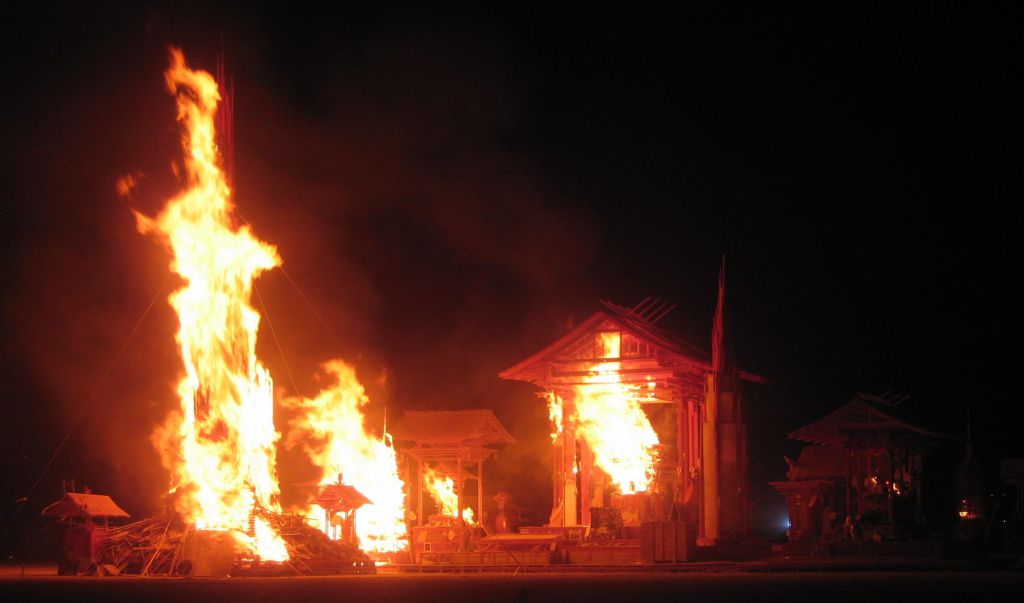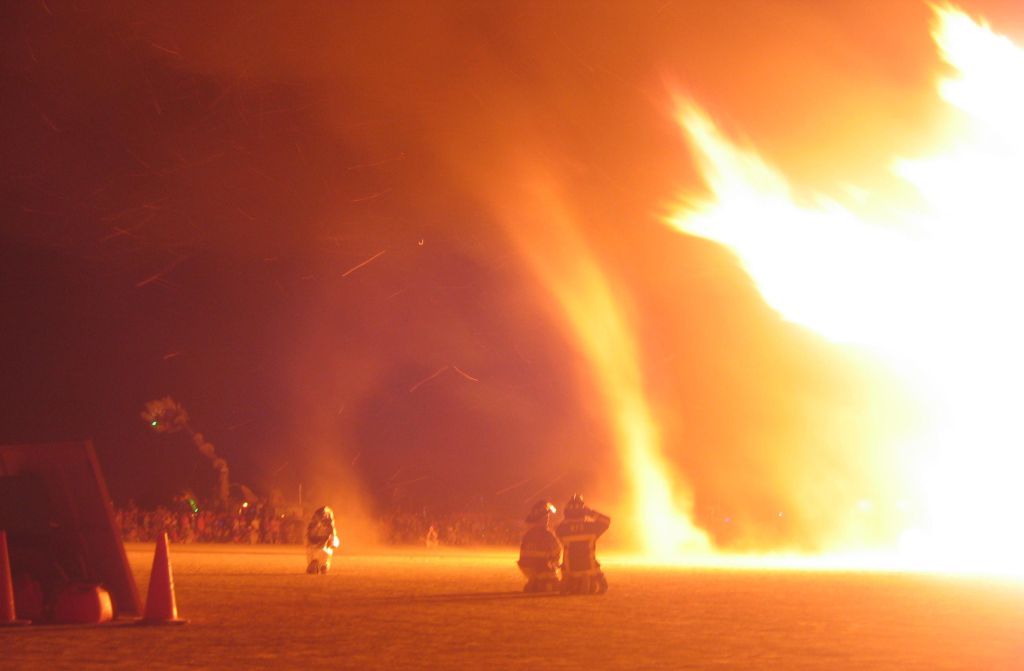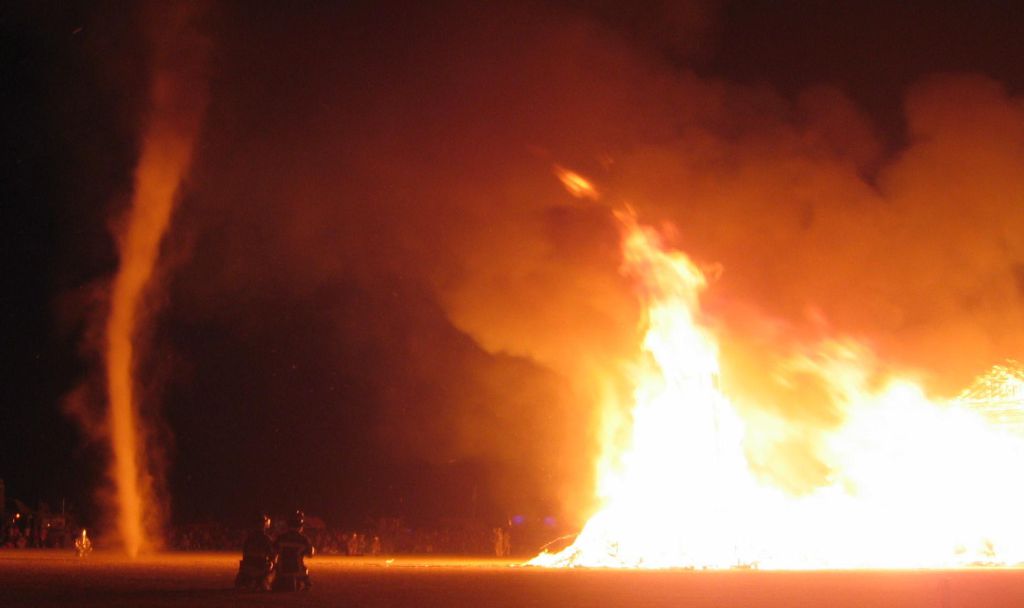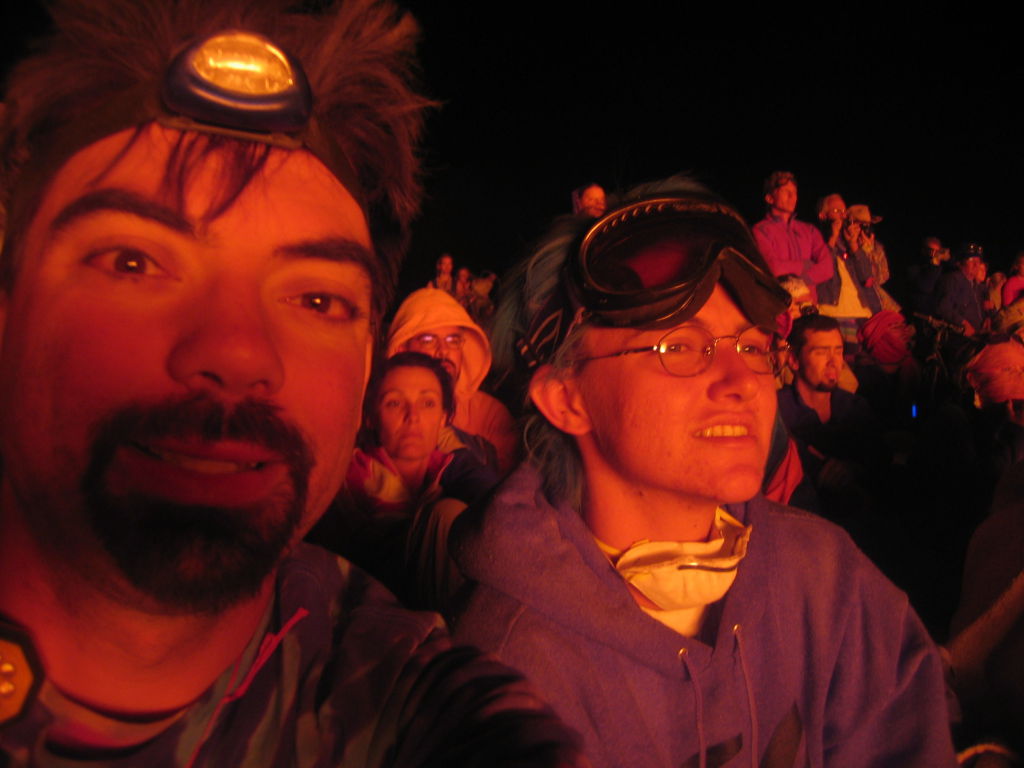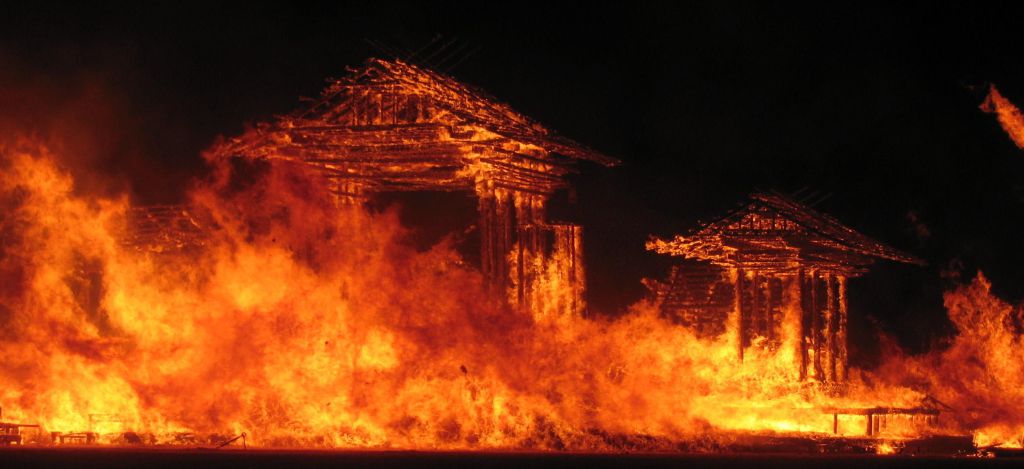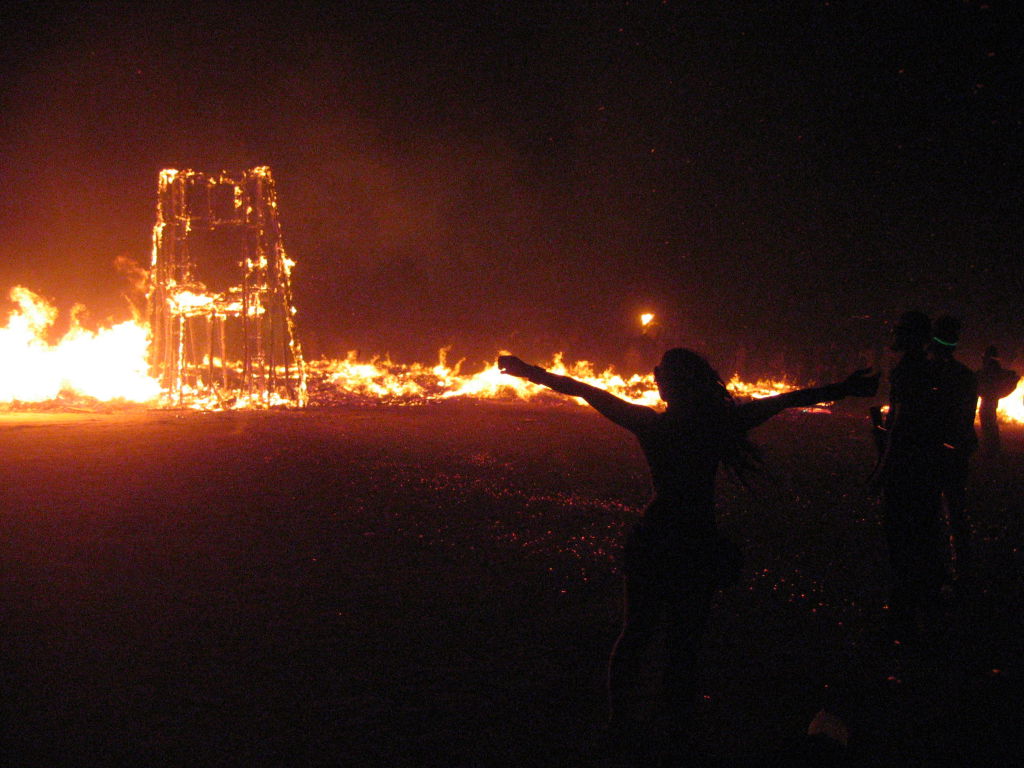 downwind from the burn, there were lots of amber flying, and people running through them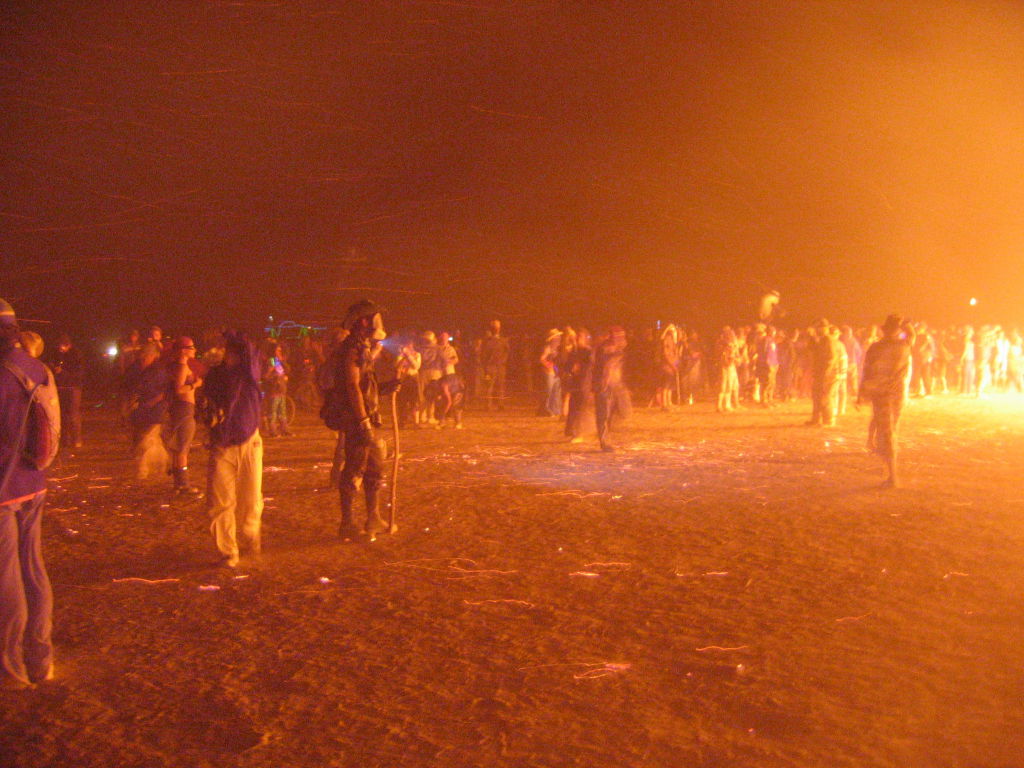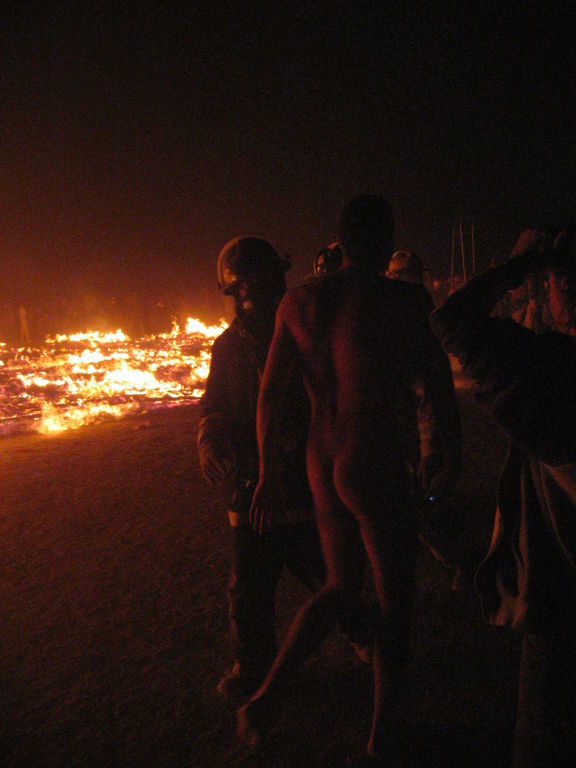 I'm always amused by naked people running by the fire when I could barely stand the fire clothed

Conclusion and other notes
On monday morning, I packed up, and headed back to the airport for my ride back to PAO. Thanks again, to our friendly neighbourhood ranger fixit for all his help, stories, and the ride he gave me back to BRC airport (otherwise a long walk with luggage)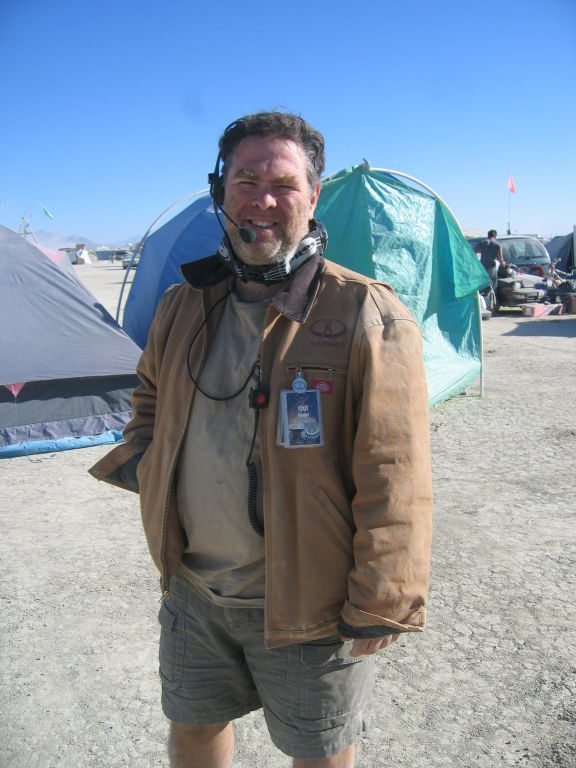 In the random notes department:
The internet connection was quite flaky this year due to people putting up conflicting access points (please don't do that). It took a while to triangulate and take them down each time. Also, to people who were running filesharing apps on their laptops, please use your heads. Because of you, the connection will most likely have to be port filtered next year.
Census: more than 35,000 people this year. Too bad some were total tourists though: I had people ask me where they could find a trash can to throw their beer bottles (although that's better than the ones who just threw them on the ground)
As parting words, despite the lack of visual clues at night to tell 3 from 6 and 9 (no lasers or high illuminated towers), this was probably my best year after my first burn in 2002: thank you so much to the BRC organization and everyone who setup camps and shared with people.


Want more?
Here are a few links:
Copyright
Please let me know if you'd like to take pictures or text for online or publishing use, I'll work something out with you, and help you get direct access to the raw pictures if needed.

Thanks,
Marc

Email
2005/09/11 (11:52): Version 1.0
2005/09/29 (11:52): Version 1.1. Added a bunch of links submitted to me