Burning Man 2002: Floating World
Pictures
I have taken about a thousand pictures and brought the count down to about 670. I will give links to chosen sections of the archives, but the impatient can find all the pictures here
Introduction
I had heard of burning man, and I had been meaning to go, but you don't really want to go by yourself, so when 2002 when a bunch of my friends had made plans to go, and invited me to join their Zim Camp (Invader Zim cartoon theme), I happily accepted.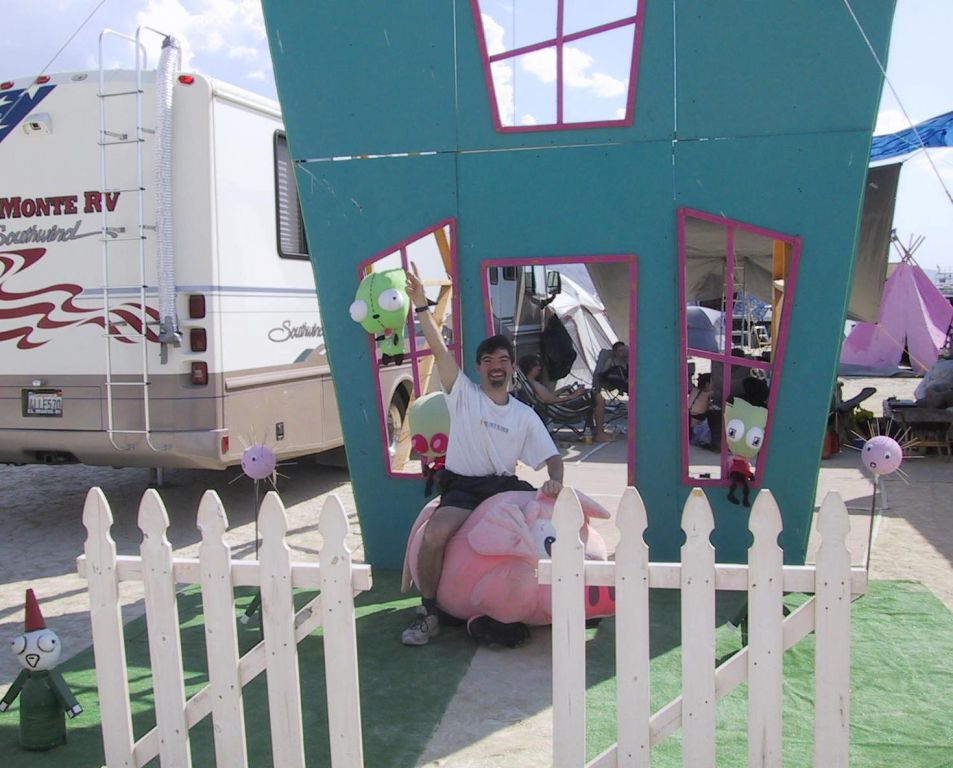 Why go in the middle of the desert?

The idea is to be away from civilization, you aren't going to be bothered by your cell phone there (some camp had a fake cell phone ring to spook people out).
Besides, not only is it a great experience to live there for a few days, but it can feel just like the beach (if you set aside the small fact that there is no water whatsoever)
I also read on the burningman timeline (fascinating read), that it used to be done on the beach in San Francisco, but that the authorities caused problems, and it's easier and safer to burn something big in the desert than on the beach.

But isn't it full of hippies and drug addicts?

You have no idea how many people have asked me that... It is full of all kinds of people. Sure some may be a bit hippy-like, some are full fledged geeks, some even look normal . Honestly, not only did it not bother me, but also the whole event is about tolerance and sharing, so really it shouldn't matter
As for drug use, if you put 30,000 people anywhere, you will have some that will do drugs, they were doing drugs before going to the event anyway. Besides, while I'm not very knowledgeable about all what's out there, I firmly believe that having tobacco and alcohol legalized, and not marijuana is a complete joke (oh, and I'm saying all this without ever having used any drugs, so I'm not being hypocritical).
Anyway, yeah, there was some drug use, just like I see some around the different places I've lived in, in California. It's not what you may think though, because there were undercover police officers and DEA agents in the event, and this was clearly announced.

Where are the bathrooms and showers?

The showers, you bring (camping showers, or RV), although most people wash in various ways, or try to catch the water truck (see below)
For bathrooms, burning man has a huge number of porta-potties that are serviced daily. People are asked not to put any trash whatsoever in there and to actually use the potties (the desert must be left pristine when we leave)

Clothing optional?

Yeah. Burning man isn't about arbitrary rules. It's hot out there, and clothing is an arbitrary rule. You don't have to strip, but some people do, or are topless.
Keep in mind that in many countries more enlightened in the US in that respect, it is absolutely acceptable, and even usual for women to be topless at the beach.
Besides, when you run after the water truck in the morning for your daily jogging and shower, you're better off washing without clothes, aren't you? (I sure wasn't shy about doing so)
Update Warning: in recent years, the non potable water has become non suitable for skin contact. In 2005 a fair amount of people got sick after contact with the water due to some bacteria, so you may have to pick other ways to shower from now on.




So, what's the event about then?

The following is my own interpretation. It's about (in random order):

sharing: you are not allowed to sell anything, you can only give things away or trade if you wish. Most of what I received and gave was given away, and that was a great experience
meeting lots of people of different cultures and backgrounds, and having a good time with them: people were very nice
learning to live in the desert for a few days
being respectful of nature (no littering or permanent damage)
sure, it's about partying too, whether that involves alcohol, dancing in the numerous clubs out there, or more

What should I expect?

The typical answer is that if you haven't been to burning man, one can't fully explain to you what the experience will be like, and if you've already been, then one doesn't need to explain to you what it will be like , that said, read on...

Where does all the money go?

Tickets cost from a bit above $100 to $250 or so if you buy them at the very last minute. That said, anyone who's seen the event now can only imagine what it costs to run it. A few pointers can be found here: financial report from last year (chart and detailed writeup). You can also read past interviews: 1, 2
The place is absolutely insane, beyond belief: you have numerous clubs playing all kinds of music, in ways that rival the local clubs you may go to, except that these clubs run out of generators in the middle of nowhere. You also need to remember that all the camps and clubs you see were built a few days ago and will be taken down a few days later (some clubs were actually built and torn down just for one night)
If you like bar hoping, you won't find lots of bars, even though there are a few: keep in mind that it's hard to bring free alcohol for 30,000 in the middle of the desert. That said, you'll find a few bars, please be considerate when you go there, and consider donating beverages
Now, club hoping is a different deal: there are lots of clubs and you won't have to worry about getting your hand stamped
You'll find the clubs here and I think the most cool attraction was the Tesla Coil from Dr Megavolt from the Island of Misfit Pscience (I don't have much pictures of dance clubs because with the constant flying dust in the air, you can't really take pictures with flash, or you'll get flash bounces (sometimes really bad ones, completely ruining the picture))




If you walk away from the center of the city and watch it from a distance, the skyline almost looks comparable to Las Vegas, but again, keep in mind that it's mostly run by amateurs, many who shelved in their own money so that you can have fun (there are a few money grants from the price of your ticket)
One of the very cool attractions are the numerous art cars and mutant vehicles. Some are just plain cool, and others can carry you around while you party to the music that's playing inside.





I think my most cool award goes to the xtank




There are other attractions too, from roller coasters, including a scary looking one to bowling, mini-golf, and much more





I sometimes get more than annoyed at the constant list of things you can't do in the US in fear of people suing. At burning man, it's about having a good time, hopefully no one will be allowed to ruin it for us.
Note however that some attractions can be dangerous: for the couple of roller coasters, double or triple stacked art cars, you have to have faith in the people who built it. If they break (I've not heard of this ever happening) and you get injured, don't blame anyone but yourself for trusting the attraction more than you should have.





The same obviously goes for anything fire related: fires are dangerous. There were firemen there during the big fires, and they weren't there to stop you from running but naked two meters from a raging fire, but if something happened to you they'd have helped you. Must have been a hard position for them to be in, and I give them all my respect for how well they handled it.




I think a favorite evening attraction for many was the mad max thunderdome, I'm actually amazed that more drunk people didn't fall from the structure they climbed on to get a better view




Bring a beater bike: the city is really big. You can walk back and forth but you will get tired, especially during the day. You will also get to see some interesting bikes




Black Rock City actually has a full fledged post office with an official stamp (and they'll stamp other things too if asked ). They also have genuine postal workers that go postal




At night, you can tell where you are fairly easily with the landmarks, but your best guide are the four lasers that are shot from the man with one blink added for each 90 degrees.




Make sure you learn to use a compass, or get yourself a lot of landmarks, because the man does get burned, so that point of reference goes away. Also, some people leave on sunday, so sunday night you'll find yourself with a lot of your illuminated landmarks suddenly missing
The weather can be unpredictable, and you can have a sand/dust storm show up in no time



Whether "techno" means "Technology" or "Techno music", it doesn't matter, you have both, but focussing on technology, here are a few tips:
Pretty much any flash picture will look bad: your flash will bounce against the constant dust that is in the air, and it will look like dirty snow. Try hard not to use it.
If you use a compass, for some reason, magnetic north is -30/330 degree on the playa map
If you are going to bring a laptop, be prepared to have your laptop encounter a lot of dust. You could use food static plastic wrapping as a giant laptop condom, or just make sure your laptop is still under warranty and that you backed up your data before the trip (just in case)
You will need electricity to recharge your batteries, especially if you have a laptop. If you don't have a generator, really cool solutions involve a solar panel, batteries and and an inverter.
That said, a more practical solution is to bring a deep cycle battery that's fully charged, and use a cheap inverter to get 110V out of it. Make sure to calculate what your draw is so that you have enough hours of usage.
Make friends with a neighbour who runs a generator, or even better: make friends with someone who is on "the grid", that typically means someone from the burningman staff. If you ask nicely, most won't mind if you plug a low amperage battery charging device. Yet another solution is to go to the parties at night, and plug into a spare power strip: clubs have to have electricity to run their audio gear, and again probably won't mind if you plug a battery charger or a laptop.
Amazingly enough, even from the middle of nowhere, you can connect to the internet: Burning man runs a satellite connection to the internet and you can connect to it with an 802.11b card (SSID 'internet'). They do have at least a couple of reapeaters (I think the base is at 180 degrees, and the repeaters at 90 and 270 degrees), but keep in mind that the repeaters may not work early in the event, or after the man burn (they were shut down sunday afternoon for me), so if you really have to send that last Email and the signal is gone, try taking your laptop to base camp.
The only way I got all these pictures processed before I got home was by working on them daily during the afternoon when I was hiding from the sun, or the evening when I was tired of dancing and would find a club playing good techno, and chill there listening to the music while sorting and working on the photos.
Incidently, I got kicked out of a double decked art car that was playing some great Trance because one of the owners thought I was working and got offended. Figures...