Day 2: Showfloor


I personally declare Linuxcare winner for having the best booth. Very nice setup, lots of humour, and games (eat a lolipop with a bug inside and win a linuxcare shirt).

Art Tyde, showing off their new poster

Red Hat initially overreacted to the ads with a cease and desist order but rumors suggest that it was a cultural misunderstanding as the ad being parodied did not run in the Triangle area.
Actually, they seem to be so worried about branding that they've also refused to have their logo featured on the limp project. I believe this is getting a bit silly...

Mark Bolzern from Linuxmall will serve all your penguin needs, and much more

Yep, they had cool prices to win



Daryll Strauss and Frank LaMonica from Precision Insight are showing of their quake DRI demo

SGI had some linux software to show, and announced the release of the XFS source code
(high performance journaling filesystem)



They also raffled off a few giant Tuxes from linuxmall



At slashdot, each person their laptop

The Suse booth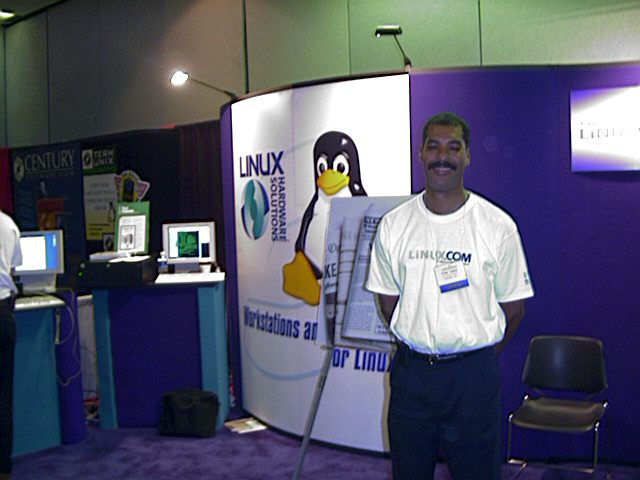 The LHS/VA booth



The linux journal booth



The linuxtoday booth




And there are more pictures, check the Picture library


Email
Link to Home Page
99/05/25 (01:19): Version 1.0
99/05/25 (14:53): Version 1.1. Changed the comment about the Linuxcare poster after getting a more information from Deirdre Saoirse