LinuxWorld Convention & Expo Summer 99
What's in this page?
My coverage of the four days of linuxworld expo summer 99. It contains my review of the events, and 576 pictures that I took during the show.
I hope you enjoy your virtual visit of the expo (make sure that you also visit my LinuxWorld Expo Winter 99 pages and the Linuxexpo 99 if you missed them and you may also enjoy the other reports and pictures I have on my linux page)
The Show
It was once again a grueling 4 days, plus a 5th one with 20H of work to finish all those pages. I'll be happy to rest this weekend once I'm done with this last page...

While I had the feeling that the conferences were maybe a bit below the level of the ones at the previous linuxworld and the ones at LinuxExpo, there was still a lot to do and enjoy. The showfloor itself, was for many the main attraction. It seems that LinuxExpo (by Red Hat, in North Carolina) is a bit more for the linux geek, and Linuxworld is more a commercial tradeshow.
I have 3 + 1 fans now
Yeah, would you believe that, I found the following note on my windshield on the last day of the show: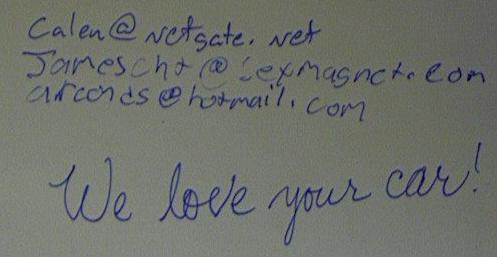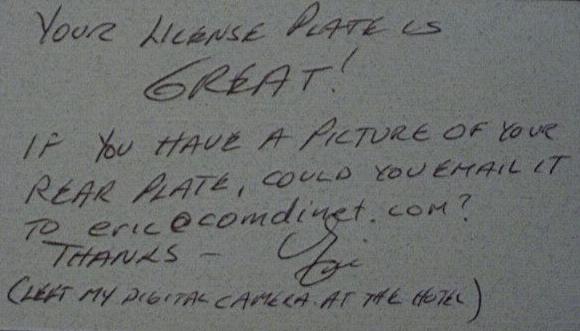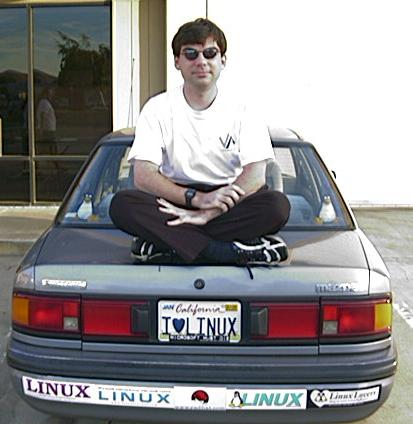 It's true that I did add a "Microsoft must die" sticker on the license plate, and two little tuxes on each side of the rear windshield (one donated by Penguin Computing, and one donated by Shelly Huber from Wai Yip Toys, the makers of that tux), but otherwise I have a rather normal car
Thanks
A big thank you goes to all the companies that put out parties, offered the Email gardens, free training in their booth, and generally helped the show be successful.

A Huge thank you goes to Kit Cosper from VA Linux Systems for lending me his PCMCIA smartmedia adapter so that I could very quickly download my pictures to my laptop (with the serial port, 100 pictures would take 1H+, so that wasn't convenient). I suppose I should buy one of those for next time, but I've put it off so far since those PCMCIA cards do cost one fifth of the price of my camera and my freshly bought 16MB smartmedia card works fine in the camera but not in the PCMCIA adapter...

Obviously the IDG folks also deserve a hand for the successful show, which was run very professionally.
Last words
The show was fun, but I have to admit that all the work involved with writing all those pages is grueling, and I'm getting a bit burned out i(and that's without taking into account the direct losses in wages for not being at work...)
Next fall comdex should be ok, since it's only a few booth pictures and a few stories, but a full linux show like linuxworld or linuxexpo is really a lot of work... I'll see how it goes, stay tuned.

And here's the now usual little footer note:
If you'd like to use some pictures, you need to ask me first. I used to give everything away, but to cover those shows, I've invested money in equipment, and a lot of time to work with all the pictures and the web pages, so I've decided that you need to work out some arrangement with me if you want to use anything on a commercial page (I'm happy to give this away for people to read, but understand that because I've taken unpaid leave to go to the show and missed another day of work (and wages) to finish those pages on friday (right after the show), I'm not too cool about people just using this work to make money without me getting some share).
(sorry for going into details but I've gotten a few Emails in the past from people who though I was cheap to not just let anyone use anything they want on my pages, hence the extra details).

If you have too much money, you can participate in the "Let's reimburse Marc's camera" fund. I also have other funds, like "let's buy Marc an Empeg car player", and I'm happy to create further funds if needed
'Till next time
Marc Merlin (marc_web@merlins.org)

I won't give you the caffeine mint speech, I'm way beyond that (23 hours of HTML coding/picture editing and stuff with 3H of sleep in the middle)... If any of those pages make any sense to you, you should feel grateful
.
However, it's not because you suffered while trying to decipher the pages that other people should too: please send me corrections (either factual errors, or spelling/grammar stuff). Thanks.
Email
Link to Home Page
99/08/13 (22:57): Version 1.0
99/08/16 (12:18): Version 1.1. Added card from Eric on my license plate