Comdex 98
Rick Moen
First of all, I regret to inform you that Rick Moen wasn't there
(except at the linux journal awards where Phil Hughes did say "Rick Moen is here")
Foreword
I've been going to comdex and volunteering some time at the booths in the Linux pavilion for the last 3 years, and it's been interesting to see the evolution of the booths, and the people that showed up there over the last three years.

This year has been most interesting because by doing the whole comdex show, like the previous years, it wasn't difficult to notice that it was noticably smaller this year (Unlike last year when the Hilton had a couple of showrooms and there were a couple of huge tents which contained even more exhibits that just wouldn't fit anywhere else, those places were empty this year).
I was told that many companies went on a comdex diet this year, by not even showing up, or by having much smaller/less impressive booths (it seems that with the Asian stock crisis, companies have had to watch their expenses in order to salvage their stock).
The good news however, is that this didn't apply to the Linux pavilion which was there as always, and this year it was even easy to find as there were several signs like this one: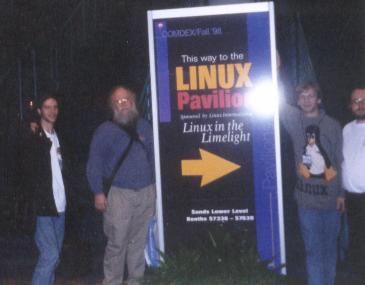 Linux and Comdex history
The following is courtesy of Mark Bolzern

In 1994, Bob Young, then of ACC Bookstores, Michael Johnston, Patrick Volkerding and Mark Bolzern of WGS (WorkGroup Solutions)shared a Comdex booth. It was there that Mark came up with the "Linux Pavilion at Comdex" concept. It was first implemented at the following Uniforum95, where Linux Journal, and Infomagic joined in.

Mark then convinced Comdex show management to let him put together the first Comdex Linux Pavilion in Fall/1995 with 3 vendors, WGS, Microway, and also the booth for Linux International which Linux Journal helped to staff, and Mark paid expenses for. At this Comdex, WGS received a "Best of Comdex" Byte Magazine Editor's choice award for Linux Pro. Mark then proceeded to coordinate the following two years.

It was difficult to get vendors to cooperate at first (this is all pre-Maddog!). The Pavilion has approximately doubled in size every year. Now vendors love it and more want in every year.


The linux pavilion
Well, let's take a tour of the booths in the linux pavilion (by alphabetical order):

Applix, with their office suite, Applixware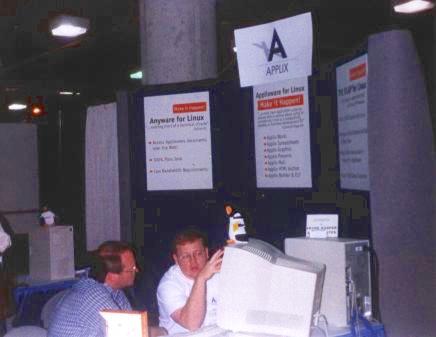 The friendly folks from Caldera (they were showing their video commercial)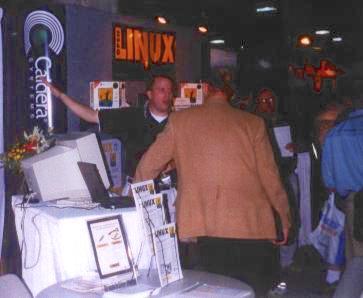 Of course, the Infomagic booth was there, like every year. They have all the CDs you could dream of
.
Of course, they are also famous for their linux 6 CD set featuring all the major distributions.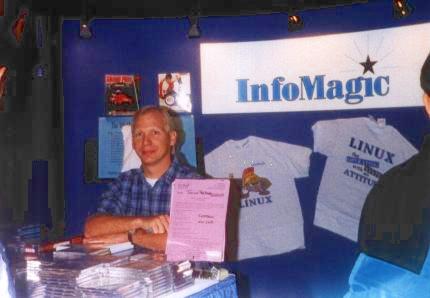 Linux Hardware Solutions, which will sell you custom made linux PCs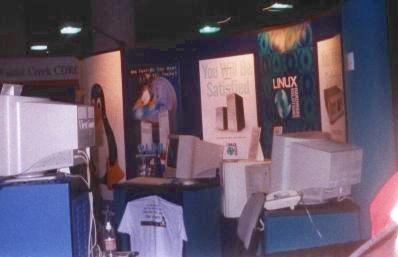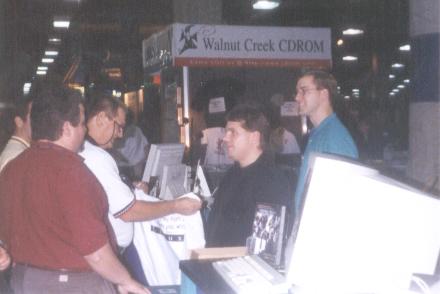 The linux international booth, more or this later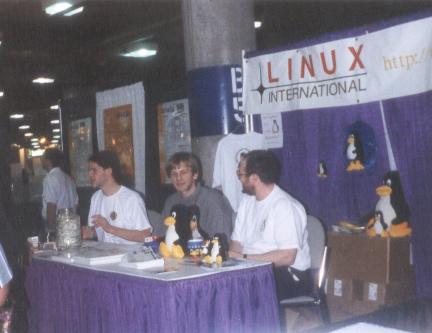 In the booth, two of the volunteers on the left, and Mark Bolzern from Linuxmall


What would a linux show be without linux journal?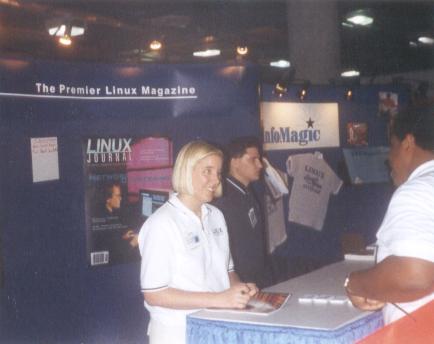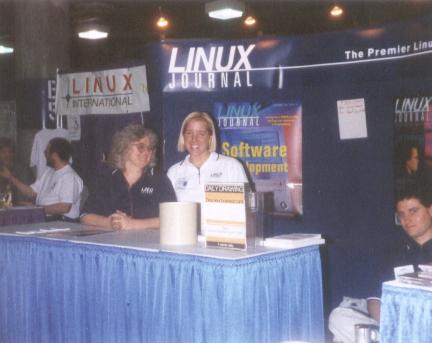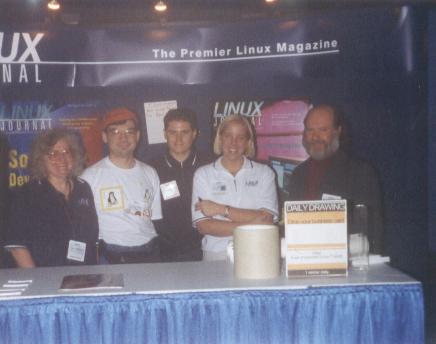 Phil Hughes is on the right


Pacific HiTech, with their new distribution: turbolinux (it's a fork of an older redhat version).
PHT is also known for having the only linux distribution fully in Japanese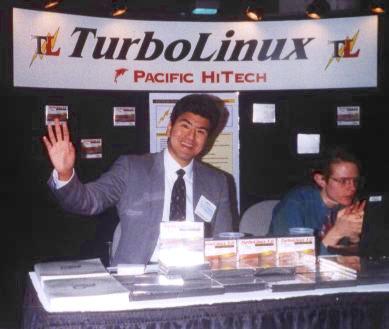 On the left, you have Craig Oda, and on the right...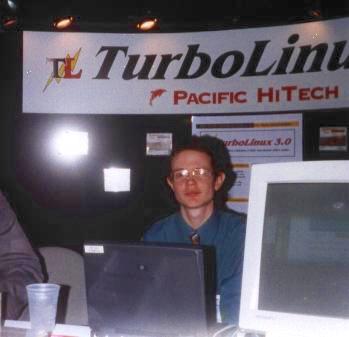 you have Scott Stone, the main developper of turbolinux and a really nice guy I'm told


RedHat of course was there. It's been interesting to see them grow in the last three years.
Two years ago, I was able to help them in their booth to answer questions.
However, they have more than enough people to handle the crowd themselves now.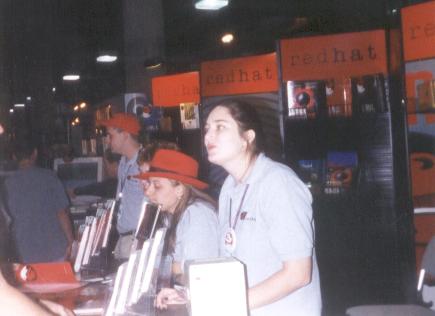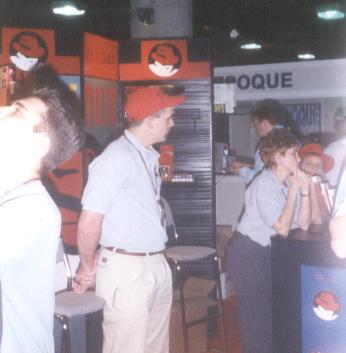 People come, people go, but Donnie Barnes is still there


Sprechen Sie Suse?

They had a bunch of people this year, including some of their German staff that we don't get to see very often over here
I tell you, they have cool people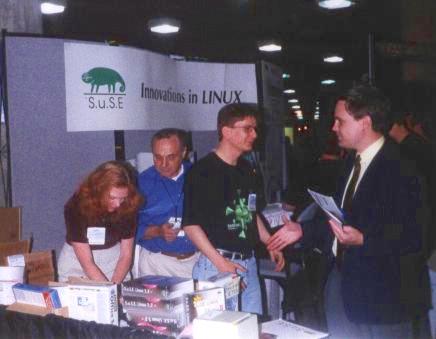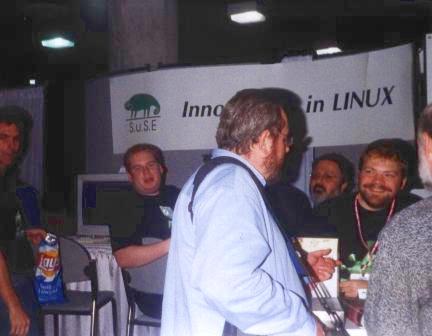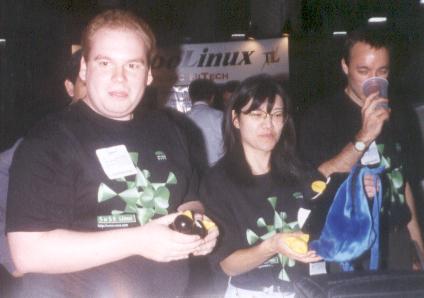 Nick Moffitt (whose name I can spell if my life depends on it) is on the left, and Todd on the right


V.A. Research was also there, they build linux servers.
They are well also well known in the Silicon Valley for the support they've given to the Silicon Valley Linux User Group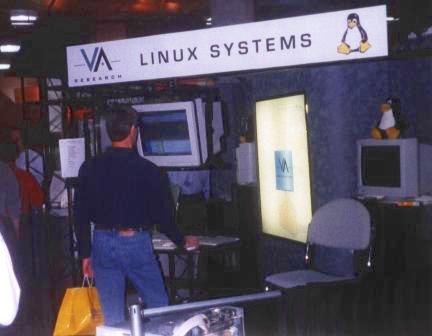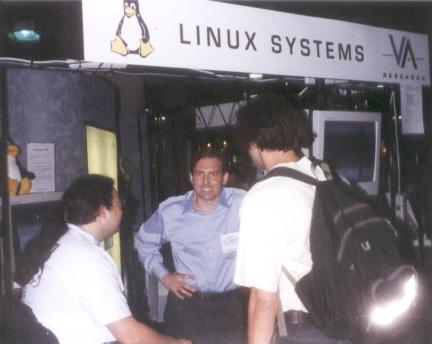 Larry Augustin (the big boss, in the middle) is really a cool guy, trust me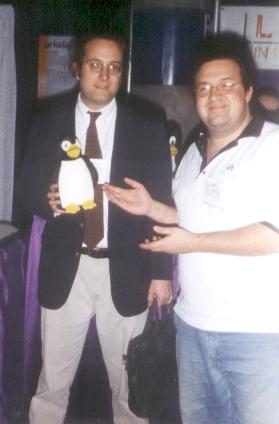 Someone got Don Marti (on the left) to put a suit and tie, and go help at the V.A. booth.
I don't know how they did it :-)
On the right is SVLUG's vice president, Chris Dibona enjoying his new job at V.A.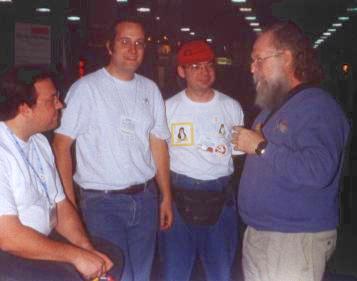 As you can see, Don came back to his senses later, and lost the suit

Here we were having a conversation with Jon "maddog" Hall. I am proudly wearing my SVLUG badge
(BTW, I wish to thank Ada Spade, SVLUG's president's wife, for sewing the nice SVLUG penguin badges)


Last but not least, Patrick Volkerding, creator of Slackware was also there in the Walnut Creek booth
(they are the guys you should thank for ftp.cdrom.com)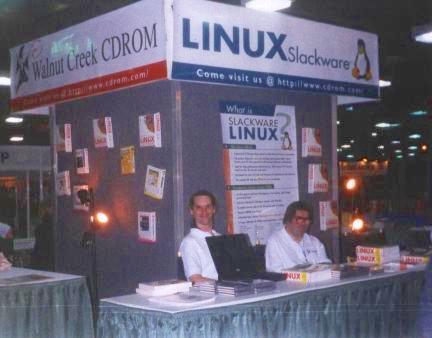 Linux International
The other volunteers and I helped to answer questions about linux, and hand out linux CDs. Of course, the L.I. booth, just as L.I. itself wouldn't exist without people like Jon "maddog" and Mark Bolzern from Linuxmall. In addition to voluntering his time to the L.I. booth, Mark pitched in several thousand CDs of older releases of the major distributions. He also brought many sheets of linux stickers (they look like this in case you are wondering).
Mark had the good idea to ask for a one dollar donation to L.I. for each CD and sticker sheet. Let's just say that we "gave" away many more than anticipated and ran out of CDs on wednesday (the penguin sticker sheets ran out the first day). Don't despair though, you can buy them here

Luckily, Suse and Caldera gave us lots of CDs when we ran out, but even though I wasn't there until the last day, at the rate they were going, I'm sure that we didn't have enough. I didn't keep an exact count, but I know we gave out several thousand CDs. This is obviously great
Here's aobut a day's worth of bills in our money jar: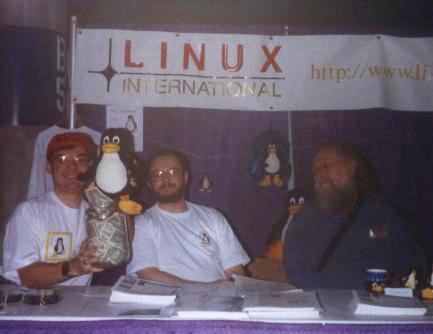 I just learned from Mark that the money added up to $3700 which will all go to L.I. Thank you to Suse, Caldera, the other who contributed, and especially Mark for pitching in CDs and making this donation possible.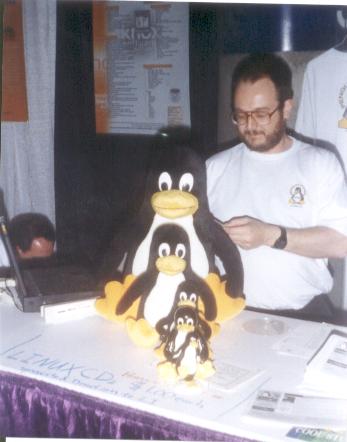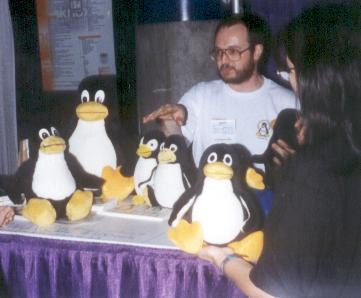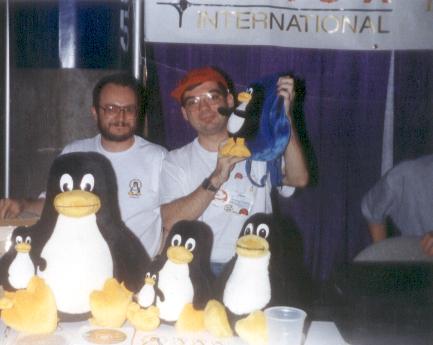 Mark also brought a few penguins for the L.I. booth



Before you ask: some of those penguins are for sale at linuxmall, but the biggest one, as well as the backpack are not for sale yet, but let them know how much you'd be willing to pay for those items, and they may commercialize them.

On wednesday evening, when we heard the good news about the new QT license, so we celebrated the end of desktop wars.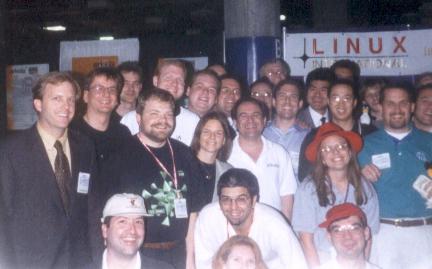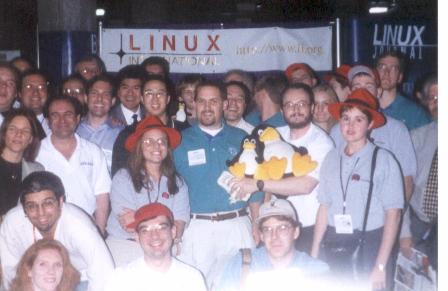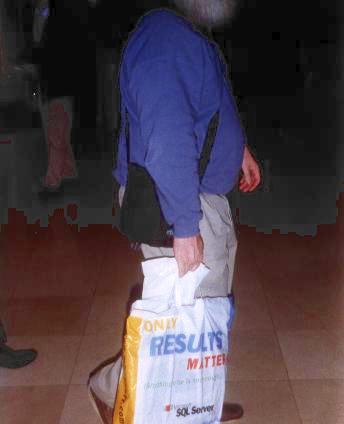 What can I say... Well, we'll make sure we bring a bag for Maddog next year :-)


Linux Journal Editor's Choice Awards
On that same wednesday evening took place the Linux Journal Editor's Choice Awards at the Alexis Park Resort in Las Vegas.

Seven awards were presented at this year's Linux Journal Editor's Choice Awards Reception. Most Desired Port: Quark's QuarkXpress. Best New Gadget: Schlumberger's Smart Card. Best New Hardware: Corel's NetWinder. Best New Linux Application: Informix's Infomix SE. Best Business Solution: Cisco's print system. Best New Book: John Blair's SAMBA. Product of the Year: Netscape's Communicator.
(quoted from Linux ressources)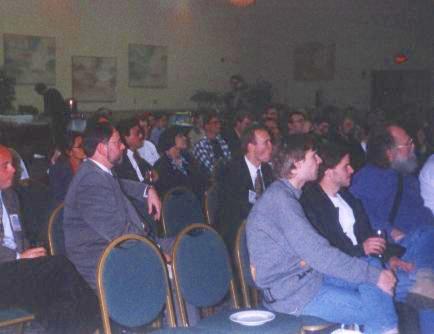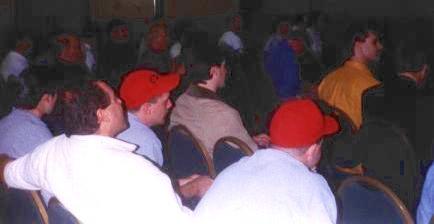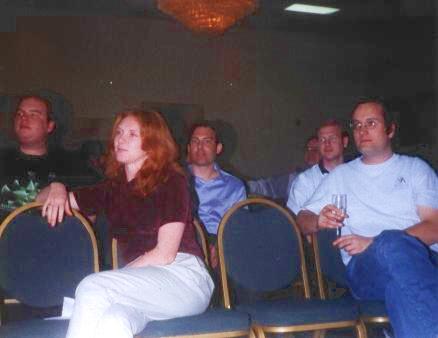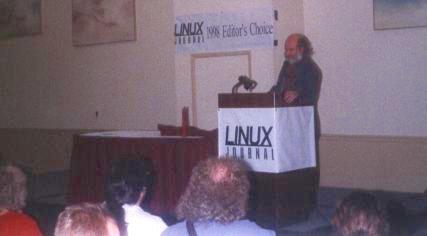 Phil Hughes made the presentation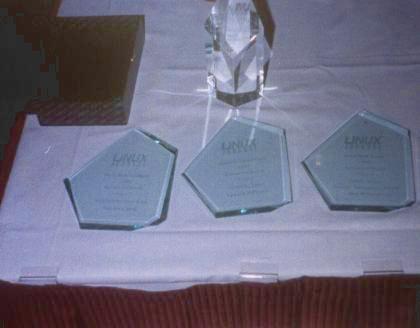 Those were some of the troffees that handed out


Comdex
Let's not forget that you always find cool stuff at Comdex: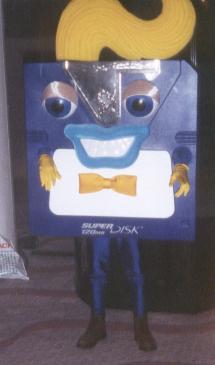 Zip, your days are counted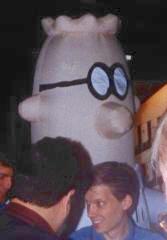 Dilbert was there too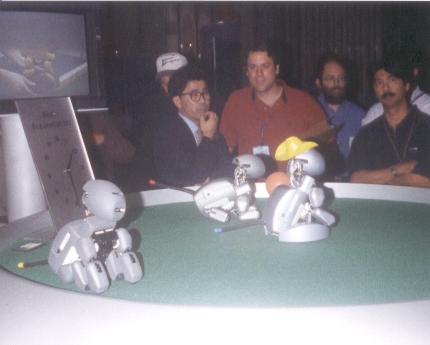 Sony had a really cool demo with very good robots. One would pur one petted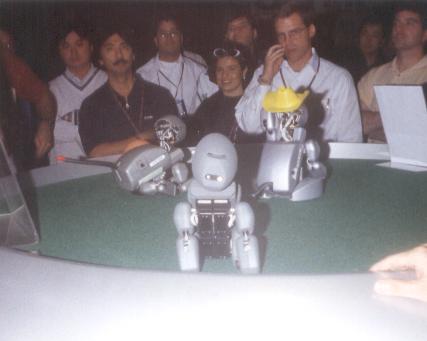 and another one was able to very accurately follow a ball, go fetch it, and then kick it further.
Amazingly enough this robot could even stand back up when put on its back


Vegas
There is always cool stuff happening in Vegas. For instance, they like to blow stuff up and rebuild.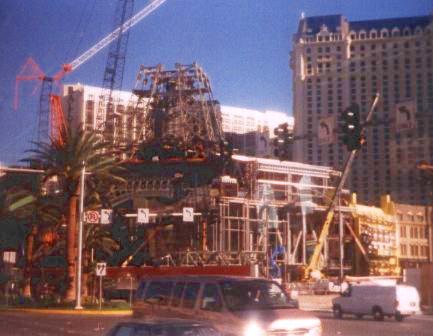 Here they're building a French place with the Arc de triomphe, and an effel tower



This year was also the first year than "Star Trek The Experience" was ready (they were still building it last year). It's located in the Hilton, next to the Las Vegas Convention Center (LVCC). The have a Quark's bar/restaurant, and a the ticket gives you access to what is first a kind of museum with all the original Star Trek props, and a complete timeline of all the episodes and Star Trek movies, up to about last year's season.
Then, there is what seems to be a shuttle ride in a dynamic theater, but it's a little more than that, but I won't spoil it by telling you the details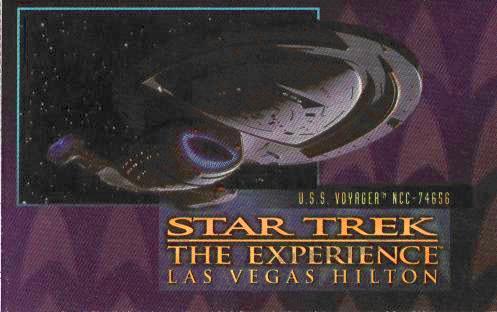 Ticket to enter the museum/ride


Last words
Just like the previous years, I had much fun going there, and enjoyed seeing all the linux folks from previous years.
Those who didn't see the page may also enjoy the Linux revolt at the microsoft center in Palo Alto.

Marc Merlin marc_web@merlins.org
(feel free to write me to give your name if you recognize yourself on a picture)
Email
Link to Home Page
Last updated on November 25th 1998. V 1.9