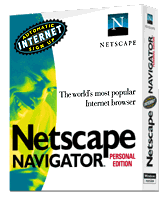 Netscape Navigator Personal Edition takes version 1.1 of the world's most popular Internet navigation software and adds easy, automatic dial-up connection to your choice of leading Internet Service Providers. Using Netscape Navigator Personal Edition for MS Windows, you can connect to the Internet using a PPP connection in just a few minutes. If you or someone you know wants to surf the Net but needs a good dial-up service, Navigator Personal Edition makes it easy.
Netscape Navigator Personal Edition offers the fastest performance over a modem of any Internet navigation software and is the only software you will need for complete access to all major Internet resources - the World Wide Web, email, FTP, gopher, and newsgroups.
Perhaps you already have an Internet account and want to use the Personal Edition software with that account. Perhaps you're connected to the Internet at the office or at school and want to easily get connected at home. Or you might know someone who wants to get on and explore the Net without having to become a computer expert. Purchase Netscape Navigator Personal Edition online at the Netscape General Store or link to the directory of retailers to find stores selling Netscape Navigator Personal Edition near you.

Netscape Navigator Personal Edition
Read the press release
Get help from our Q&A
Check out the features
Find out about support
Updated Release Notes


Purchase Navigator Personal Edition
Netscape General Store
or call 800/528-6292
Directory of retailers near you

National Internet Providers
MCI
Netcom
Portal
Get Personal Training Systems'
Pre-existing accounts
Official Guide to Netscape Navigator
Navigator Personal Edition includes:
Netscape Navigator 1.1
Easy-to-use Getting Started printed manual
Qualcomm Eudora Light email
Hypermedia copies of the Netscape Handbook and Eudora Light Email Manual
Everything you need to get connected - NTS TCP/IP stack, Shiva PPP, and Dialer



Find out more about Netscape at info@netscape.com, or call 415/528-2555.
Copyright © 1995 Netscape Communications Corporation.